Sponsored by our Kindle Paperwhite Giveaway! Enter here.
We're giving away a Kindle Paperwhite to one Riot Reader! To enter, click here and sign up for Daily Deals, our newsletter that rounds-up the best books that have gone on sale every day.
Hi Kid Lit Friends,
This is the last newsletter of 2019, and what a wonderful year for children's literature! Thank you for subscribing and sharing your love for children's books with me. I am including the remainder of the new releases for the rest of the year. The Kids Are All Right newsletter will be on break for the holidays and will be back on January 5th with my most anticipated children's books for the first half of 2020. Stay tuned!
As always, all book descriptions come from the publisher. Happy reading!
Board Book New Releases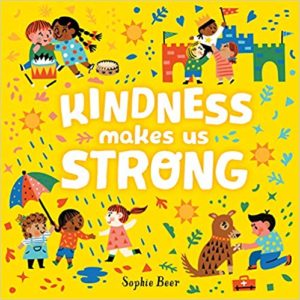 Kindness Makes Us Strong by Sophie Beer (12/24/19, Dial)
Kindness is a friendly hello. A roaring cheer. A quick boost. Kindness is what makes us strong! This joyful board book shows various children as they extend kindness in all kinds of situations: on the playground, at lunchtime, on a bike path, and on a neighborhood street. This sweet preschool read-aloud shows the way kindness helps build friendship and community.
Backlist Bump: Do Cows Meow? by Salina Yoon
Early Readers and Chapter Book New Releases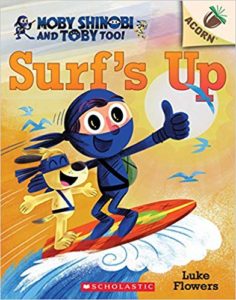 Surf's Up! by Luke Flowers (12/26/19, Scholastic)
Moby Shinobi and his dog Toby are excited for a day at the beach! Moby tries to use his ninja skills to build a huge sand castle, catch some fish, and save a leaking sailboat… but each try ends in a mess! What if Moby isn't right for the job? But with some help from Toby, he discovers that teamwork makes every job easier! With easy-to-read rhyming text and full-color artwork throughout, this early reader series is sure to be a hit with beginning readers!
Backlist Bump: Mac and Cheese by Sarah Weeks and Jane Manning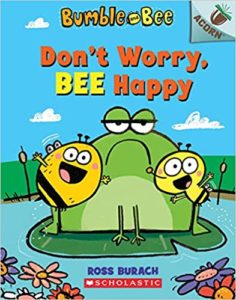 Don't Worry, Bee Happy by Ross Burach (12/26/19, Scholastic)
Bumble and Bee love to buzz around the pond and make mischief. Their cranky best friend Froggy prefers the peace and quiet of sitting on a lily pad. They may be an unlikely trio, but no matter what these friends dream up — from picture day problem-solving to a comical cure for the hiccups — you can count on hilarious, unexpected FUN!
Backlist Bump: Ling and Ting: Not Exactly the Same by Grace Lin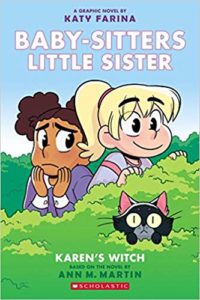 Baby-Sitters Little Sister by Katy Farina, based on the novel by Ann M. Martin (graphic novel) (12/26/19, Scholastic)
Karen Brewer lives next door to Mrs. Porter, who wears long robes and has wild gray hair. Mrs. Porter has a black cat named Midnight and always seems to be working in her garden. Karen isn't supposed to spy on her neighbor, but she's determined to prove that Mrs. Porter is a witch named Morbidda Destiny! Mrs. Porter is getting ready to have a special meeting at her house, and Karen is sure the meeting is for witches. Are they going to cast a spell on Karen? Or will she be brave enough to send them away — once and for all?
Backlist Bump: Bad Kitty: Kitten Trouble by Nick Bruel
Diary of a Pug: Pug's Snow Day by Kyla May (12/26/19, Scholastic)
It's a snow day, and Bella is thrilled. There's no school, so she and Bub can play outside all day. Trouble is, Bub does not like the snow – it's slippery, freezing cold, and wet! What's even worse, there's a new kid next door, and he has a scary, monster-sized pet. Can Bub get past his fear of the snow and make a new friend at the same time?
Backlist Bump: My Big Fat Zombie Goldfish by Mo O'Hara
Picture Book New Releases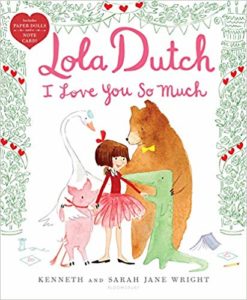 Lola Dutch: I Love You So Much by Kenneth and Sarah Jane Wright (12/31/19, Bloomsbury
This is Lola Dutch, a delightfully creative girl who loves her friends SO much. When they're having a bad day, Lola knows just what to do to make each of them feel better: She sews cozy pajamas for Gator, constructs the perfect reading nook for Crane, and takes Pig to the park! Lola loves showing her friends how much she loves them! But there's one special friend she's forgotten–Bear! Can Lola decide on the perfect way to express how much he means to her
Backlist Bump: How Are You / ¿Cómo estás? by Angela Dominguez
Middle Grade Books New Releases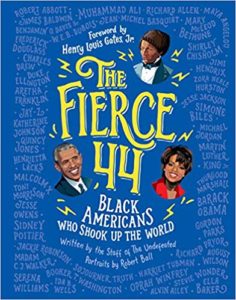 The Fierce 44: Black Americans Who Shook Up the World by Staff of the Undefeated, illustrated by Robert Ball (nonfiction) (12/24/19, HMH)
Meet forty-four of America's most impressive heroes in this collective biography of African American figures authored by the team at ESPN's TheUndefeated.com. From visionaries to entrepreneurs, athletes to activists, the Fierce 44 are beacons of brilliance, perseverance, and excellence. Each short biography is accompanied by a compelling portrait by Robert Ball, whose bright, graphic art pops off the page.
Backlist Bump: Little Leaders: Bold Women in Black History by Vashti Harrison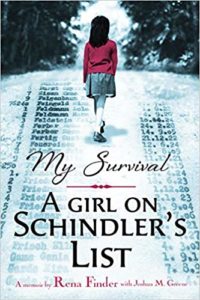 A Girl on Schindler's List by Rena Finder with Joshua M. Greene (memoir) (12/26/19, Scholastic)
Rena Finder was only eleven when the Nazis forced her and her family — along with all the other Jewish families — into the ghetto in Krakow, Poland. Rena worked as a slave laborer with scarcely any food and watched as friends and family were sent away. Then Rena and her mother ended up working for Oskar Schindler, a German businessman who employed Jewish prisoners in his factory and kept them fed and healthy. But Rena's nightmares were not over. She and her mother were deported to the concentration camp Auschwitz. With great cunning, it was Schindler who set out to help them escape.
Backlist Bump: Refugee by Alan Gratz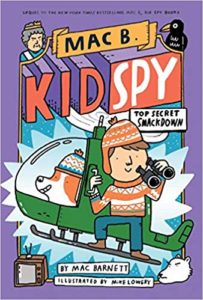 Mac B. Kid Spy: Mac Cracks the Code by Mac Barnett, illustrated by Mike Lowery (12/26/19, Scholastic)
Ravens have been stolen from the Tower of London! Mac B.'s top-secret mission? Travel to Iceland and retrieve the ravens… or Britain is ruined! In Iceland, Mac discovers secret submarines, hungry polar bears, mysterious blueprints… and his old archnemesis! Is the KGB man behind this birdnapping? Can Mac get the ravens to safety? It's time for an epic, top secret smackdown between these two secret agents!
Backlist Bump: El Deafo by Cece Bell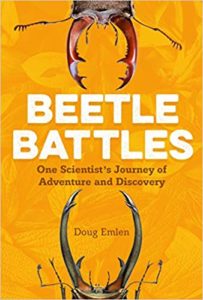 Beetle Battles by Doug Emlen (nonfiction) (12/24/19, Roaring Brook)
Doug Emlen is a scientist. He studies beetles. Specifically, he studies the evolution of beetle weapons―how their horns and armor change to better suit them in different environments. This book starts with a mystery: Doug wanted to know why a particular type of beetle developed a massive evolutionary weapon. He wanted to know how these changes happened and what advantages these enormous weapons gave the tiny dung beetles. So, he went to visit. Part travel diary and part scientific exploration, Beetle Battles takes you deep into the South American rainforest to monitor beetles in their own habitat.
Backlist Bump: Shark Lady: The True Story of How Eugenie Clark Became the Ocean's Most Fearless Scientist by Jess Keating and Marta Alvarez Miguens
What are you reading these days? I want to know! Find me on Twitter at @KarinaYanGlaser, on Instagram at @KarinaIsReadingAndWriting, or email me at KarinaBookRiot@gmail.com.
Until next time!
Karina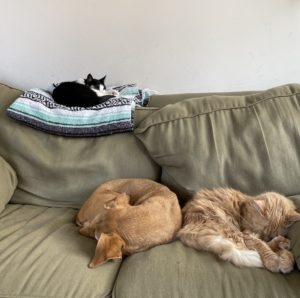 *If this e-mail was forwarded to you, follow this link to subscribe to "The Kids Are All Right" newsletter and other fabulous Book Riot newsletters for your own customized e-mail delivery. Thank you!*