Sponsored by The Tenth Girl by Sara Faring, with Fierce Reads.
Simmering in Patagonian myth, The Tenth Girl is a stunning psychological thriller with a twist you'll never see coming. "A mind-bending thriller that will leave you thinking about it far after you turn the last page." —THE NERDIST. "Teeming with originality . . . The Tenth Girl is the perfect read." —DEN OF GEEK "Bursting with intelligence." —BUSTLE. "The Tenth Girl has everything you could want . . . a Gothic mansion, a curse, and plenty of twists." —POPSUGAR. "[A] dazzling, expectation-bending debut." —CRIMINAL ELEMENT
Hi mystery fans! It is that time of year where I look back at all I read this year and tell you my personal favorite reads. And I rounded up your personal favorites too!
My Favorite 2019 Crime Reads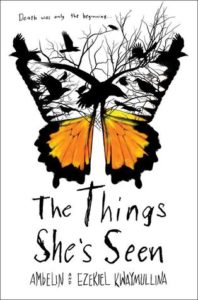 The Things She's Seen by Ambelin Kwaymullina, Ezekiel Kwaymullina: A beautiful crime novel about grief, death, family, and friendship–starring a ghost. (Review)
Heaven, My Home (Highway 59 #2) by Attica Locke: Locke is one of THE BEST crime writers. (Review)
Know My Name by Chanel Miller: One of the best memoirs, true crime books I've ever read. (Review)
Patron Saints of Nothing by Randy Ribay: Excellent mystery and coming-of-age! (Review)
Your House Will Pay by Steph Cha: I'm still thinking about the characters in this novel. (Review)
American Spy by Lauren Wilkinson: Not like other spy novels! (Review)
The Other Americans by Laila Lalami: Exploring the fallout of a crime–perfect for character driven and literary fans. (Review)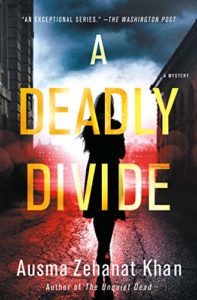 A Deadly Divide (Rachel Getty & Esa Khattak #5) by Ausma Zehanat Khan: My favorite entry in one of my favorite procedural series. (Review)
As Long as We Both Shall Live by JoAnn Chaney: My favorite thriller this year! (Review)
The Lost Man by Jane Harper: Makes the atmosphere a character! (Review)
Death Prefers Blondes by Caleb Roehrig: Fun, heartfelt, and full of found family! (Review)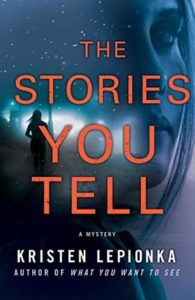 The Stories You Tell (Roxane Weary #3) by Kristen Lepionka: Great PI series with a character I'm always rooting for. (Review)
Code Name: Lise. The True Story of the Woman Who Became WWII's Most Highly Decorated Spy by Larry Loftis: Page-turning narrative nonfiction! (Review)
Alice's Island by Daniel Sánchez Arévalo: So many surprising turns! (Review)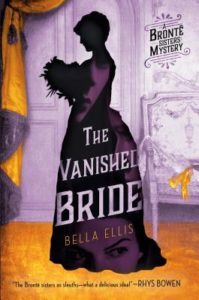 The Vanished Bride (Brontë Sisters Mystery #1) by Bella Ellis: Fun and clever reimagining of the Brontë sisters as detectors! (Review)
And The Art of Theft (Lady Sherlock #4) by Sherry Thomas and A Dangerous Collaboration (Veronica Speedwell #4) by Deanna Raybourn are both series that any year there is a release it's one of my favorites. (Review) and (Review)
Your Favorites! (I asked and you told me: here's a big selection of what your fellow newsletter readers loved reading this year!)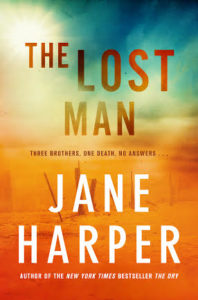 7 votes for Jane Harper's The Lost Man: "This book has a great mystery, great characters, and made me ugly cry."–Aimee Dars Ellis
2 votes for The Silent Patient by Alex Michaelides
2 votes for Pete Fernandez conclusion Miami Midnight by Alex Segura: "A perfect encapsulation of the evolution of the character and Segura's skills as a writer." –Scott Cumming
2 votes for Robert Galbraith/JK Rowling's Lethal White
Turn of the Key by Ruth Ware: "I was completely lost in the story within the first couple of pages. The suspense kept me going and I could not stop reading until I was finished."–anonymous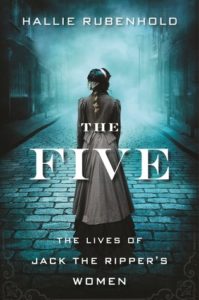 The Five by Hallie Rubenhold:  "It's a fascinating look at the lives of Victorian women and how the lives of victims of a terrible crime are often overlooked or misrepresented while the (usually male) criminal is glorified into a cult figure."–Greg Baird
Curious Toys by Elizabeth Hand: "Incredibly well-researched and written Historical Fiction. Feels like a true crime novel with references to well known historical figures, a movie studio, and a long gone amusement park. Added bonus for it's respectful treatment of gender identity and mental health issues. Gritty, but not gory."–Heidi
4 votes for A Better Man by Louise Penny (and for the series): "The entire series is amazing and each book seems to get better and better. I love the characters and wish I lived in Three Pines with them."–Anne Egbert
2 votes for The Whisper Man by Alex North: "phenomenal! Intense & creepy, awesome debut."–Rhonda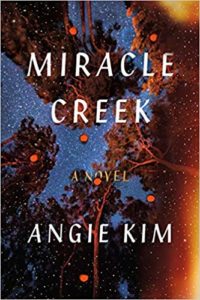 Miracle Creek by Angie Kim: "was a unique story told by a group of interesting characters and an exciting courtroom drama."–anonymous
Heaven, My Home by by Attica Locke
Heart of Barkness (Chet and Bernie Mystery #9) by Spencer Quinn: "Chet the Jet is why I loved it so much."–TVL
Disappearing Earth by Julia Phillips: "Interesting geographical location, good characters, unique story about how one crime impacts how other people alter their behavior or thinking."–Rachel Gould
Knife by Joe Nesbo: "This series by a Scandinavian Author is always so complex you just can't put it down."–Cherre Grunert
2 votes for American Predator by Maureen Callahan: "This one was really scary, in large part because of the ruthless, random, anyone-could-be-the-next-victim nature of Israel Keyes' crimes."–Amy Pickett
Backlist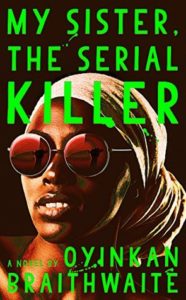 3 votes for My Sister, the Serial Killer by Oyinkan Braithwaite: "not like anything else I've read."–Craig Pittman
The Earthquake Bird by Susanna Jones: "Tokyo is a big part of the story and a city I seldom read books with that setting. It features a very unlikeable main character but I was still rooting for her. Extremely unsettling ending."–Carol
Black Water Rising by Attica Locke
In the Woods  and The Likeness by Tana French: "When the detectives make you more anguished than the criminal."–Daniela Lopes Araujo / "Re-read in prep for the tv show! I love this series so, so much!"–Kristen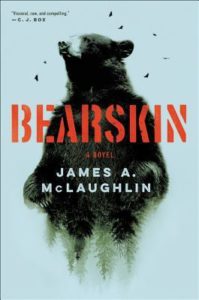 Bearskin by James A. McLaughlin: "Wilderness and crime"–Sandy
The Secret History by Donna Tartt: "One of my top five books of all time and I reread it every year or two."–Leona Judge
The Third Squad by V. Sanjay Kumar: "I thought the writing was strange, something about the way we sat in any particular character's viewpoint was offkilter/unstable, which completely adds to the noir setup."–April Lott
I'll Be Gone in the Dark by Michelle McNamara
The Knowledge (Richard Jury #24) by Martha Grimes: "Grimes writes beautifully, and I love the idea of a secret bar for cabbies!"–anonymous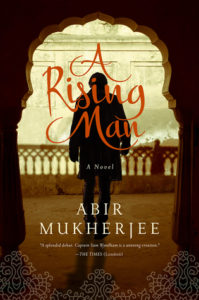 A Rising Man by Abir Mukherjee
Motherless Brooklyn by Jonathan Lethem: "brilliant writing, well-drawn characters and thoughtful plot."–Lora Martin
"I think the Stumptown series by Greg Rucka is really enjoyable. The various misadventures of a down on her luck bisexual PI picking up cases was interesting and sometimes, funny."–Ash
"I loved Bones of the Earth by Eliot Pattison because it's the last of a wonderful series, contains pre-Buddhist Tibetan religion and environmental protest. I also loved seeing Eliot Pattison speak about this book at the Bay Area Book Festival."–Linda Frankel
Browse all the books recommended in Unusual Suspects previous newsletters on this shelf. See 2020 upcoming releases. An Unusual Suspects Pinterest board. Get Tailored Book Recommendations!
Until next time, keep investigating! In the meantime, come talk books with me on Twitter, Instagram, and Litsy–you can find me under Jamie Canavés.
If a mystery fan forwarded this newsletter to you and you'd like your very own you can sign up here.