Sponsored by Owlkids Books, publisher of A Likkle Miss Lou and other children's books.
A Kirkus Reviews most anticipated picture book of fall 2019. The uplifting story of a girl finding her own voice, A Likkle Miss Lou is a modern ode to language, girl power, diversity, and the arts. Louise Bennett Coverley, or Miss Lou, was an iconic entertainer known for popularizing patois in the arts—helping to pave the way for artists like Harry Belafonte and Bob Marley. This picture book tells the story of Miss Lou's childhood in Jamaica, trying to find her own voice. "This joyful book celebrates the importance of language and taking it as your own. —Kirkus Reviews
Hi Kid Lit Friends,
Wow, so many awesome children's books that feature incredible girls and women have been published this fall! From Maya Angelou to Eliza Hamilton, to suffragettes in England and America to the first female pilots, there have been a wealth of biographies that celebrate the achievements of girls and women and serve to inspire a new generation. And, as my family recently cheered for runners during the New York City marathon earlier this month, I am particularly excited about Mighty Moe: The True Story of a Thirteen Year Old Running Revolutionary by Rachel Swaby and Kit Fox. This is a great one for all of those awesome girls in your life, especially those who participate in the incredible running club, Girls on the Run!
Check these books out and let me know what you think! Please note that all book descriptions come from the publisher.
Picture Books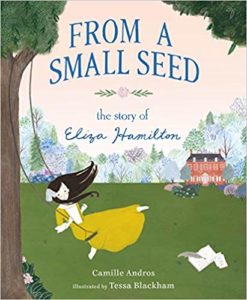 From a Small Seed: The Story of Eliza Hamilton by Camille Andros, illustrated by Tessa Blackham
Ever since she was a young girl, Eliza Hamilton hoped to help people in need. From the private quarters of her family home to her national platform as Hamilton's partner, Eliza was a lifelong advocate for fairness, freedom and faith. The remarkable acts of charity and public service she performed after Alexander's death are considered a significant contribution to the Hamilton legacy the world celebrates today.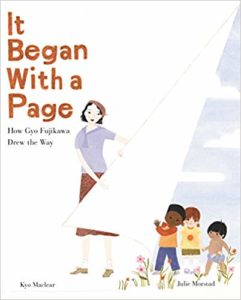 It Began With a Page: How Gyo Fujikawa Drew the Way by Kyo Maclear, illustrated by Julie Morstad
Growing up in California, Gyo Fujikawa always knew that she wanted to be an artist. She was raised among strong women, including her mother and teachers, who encouraged her to fight for what she believed in. During World War II, Gyo's family was forced to abandon everything and was taken to an internment camp in Arkansas. Far away from home, Gyo worked as an illustrator in New York while her innocent family was imprisoned. Seeing the diversity around her and feeling pangs from her own childhood, Gyo became determined to show all types of children in the pages of her books. There had to be a world where they saw themselves represented.
A Life Made by Hand: The Story of Ruth Asawa by Andrea D'Aquino
Ruth Asawa (1926-2013) was an influential and award-winning sculptor, a beloved figure in the Bay Area art world, and a devoted activist who advocated tirelessly for arts education. This lushly illustrated book by collage artist Andrea D'Aquino brings Asawa's creative journey to life, detailing the influence of her childhood in a farming family, and her education at Black Mountain College where she pursued an experimental course of education with leading avant-garde artists and thinkers such as Anni and Josef Albers, Buckminster Fuller, Merce Cunningham, and Robert Rauschenberg.
Rise! From Caged Bird to Poet of the People by Bethany Hegedus, illustrated by Tonya Engel
Writer, activist, trolley car conductor, dancer, mother, and humanitarianMaya Angelou's life was marked by transformation and perseverance. In this comprehensive picture-book biography geared towards older readers, Bethany Hegedus lyrically traces Maya's life from her early days in Stamps, Arkansas through her work as a freedom fighter to her triumphant rise as a poet of the people.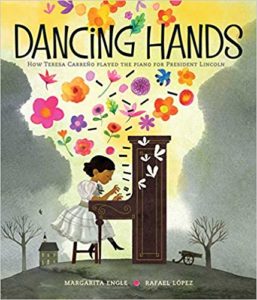 Dancing Hands: How Teresa Carreno Playing the Piano for President Lincoln by Margarita Engle, illustrated by Rafael Lopez
As a little girl, Teresa Carreño loved to let her hands dance across the beautiful keys of the piano. If she felt sad, music cheered her up, and when she was happy, the piano helped her share that joy. Soon she was writing her own songs and performing in grand cathedrals. Then a revolution in Venezuela forced her family to flee to the United States. Teresa felt lonely in this unfamiliar place, where few of the people she met spoke Spanish. Worst of all, there was fighting in her new home, too—the Civil War. Still, Teresa kept playing, and soon she grew famous as the talented Piano Girl who could play anything from a folk song to a sonata. So famous, in fact, that President Abraham Lincoln wanted her to play at the White House! Yet with the country torn apart by war, could Teresa's music bring comfort to those who needed it most?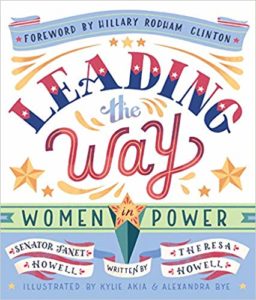 Leading the Way: Women in Power by Senator Janet Howell and Theresa Howell, illustrated by Kylie Akia and Alexandra Bye
Meet some of the most influential leaders in America, including Jeannette Rankin, who, in 1916, became the first woman elected to Congress; Shirley Chisholm, the first African-American woman elected to Congress; Sandra Day O'Connor, the first woman to sit on the Supreme Court; and Bella Abzug, who famously declared, "This woman's place is in the House . . . the House of Representatives!" This engaging and wide-ranging collection of biographies highlights the actions, struggles, and accomplishments of more than fifty of the most influential leaders in American political history — leaders who have stood up, blazed trails, and led the way.
Middle Grade Books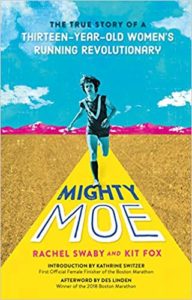 Mighty Moe by Rachel Swaby and Kit Fox
Fifty-two years ago, a girl known as Mighty Moe broke the women's world marathon record at a small race in Toronto. This was an era when girls and women were discouraged from the sport and the longest track event at the Olympics for women was 25.6 miles shorter than a marathon. Thirteen-year-old Moe's world-beating victory was greeted with chauvinistic disapproval and accusations of cheating―as were many of her achievements in the sport she had excelled at from the age of ten. Within less than two years, the controversy took its toll and Maureen quit running. Here is the untold story of Mighty Moe's tenacity and triumph in the face of adversity as a young athlete―and of a grown-up Maureen finding her way back to the sport decades later.
Suffragette: The Battle for Equality by David Roberts
Imprisonment, hunger strikes, suffrajitsu — the decades-long fight for women's right to vote was at times a ferocious one. Acclaimed artist David Roberts gives these important, socially transformative times their due in a colorfully illustrated history that includes many of the important faces of the movement in portraiture and scenes that both dignify and enliven. He has created a timely and thoroughly engaging resource in his first turn as nonfiction author-illustrator. Suffragette: The Battle for Equality follows the trajectory of the movement in the U.K. and visits some key figures and moments in the United States.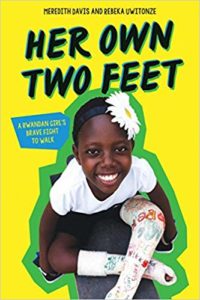 Her Own Two Feet: A Rwandan Girl's Brave Fight to Walk by Meredith Davis and Rebeka Uwitonze
Through her eyes, the moving story of a young Rwandan girl born with clubfeet and the risk she takes for the chance to walk on the bottoms of her feet for the first time. Rebeka Uwitonze was born in Rwanda with curled and twisted feet, which meant she had to crawl or be carried to get around. At nine years old, she gets an offer that could change her life. A doctor in the US might be able to turn her feet. But it means leaving her own family behind and going to America on her own.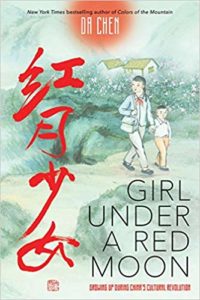 Girl Under a Red Moon: Growing Up During China's Cultural Revolution by Da Chen
In a small village called Yellow Stone, in southeastern China, Sisi is a model sister, daughter, and student. She brews tea for her grandfather in the morning, leads recitations at school as class monitor, and helps care for her youngest brother, Da. But when students are selected during a school ceremony to join the prestigious Red Guard, Sisi is passed over. Worse, she is shamed for her family's past — they are former landowners who have no place in the new Communist order. Her only escape is to find work at another school, bringing Da along with her. But the siblings find new threats in Bridge Town, too, and Sisi will face choices between family and nation, between safety and justice. With the tide of the Cultural Revolution rising, Sisi must decide if she will swim against the current, or get swept up in the wave.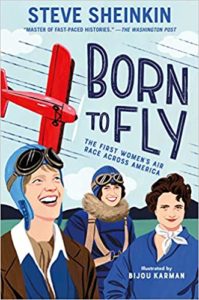 Born to Fly: The First Women's Air Race Across America by Steve Sheinkin, illustrated by Bijou Karman
Just nine years after American women finally got the right to vote, a group of trailblazers soared to new heights in the 1929 Air Derby, the first women's air race across the U.S. Follow the incredible lives of legend Amelia Earhart, who has captivated generations; Marvel Crosson, who built a plane before she even learned how to fly; Louise Thaden, who shattered jaw-dropping altitude records; and Elinor Smith, who at age seventeen made headlines when she flew under the Brooklyn Bridge. These awe-inspiring stories culminate in a suspenseful, nail-biting race across the country that brings to life the glory and grit of the dangerous and thrilling early days of flying.
What are you reading these days? I want to know! Find me on Twitter at @KarinaYanGlaser, on Instagram at @KarinaIsReadingAndWriting, or email me at KarinaBookRiot@gmail.com.
Also, if you love listening to podcasts while you're cooking, commuting, or getting ready for the day, check out the Kidlit These Days podcast. We study the intersection between children's books and current events, and our topics have included the border wall, the history of indigenous peoples of the United States, and climate change. Give it a listen!
Until next time!
Karina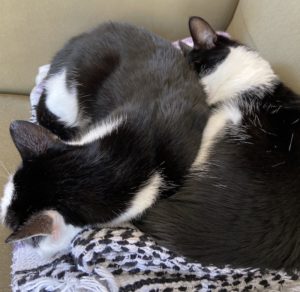 *If this e-mail was forwarded to you, follow this link to subscribe to "The Kids Are All Right" newsletter and other fabulous Book Riot newsletters for your own customized e-mail delivery. Thank you!*