Sponsored by Read Harder Journal, a reading log for tracking your books and reading outside your comfort zone!
This smartly designed reading log consists of entry pages to record stats, impressions, and reviews of each book you read. Evenly interspersed among these entry pages are 12 challenges inspired by our annual Read Harder initiative, which began in 2015 to encourage readers to pick up passed-over books, try out new genres, and choose titles from a wider range of voices and perspectives. Each challenge includes an inspiring quotation, an explanation of why the challenge will prove to be rewarding, and five book recommendations that fulfill the challenge. Get your copy (or one for the reader in your life for the holidays) here!
Raise your hand if you agree that the best line in We Have Always Lived in the Castle by Shirley Jackson is, "I wonder if I could eat a child if I had the chance." Be honest.
I know I'm not alone in getting excited about all the nut-so recipes involved in the over-eating during the holidays… I know this because once, while we were waiting in my Grandmama's southern formal dining room for her to pull something out of the oven that she wouldn't let us help with, I asked my dad and first cousin, "In a survival situation, who at this table would you eat first?" All of us clapped eyes on the baby at the end of the table.
Of course we're joking. Of course we are. But I WILL go full Merricat Blackwood if you threaten to send me to bed without my dinner. That said, I thought that with the holidays' approach, a great theme for this week's newsletter would be Horror Cookbooks. I'm Mary Kay McBrayer, and you're in The Fright Stuff, Book Riot's newsletter about the latest and greatest in horror. I'll be your Virgil through this edible circle of hell. Y'all steer clear of that chocolate river with the drainage pipes… oh, who am I kidding, that would be THE MOST EPIC WAY TO DIE. Augustus Gloop is my Patronus.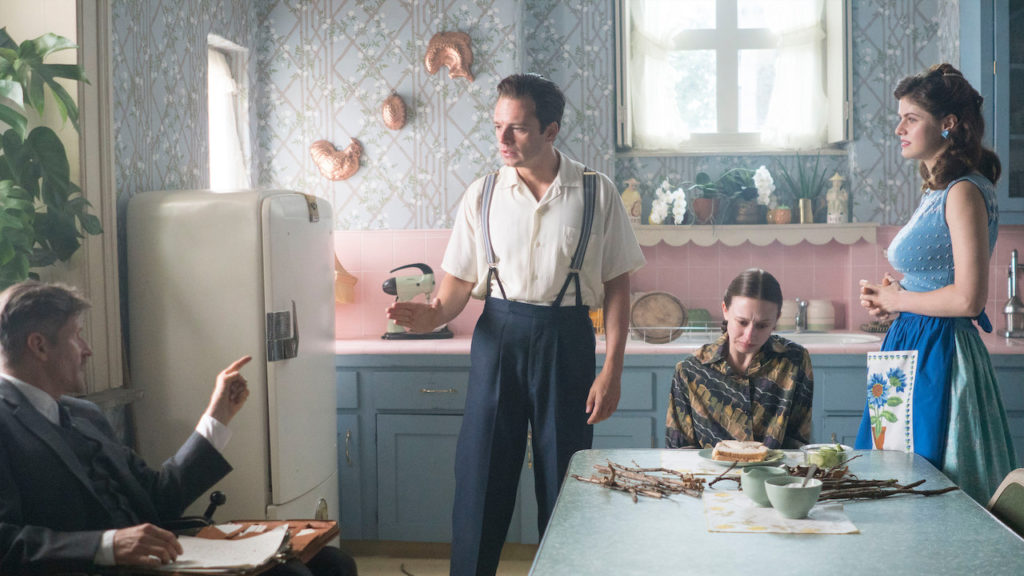 Earworm: "Pure Imagination" performed by Gene Wilder… because the world tastes good because the candy man thinks it shouuuuuuld!
Fresh Hells (FKA "New Releases," pffft):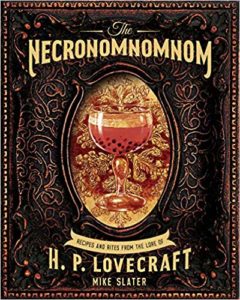 Necronomnomnom: Recipes and Rites from the Lore of H.P. Lovecraft by Mike Slater
For everyone who loves Lovecraftian horror, Mike Slater has compiled this master cookbook, the Necronomnomnom. Each recipe is accompanied by detailed, horrific illustrations, as well as marginal notes which are seemingly written in by hand, after the fact…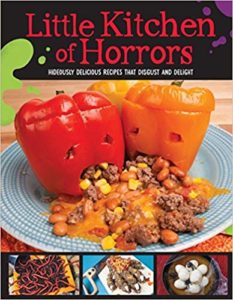 Little Kitchen of Horrors: Hideously Delicious Recipes That Disgust and Delight by Ali Vega
If you remember going to haunted houses as a kid and sticking your hand into a bowl of "eyeballs" or "guts," well… I have a sneaking suspicion that this cookbook was behind those gags. (Pun intended.) It contains recipes for "Crispy Fried Mice," "Bulging Cake Eyeballs," and "Juicy Bat Wings." If you want to get your kid to cook, but they're only interested in nasty stuff, this book is the perfect read for you.
Crypt Keepers: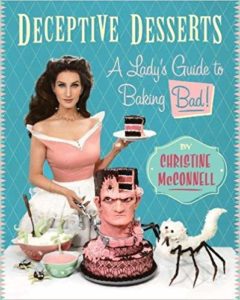 Deceptive Desserts: A Lady's Guide to Baking Bad by Christine McConnell
You might know Christine McConnell as the Instagram personality, or from her Netflix show The Curious Creations of Christine McConnell, but even if you don't, you'll love this cookbook of horror themed desserts. (I've tried a few of these recipes, and while hers become works of art worthy of being bronzed and put in a museum, mine were merely delicious and spooky.) You'll learn everything from a Bridezilla wedding cake to Cinderella's pumpkin pie carriage. Oh! And if you love the book, which you will, check out From the Mind of Christine McConnell, her YouTube channel!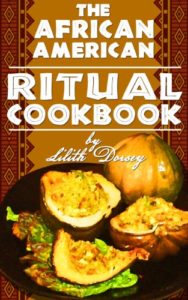 The African-American Ritual Cookbook by Lilith Dorsey
Though this cookbook is not specifically designed to scare, Lilith Dorsey, its author, is a practitioner of several spiritualities than have been known to strike fear into the hearts of their oppressors. These recipes invoke the beliefs of New Orleans Voodoo, Santeria, and Haitian Voodoo with rituals for "love, money healing, protection, luck and more."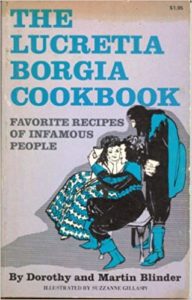 The Lucretia Borgia Cookbook: Favorite Recipes of Infamous People by Dorothy Blinder
If you're fascinated with the eating habits of infamous people, you need this book as much as I do! I mean, how can anyone help but wonder what John Dillinger's favorite dessert is/was… or Rasputin's preferences?
News:
Want to know what Hamlet's food symbolized in the famous tragedy? You do.
For Thanksgiving, would you perhaps like to make a demogorgonzola tartlet? Or maybe some hot buttered redrum? Head on over to The Homicidal Homemaker–she's SO cool.
Have you voted in the Goodreads Choice Awards for 2019? Be sure you make a wise selection in the horror category!
Disney+ has a lot of horror for children streaming. Here's a list. And you KNOW Don't Look Under the Bed is on there!
Calling back to The Fright Stuff newsletter about Folk Horror, Robert Eggers lets us know if it's The Witch or The VVitch.
And, in case you're as obsessed with Eggers as I am (no, no, I'm super chill. It's cool. I don't have some of his hair at home), you can look forward to this film short, which is adapted from Edgar Allan Poe's short story, "The Tell-Tale Heart."
And speaking of Lovecraft (from the Necronomnomnom, above), we have updates on Jordan Peele and JJ Abrams' produced Lovecraft Country.
Last note on film adaptations: Stephen King is not fazed by low box office numbers of Doctor Sleep.
And in case you're still hungry for more horror hors d'oeuvres (say that out loud, I dare you), check out this Book Riot post about Funny Cookbooks.
I'm Mary Kay, and I have been your spirit guide through this realm of deadly food. Until next week, you can follow me on Instagram or Twitter, and definitely do get up with me if you have recommendations or special requests!
Your Virgil,
Mary Kay