Sponsored by the audiobook of Fate of the Fallen by Kel Kade, coming soon from Macmillan Audio
When Mathias discovers it's his destiny to save the world, he dives in head first, pulling his best friend Aaslo along with him. However, saving the world isn't as easy as it sounds. As the list of allies grows thin and the friends find themselves staring death in the face, they must decide how to become the heroes they were destined to be, or how to survive. When the unthinkable happens, Aaslo forms a crew to take on the job everyone else has given up on: Defy the gods. Save the world. Probably just die trying. It's too bad his crew is made up of a mage-school drop out, the world's worst horse, some petty thieves, and a prophet who refuses to tell the future.
Happy Halloween, Audiophiles! I'm not quite ready to say goodbye to October, my favorite month of the year! I'll tell you one thing: if the universe thinks I'm going to stop reading witchy things now, it has another thing coming.
This week I've got some new releases, deets on my latest witchy listen, and of course audiobook news from around the web. If you're the costume type and dress up today, send me pics of you, your pets, your tiny humans. I'll take all the joy!
Ready? Let's audio.
---
New Releases – October 29 (publisher's descriptions in quotes)
This Is Going to Hurt: Secret Diaries of a Junior Doctor by Adam Kay, narrated by the author – I wasn't familiar with the term "junior doctor" and thought this was going to be a Doogie Howser memoir situation. I now realize that junior doctors are more or less the British equivalent of medical residents, and that this book has already won all kinds of awards across the pond. It's described as painful funny and feels perfect for my Grey's Anatomy obsessed self.
Find Me by André Aciman, narrated by Michael Stuhlbarg – In this follow-up to Call Me By Your Name, Aciman revisits the characters of his 2007 bestseller decades after it left off. "In Find Me, Aciman shows us Elio's father, Samuel, on a trip from Florence to Rome to visit Elio, who has become a gifted classical pianist. A chance encounter on the train with a beautiful young woman upends Sami's plans and changes his life forever."
Narrator note: Michael Stuhlbarg has narrated a lot of work for James Patterson. If you do a lot of Jimmy's stuff on audio, you'll recognize his building-suspense style
The In-Betweens: The Spiritualists, Mediums, and Legends of Camp Etna by Mira Ptacin, narrated by Chloe Cannon – Liberty totally sold me on this one in her latest New Books newsletter: "There have been a lot of books recently where weird things happen in the Maine woods – and with good reason. Weird things DO go on in the Maine woods. In Ptacin's latest book she investigates Camp Etna, a community in the Maine woods started in 1848 by two sisters who claimed they could speak to the dead." Yes, give it to me.
Narrator note: I enjoyed Chloe Cannon's narration of Megan Abbott's Give Me Your Hand, mostly; pacing was good, but there was something about her tone that sometimes sounded like a little like Siri. I've since sampled more of her work and really enjoy it even though I still get a little Siri at certain registers. Someone listen and tell me if it's just me!
The Beautiful Ones by Prince, narrated by Esperanza Spalding, Adepero Oduye, Dan Piepenbring – I don't think there's anything to say here but, "It's Prince." He was in the process of writing this when he died and I wish so bad that he'd recorded some of the audio before he passed.
Narrator Note: Adepero Oduye did the uh-mazing audiobook of My Sister, the Serial Killer, Esperanza Spalding is a ridiculously talented singer and jazz bassist, and Dan Piepenbring is a writer for The New Yorker. That'll work!
Latest Listens (TW for violence against women)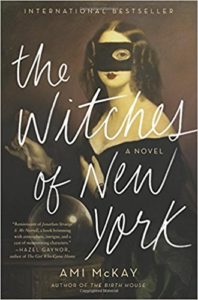 Remember when I said I was reading The Witches of New York by Ami McKay? Wow. Just… wow, and I *just* found out there's a sequel called Half Spent Was the Night: A Witches' Yuletide.
The book takes place in Gilded Age New New York and opens with a line from an advertisement in the paper that reads: "Respectable Lady Seeks Dependable Shop Girl. Those averse to magic need not apply." Young Beatrice Dunn isn't just not averse, she's quite interested to learn whether magic exists. When she shows up to Tea & Sympathy, a tea shop in the city run by witches Adelaide Thom and Eleanor St. Clair, she's unaware that she possesses "the gift" (she can see and speak with the deceased) herself.
Beatrice gets the job and shadows Eleanor as she gets more familiar with her powers, observing as Adelaide and Eleanor assist the many women who seek out their services: help with illness, getting pregnant, not getting pregnant, matters of the heart. Enter some seriously angry men, including one very deranged priest, each hell-bent on rooting witchcraft out root & stem and watching these women perish at all costs.
I love the three protagonists so hard. They're smart, witty, talented, strong, and unwilling to take anybody's sh*t even in the face of danger. Julia Whelan gets the pacing of the plot just right in her narration and does accents that don't feel forced, and the dialogue feels so natural that I almost forgot it was just one person doing all the work.
If you're in the mood for a magical listen, some witchy feminism, and a plot that will suck you in, I recommend.
Listens on Deck
Because I don't want Managing Editor Sharifah to stop being my friend, I'm finally going to remedy a giant hole in my reading life and read some Terry Pratchett (stop gasping, I hear you! I know!). Small Gods is where I'll start as soon as I can get the audiobook from Libby. In the meantime, I'm thinking it's time for a spooky listen that isn't necessarily about witches. Hmm… possibilities…
From the Internets
Esquire has a list of audiobooks for readers on the move.
I know today is Halloween, but here are some audiobooks for kiddos who like their spooky listens all year round.
Over at the Riot
Do you Libby? Because I Libby (a lot). Here are some handy hacks for doing the audiobook thang on the Libby app.
---
That's all I got today! Shoot me an email at vanessa@riotnewmedia.com with audiobook feedback & questions or find me on Twitter and the gram @buenosdiazsd. Sign up for the In The Club newsletter, peep the Read Harder podcast, and watch me booktube every Friday too!
Stay bad & bookish, my friends.
Vanessa