Sponsored by TBR: Tailored Book Recommendations
TBR is Book Riot's subscription service offering Tailored Book Recommendations for readers of all stripes. Been dreaming of a "stitchfix for books?" Now it's here! Tell TBR about your reading preferences and what you're looking for, and sit back while your Bibliologist handpicks recommendations just for you. TBR offers plans to receive hardcover books in the mail or recommendations by email, so there's an option for every budget. Visit mytbr.co to sign up today.
Hey, it's Halloween! Enjoy the evening in whichever way you prefer—out and about trick or treating or hiding in the dark with your own bowl of candy goodness—and if you're in a place that has celebrations for All Saints and All Souls, enjoy those the same way.
Over on Book Riot
We at Book Riot love our reading pathways! Check out the Christina Lauren one if you missed it last week, and now we've got one for Tessa Dare!
In search of new ways to read and eat at the same time? Here are some tips!
Dana dropped some knowledge about preorders and why they're important. I know I don't often mention books that far in advance, if at all, but it's definitely something worth reading up on.
Do you use Libby to listen to audiobooks through your library? Check out these hacks to up your listening game.
Deals
Today's the last day of a lot of deals, so I'll drop a couple that you should definitely check out before the clock strikes twelve.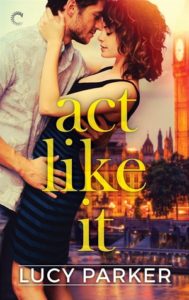 Have you read any Lucy Parker? If not, you're in luck, because Act Like It is 1.99. It's the first in a delightful series, the fifth of which (Headliners) comes out in January. So now is the perfect time to pick it up and see if you want the rest. This one is a delightful enemies-to-fake-relationship-to-lovers story between two actors who are both in hot water. Lainie is the respectable one, though, and if people think she's taming the ultimate bad boy, it's good press for both of them and the play they're in.
If you haven't yet read Cat Sebastian's first m/f romance (though it's no less queer than her others) A Duke In Disguise is 99 cents. Verity runs a bookshop that keeps in the black by publishing some stuff that they probably shouldn't, especially since her brother is an outspoken radical. Her BFF is an illustrator who's basically been in love with her since they were kids, and also, it turns out to everyone's surprise (including his)…the heir to a duke. So that's always fun.
New Books!
So I jumped the gun a little bit this past weekend and did some reading ahead. You all know how I don't like doing it. But I finally decided that I wasn't going to torture myself anymore waiting to read this book, even though it doesn't come out until next week. Go ahead and preorder it now, and you'll be happy it's in your hands on Tuesday.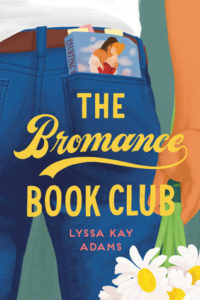 The Bromance Book Club
Lyssa Kay Adams
If you feel like you've been hearing a lot about this book, it's because you have. It's been inspiring a lot of excited squeeing since well before summer, and I've just been trying to hold off on reading it too far in advance. I just…couldn't wait any longer.
When we meet Gavin, he's drunk out of his mind. His wife, Thea, wants a divorce, and he's living in a hotel room. His friends—and some other guy he's not even friendly with—decide that they need to help him, and bring him into the fold. The first rule of book club is you don't talk about book club and all that. Using romance novels, these men have all found their way to the right language and clear understanding of how their lovers want to be treated, both in and out of the bedroom. They invite Gavin to do the same, and give him some assigned reading.
Gavin and Thea are in more trouble than he ever knew, and this is the story of them falling back in love—and doing so to a much deeper level. There's also a bonus for the reader: we get to see a few chapters of the book Gavin is reading. It's being touted as a romcom, but it's definitely more serious leaning, as funny as some parts (and the whole premise) are.
Do you know what this book did? It made me decide that marriage-in-trouble stories are the only kind of second chance romance I'm really drawn to. I don't mind a story of lost love reuniting a decade later, but there needs to be a huge draw for a story about someone who did something very bad and is trying to redeem themselves. I want the protagonists to have not quite reached that point, and The Bromance Book Club is that kind of story.
CW for discussion of parental neglect, marriage trouble, verbal insults of a person with a speech impediment, and a very heterosexual universe.
I'm also excited to pick up some amazing-looking new books: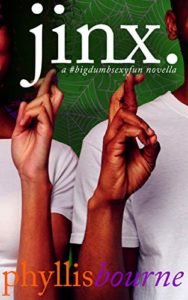 Jinx by Phyllis Bourne
The Earl's Christmas Pearl by Megan Frampton
Someone Seeking Someone Else by Nicole Falls
Learn My Lesson by Katee Robert
The Kingmaker by Kennedy Ryan
Stocking Stuffers by Erin McLellan (You're going to hear plenty from me about this one!)
Awaken The Dragon by AC Arthur (November 4)
Beard Necessities by Penny Reid (November 4)
Prose Before Bros by Cathy Yardley (November 4)
Get a Life, Chloe Brown by Talia Hibbert (November 5)
This next week is just a bombardment of riches. And this isn't even everything coming out.
As usual, catch me on Twitter @jessisreading or Instagram @jess_is_reading, or send me an email at jessica@riotnewmedia.com if you've got feedback, bookrecs, or just want to say hi!