Sponsored by Weird Little Robots by Carolyn Crimi and Corinna Luyken
Nine-year-old Penny Rose has just moved to a new town, and so far the robots she builds herself are her only company. But with just a bit of magic, everything changes: she becomes best friends with Lark, has the chance to join a secret science club, and discovers that her robots are alive. Penny Rose hardly remembers how lonely she used to feel. But then a fateful misstep forces her to choose between the best friend she's always hoped for and the club she's always dreamed of, and in the end it may be her beloved little robots that pay the price.
Hi Kid Lit friends!
And the autumn rolls on with lots of great new children's book releases! I chose out a stack of my favorites from this week; take a look and let me know what you think! As always, if I loved it a particular book, I marked it with a
. Please note that all descriptions come from the publisher.
---
Picture Book New Releases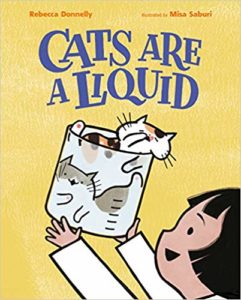 Cats are a Liquid by Rebecca Donnelly, illustrated by Misa Saburi
Cats fill./ Cats spill./ Cats flow downhill.// Cats tip./ Cats drip./ Cats grip, snip, rip.// Cats are a liquid/ Except when they're not.
Inspired by an Ig Nobel Prize–winning investigation of how cats behave like liquids, this book introduces some of the physical properties of liquids―they adapt to fit a container, they flow like fluids―and is just pure fun. Like its inspiration, it makes you laugh, then think. Back matter includes a brief introduction to the different physical states: solid, liquid, gas.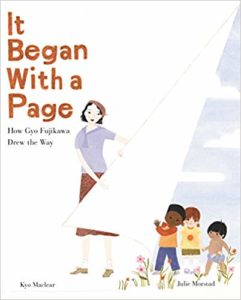 It Began With a Page: How Gyo Fujikawa Drew the Way by Kyo Maclear, illustrated by Julie Morstad
Growing up in California, Gyo Fujikawa always knew that she wanted to be an artist. She was raised among strong women, including her mother and teachers, who encouraged her to fight for what she believed in. During World War II, Gyo's family was forced to abandon everything and was taken to an internment camp in Arkansas. Far away from home, Gyo worked as an illustrator in New York while her innocent family was imprisoned. Seeing the diversity around her and feeling pangs from her own childhood, Gyo became determined to show all types of children in the pages of her books. There had to be a world where they saw themselves represented.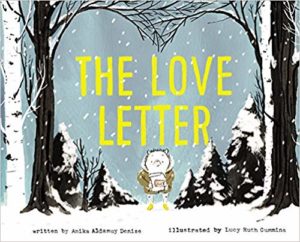 The Love Letter by Anika Aldamuy Denise, illustrated by Lucy Ruth Cummins
Hedgehog, Bunny, and Squirrel are best friends. One day, they each find a letter. But not just any letter… A love letter.
My word! My whiskers! Aww, nuts!
Someone loves them. But who? The answer may surprise you!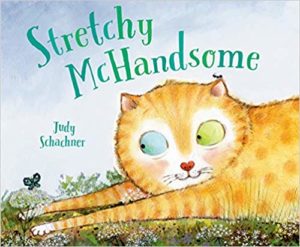 Stretchy McHandsome by Judy Schachner
Stretchy McHandsome is not only good looking with his ginger fur, but he has personality that shines as well. Leaving the safety of the McHandsome clan, he stretches himself away from home and all around town. Out and about, he is spotted by a girl with a kindred spirit, who makes him realize the one thing missing from his life is the warm lap of a loving person. How this gadabout finds his true girl makes for a story that is a little bit wild, but a whole lot wonderful.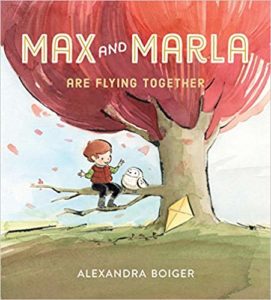 Max and Marla Are Flying Together by Alexandra Boiger
Max and Marla do everything together. So when Max makes a kite and wants to go fly it, he can't understand why Marla doesn't want to join! And when an autumn wind makes a mess in their yard, Marla finds a perfect pile of leaves to hide away in. Little does she know that she can't avoid the kite forever! All she needs is the courage to believe in herself. In this heartwarming tale of flying and fun, Max and Marla learn that the best way to face your fears is to have a best friend at your side.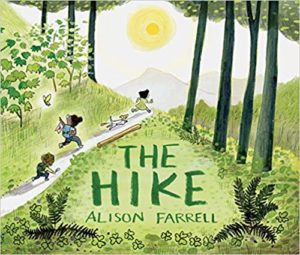 The Hike by Alison Farrell
The Hike is a plucky and sweet adventure story about three intrepid young female explorers set out to conquer the outdoors intheir local forest. Here is the best and worst of any hike: from picnics to puffing and panting, deer-sighting to detours. This spirited picture book is filled with lyrical language that captures the majesty of the natural world, coupled with a fun narrative throughout.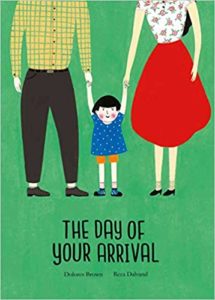 The Day of Your Arrival by Dolores Brown and Reza Dalvand
Adopted children are very wanted. A sweet story to talk about the long wait for the parents. The arrival of the child and the happiness of the family. One of the few picture books that talk about adoption in sucha beautiful way. A both that is both beautiful and necessary.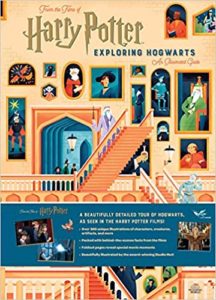 Exploring Hogwarts: An Illustrated Guide by Jody Revenson, illustrated by Studio Muti
This book pairs striking full-color illustrations of Hogwarts with interactive elements that reveal key movie scenes, concept art, and behind-the-scenes info on the most memorable locations within Hogwarts School of Witchcraft and Wizardry. Go behind-the-scenes with iconic landmarks like the Forbidden Forest, the Great Hall, and Quidditch Pitch, and discover secret rooms and mysteries hidden beyond the school's surface.
Middle Grade New Releases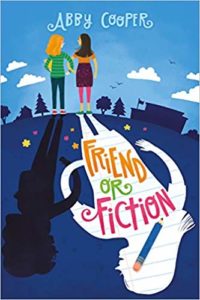 Friend or Fiction by Abby Cooper
Jade's life hasn't exactly been normal lately, especially since her dad's cancer diagnosis. Jade wishes her family could leave their no-name town in Colorado already–everybody else does sooner rather than later, including every best friend Jade's ever had. So she makes one up. In the pages of her notebook, she writes all about Zoe–the most amazing best friend anyone could dream of. But when pretend Zoe appears in real life thanks to a magical experiment gone right, Jade isn't so sure if she likes sharing her imaginary friend with the real world. To keep her best friend (and even make some new ones), Jade learns how to cope with jealousy, that friends should let friends be true to themselves, and that maybe the perfect best friend doesn't exist after all.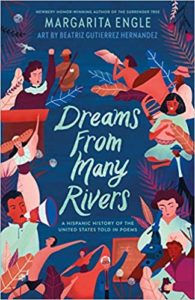 Dreams From Many Rivers: A Hispanic History of the United States Told in Poems by Margarita Engle
From Juana Briones and Juan Ponce de León, to eighteenth century slaves and modern-day sixth graders, the many and varied people depicted in this moving narrative speak to the experiences and contributions of Latinos throughout the history of the United States, from the earliest known stories up to present day. It's a portrait of a great, enormously varied, and enduring heritage. A compelling treatment of an important topic.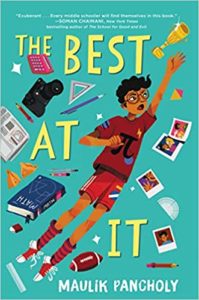 The Best At It by Maulik Pancholy
Rahul Kapoor is heading into seventh grade in a small town in Indiana. The start of middle school is making him feel increasingly anxious, so his favorite person in the whole world, his grandfather, Bhai, gives him some well-meaning advice: Find one thing you're really good at and become the BEST at it. Those four little words sear themselves into Rahul's brain. While he's not quite sure what that special thing is, he is convinced that once he finds it, bullies like Brent Mason will stop torturing him at school. And he won't be worried about staring too long at his classmate Justin Emery. With his best friend, Chelsea, by his side, Rahul is ready to crush this challenge…. But what if he discovers he isn't the bestat anything?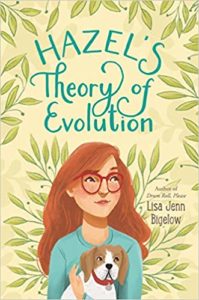 Hazel's Theory of Evolution by Lisa Jenn Bigelow
Hazel knows a lot about the world. That's because when she's not hanging with her best friend, taking care of her dog, or helping care for the goats on her family's farm, she loves reading through dusty encyclopedias. But even Hazel doesn't have answers for the questions awaiting her as she enters eighth grade. What if no one at her new school gets her, and she doesn't make any friends? What's going to happen to one of her moms, who's pregnant again after having two miscarriages? Why does everything have to change when life was already perfectly fine?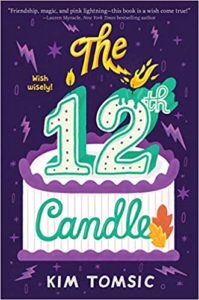 The 12th Candle by Kim Tomsic
Sage Sassafras's life is cursed! No, really. Since birth, Sage has been plagued by the Contrarium Curse that's set her at odds with classmate Priscilla Petty. Every time something goes right for Priscilla, it goes terribly, horribly wrong for Sage. And things alwaysgo well for Priscilla. Sage blames the curse for all her middle school misery—from losing a friend to failing gym to gaining a reputation as the girl whose daddy's in trouble. So when Sage is given a magical candle on her twelfth birthday, she seizes the chance to turn her luck around—with a wish to reverse the curse. But when the consequences of her wish take a terrible turn, Sage has to team up with her worst enemy—before she's doomed to a life of opposites forever.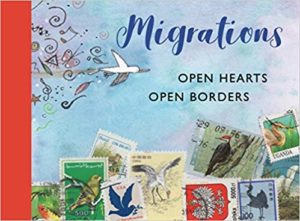 Migrations: Open Hearts Open Borders
From Mexico City's Natalia Gurovic comes a jewel-toned bird opposite the words "From up here I see no borders." From P.J. Lynch comes a seabird with the artist's personal wish for a safe journey and an openhearted welcome. From Argentinian illustrator Isol comes a child borne aloft on a bird below the words "Life is movement." From Jon Klassen, a sparrow, familiar and extraordinary. Sending a powerful message about human migration, more than fifty artists created postcards for the Biennial of Illustrations Bratislava 2017, curated by the International Centre for the Picture Book in Society.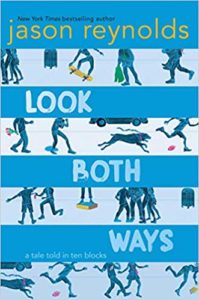 Look Both Ways by Jason Reynolds
This story was going to begin like all the best stories. With a school bus falling from the sky. But no one saw it happen. They were all too busy—
Talking about boogers.
Stealing pocket change.
Skateboarding.
Wiping out.
Braving up.
Executing complicated handshakes.
Planning an escape.
Making jokes.
Lotioning up.
Finding comfort.
But mostly, too busy walking home.
Nonfiction New Releases
Torpedoed: The True Story of the World War II Sinking of 'The Children's Ship' by Deborah Heiligman (MG)
Amid the constant rain of German bombs and the escalating violence of World War II, British parents by the thousands chose to send their children out of the country: the wealthy, independently; the poor, through a government relocation program called CORB. In September 1940, passenger liner SS City of Benares set sail for Canada with one hundred children on board. When the war ships escorting the Benares departed, a German submarine torpedoed what became known as the Children's Ship. Out of tragedy, ordinary people became heroes. This is their story.
No Map, Great Trip by Paul Fleischman (MG)
Part memoir, part travelogue (young Paul travels from California to New Hampshire by himself), part writing book, and part reflection on art and creativity, this inspirational book includes black-and-white photographs, as well as writing tips and prompts just right for budding authors. No Map, Great Trip is a great gift for young writers, language arts teachers, and for fans of Jack Prelutsky's Pizza, Pigs, and Poetry and Ralph Fletcher's A Writer's Notebook.
Suffragette: The Battle of Equality by David Roberts (MG)
Imprisonment, hunger strikes, suffrajitsu — the decades-long fight for women's right to vote was at times a ferocious one. Acclaimed artist David Roberts gives these important, socially transformative times their due in a colorfully illustrated history that includes many of the important faces of the movement in portraiture and scenes that both dignify and enliven.
Graphic Novel New Releases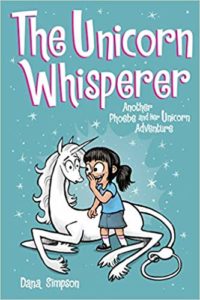 The Unicorn Whisperer by Dana Simpson
For 9-year-old Phoebe Howell and her sparkling companion, Marigold Heavenly Nostrils, every day is an adventure. In this latest installation of Dana Simpson's award-winning Phoebe and Her Unicorn series, Phoebe navigates the challenges of school life with a little help from her unicorn friend, who is always ready with the perfect spell for the occasion. But as the magic spells mount up, both Phoebe and Marigold find themselves wondering if sometimes they might be taking things just a little too far…
---
What are you reading these days? I want to know! Find me on Twitter at @KarinaYanGlaser, on Instagram at @KarinaIsReadingAndWriting, or email me at karina@bookriot.com.
Until next time!
Karina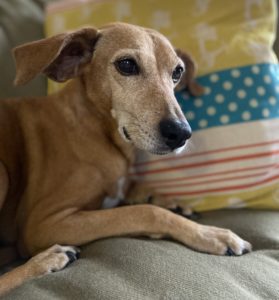 *If this e-mail was forwarded to you, follow this link to subscribe to "The Kids Are All Right" newsletter and other fabulous Book Riot newsletters for your own customized e-mail delivery. Thank you!*