Sponsored by The Best American Short Stories 2019 audiobook, guest edited by Anthony Doerr, series edited by Heidi Pitlor.
#1 New York Times best-selling, Pulitzer Prize-winning author Anthony Doerr brings his "stunning sense of physical detail and gorgeous metaphors" (San Francisco Chronicle) to selecting The Best American Short Stories 2019. Doerr and the series editor, Heidi Pitlor, winnow down twenty stories out of thousands that represent the best examples of the form published the previous year. The year's best stories are a diverse, addictive group exploring everything from America's rich rural culture to its online teen culture to the fragile nature of the therapist-client relationship. This astonishing collection brings together the realistic and dystopic, humor and terror.
Hola Audiophiles! Happy October! I'm back in PDX and enjoying every bit of this cozy sweater weather. The sun in San Diego was pretty glorious, as was all of the Mexican food! But I'm ready to see some leaves change color, to curl up with hot cider, and take down a couple of witchy listens.
Ready? Let's audio.
---
New Releases – October 8 (publisher's description in quotes)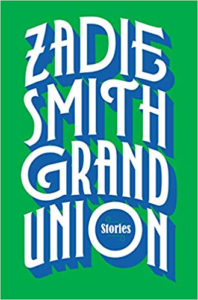 Grand Union by Zadie Smith, narrated by Doc Brown and Zadie Smith – She's back! Zadie Smith returns with a collection of short fiction, "about time and place, identity and rebirth, the persistent legacies that haunt our present selves and the uncanny futures that rush up to meet us." If you loved Feel Free, Swing Time, or my personal fave White Teeth, pick up this quick six-hour listen.
Narrator Note: I don't know how much of this Smith narrates, but I am excited to hear Doc Brown's performance. He's a musician and hilarious comedian with the best voice and OH YEAH he's Zadie Smith's little brother.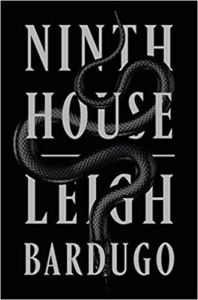 Ninth House by Leigh Bardugo, narrated by Lauren Fortgang and Michael David Axtell – Welp, guess what? Leigh Bardugo's debut adult novel is every bit as good as the hype. Alex Stern's life has been ruined by drug use, a habit she turned to in order to stop seeing ghosts. When she hits rock bottom, a mysterious benefactor appears with an unrefusable offer: he'll give Alex the clean slate she's looking for, and at Yale, no less; all she has to do is help reign in the occult activities of Yale's secret societies. Fair warning: this is not a work of YA. It's got violence, drug use, sexual assault, and all kinds of occult shenanigans.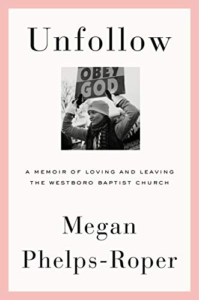 Unfollow: A Memoir of Loving and Leaving the Westboro Baptist Church by Megan Phelps-Roper, narrated by the author – Megan Phelps-Roper is the granddaughter of the man who founded the Westboro Baptist Church. She was once a devotee but has since left the institution; this memoir chronicles her "moral awakening, her departure from the church, and how she exchanged the absolutes she grew up with for new forms of warmth and community."
Narrator Note: I know I always go on about loving when authors narrate their own stuff, but this is one story I'm particularly interested to hear the author tell. Growing up in that environment must have been… well, a lot. I can't imagine this one was easy to write.
How We Fight for Our Lives by Saeed Jones, narrated by the author – Writer, poet, and Twitter presence extraordinaire Saeed Jones' website opens with the following: "Saeed Jones is that bitch. He has published two books — both of which are excellent. You should read them." So, you know, read them. This one is a "coming-of-age memoir written at the crossroads of sex, race, and power."
Narrator Note: If Saeed Jones' narration is anything like his presence on Twitter, you're in for a treat. He is unflinching, unapologetic, and absolutely hilarious.
Latest Listens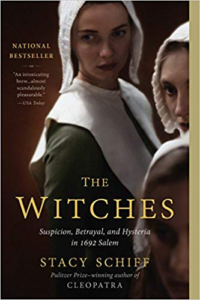 The Witches: Suspicion, Betrayal, and Hysteria in 1692 Salem by Stacy Schiff, narrated by Eliza Foss – I've been a fan of Stacy Schiff since reading Cleopatra: A Life. I love her deep dives into major historical moments and figures, the care she takes to tell their complete stories and not just the versions of them with which we're familiar. In the spirit of October and all things witchy, I'm finally giving this a listen.
This exploration of the Salem witch trials chronicles the panic that began in 1692 and hysteria that led to countless accusations. I'm only about a quarter of the way in, but so far it's what I expected: a thorough investigation with the pacing of a psychological thriller. As for the narration, it's a little soon to give my full review, especially since I'm a little salty that Robin Miles isn't narrating Schiff's work this time around. That's no disrespect to Eliza Foss – I just need to give her a little more time.
From the Internets
A Pew Research study shows that one in five Americans now listens to audiobooks. We're a pretty cool crowd, I think.
Here's a thing you didn't know you needed: professional audiobook narrator Saskia Maarleveld, whose most recent credits include The Golden Hour by Beatriz Williams and Kate Quinn's The Huntress, reads the whistleblower complaint.
For all you Apple Watch people: here's how to listen to audiobooks with WatchOS 6.
---
That's all I got today! Shoot me an email at vanessa@riotnewmedia.com with audiobook feedback & questions or find me on Twitter and the gram @buenosdiazsd. Sign up for the In The Club newsletter, peep the Read Harder podcast, and watch me booktube every Friday too!
Stay bad & bookish, my friends.
Vanessa