Sponsored by Memories of Glass by Melanie Dobson, new in paperback from Tyndale House Publishers.
Josie and Eliese work together during World War II to rescue Jewish children who are awaiting deportation. But dangerous secrets could derail the entire mission. Seventy-five years later, Ava suspects her great-grandfather was not the war hero he claimed to be, and family members will do anything to keep the truth buried. Inspired by three real-life Dutch heroes who rescued more than 600 Jewish children, Memories of Glass tells a heart-wrenching story you won't soon forget.
Welcome to In The Club, a newsletter of resources to keep your book group well-met, well-read, and well-fed.
Looks like we maaaade iiiitttt. Yes y'all, I have finally, actually, no-really-I-mean-it-this-time moved all the way to Portland! I may not have all of my furniture and my clothes may still be in trash bags, but the books have all been put away and that, my friends, gives me peace.
Speaking of books, let's talk about em. To the club!!
---
Today's theme is very simple: Sh*t I Like. I took more than one warm and fuzzy trip down memory lane while packing up and shelving some of my favorite reads and thought I'd share a few with great club potential.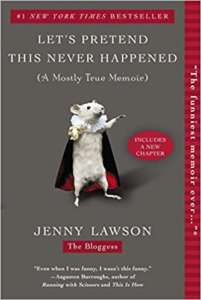 Let's Pretend this Never Happened by Jenny Lawson – I'm a big fan of funny books that make me cry and "The Bloggess" Jenny Lawson has that combo on lock. One minute she's talking about a taxidermied mouse, the next she's sharing her struggles with mental health. I heart her so much for those candid conversations.
Book Club Bonus: We don't all have a story about our fathers and taxidermied mice, but we do have funny stories of our own. I, for example, thought Madonna was not a Material Girl but a Cheerio Girl and DEMANDED to snack on the cereal while dancing to it in our living room as a kid. Your turn! Get real with the club and share funny childhood memories! Read your story aloud, or to make it even more interesting: have everyone write or type theirs up, put them in a bowl, then designate someone to read them aloud at random. See if the club can guess who each memory belongs to!
Related: Jenny Lawson recently announced that she's opening a bookstore and bar in San Antonio!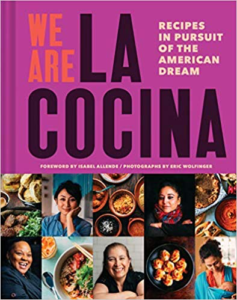 We Are La Cocina: Recipes in Pursuit of the American Dream by Caleb Zigas, Leticia Landa – If you don't know about La Cocina, look into this amazing nonprofit now: based in San Francisco's Mission District, they provide affordable commercial kitchen space, technical assistance and even job placement for women of color and immigrant communities in the food business. This cookbook is a collection of stories and recipes from 40 of the talented women who got their start with La Cocina and I can personally vouch for their food's deliciousness. All proceeds from sales of the book go right back into helping other women entrepreneurs and the fight for equity in the culinary industry.
Book Club Bonus: If you're wanting to get away but can't quite swing a group vacay right about now, dive into this cookbook to take a trip with book club through food. That braised fish recipe from Hang Truong of Noodle Girl Restaurant is the Vietnamese comfort food I didn't know I needed in my life.
Bonus: Hold your club gathering at a woman-owned restaurant or eatery; if you're in Northern California's bay area, go support one of the women from the book!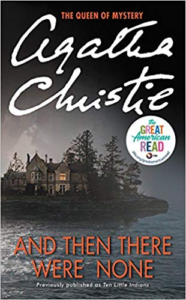 And Then There Were None by Agatha Christie – I re-read this for what has got to be the 20th time recently and its genius strikes me every time (though some bits are problematic; yikes, that original title!). The premise: a bunch of strangers get a mysterious invite to an island mansion and guess what: they die. Shocking! They're picked off one by one as bits of their shady pasts are revealed. It's so unsettling and creepy and one of my favorite Christie works to date.
Book Club Bonus: Discuss whether any of the characters were likeable; if they're awful, did they deserve to die?! Did you see the ending coming? What books or films do you now recognize as drawing from this Chrisie classic?
Suggestion Section
Some more musings on what celebrity book clubs do for writers.
September celebrity book club picks from Reese Witherspoon, PBS, Emma Watson, and Emma Roberts.
---
Thanks for hanging with me today! Shoot me an email at vanessa@riotnewmedia.com with your burning book club questions or find me on Twitter and the gram @buenosdiazsd. Sign up for the Audiobooks newsletter, get it on the Read Harder podcast, and watch me booktube every Friday too.
Stay bad & bookish, my friends.
Vanessa
More Resources:
– Our Book Group In A Box guide
– List your group on the Book Group Resources page