Hi Kid Lit Friends,
Happy July! I hope this week is full of sun, family, picnics, fireworks, and summer reading for you! Here are some of the new children's book releases coming out today; take a look and let me know what you think. As always, if I've had the chance to read one of these books and loved it, I marked it with a
. Please note that all descriptions come from the publisher.
---
Sponsored by Starscape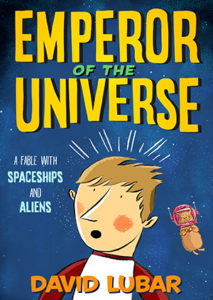 The launch of a space adventure trilogy for young readers by David Lubar, author of the Weenies Tales! When seventh-grader Nicholas, his gerbil Henrietta, and a package of ground beef are beamed aboard a spaceship, they soon find themselves in a chase across the universe. Nicholas wants to go home before his parents ground him forever, but with the Universal Police on his trail, that won't be easy. Before it's all over, Henrietta will be safe in her cage, Nicholas will be crowned Emperor of the Universe, and something even more surprising will happen to the package of ground beef.
---
Picture Book New Releases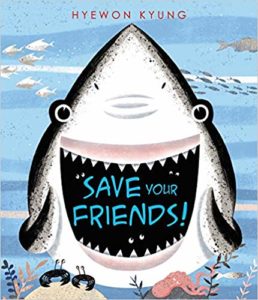 Save Your Friends by Hyewon Kyung
Help! There is a shark in the water, and he's eating all your friends! Only you can save them from being swallowed whole. How? Turn the page and find out! This funny story about a playground bully, friendship, and empathy will have kids laughing along as they hurry to save their friends (all marine animals) from the shark's dangerous jaws. And in the end, readers learn why the shark is acting so rudely in the first place!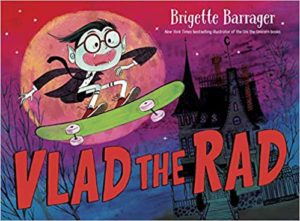 Vlad the Rad by Brigette Barrager
Vlad is always getting in trouble at Miss Fussbucket's School for Aspiring Spooks. Unlike the other little vampires, witches, mummies, and ghosts, Vlad isn't very interested in learning spookiness. That's because…Vlad loves to skateboard! How can he possibly think about being a good spook when all he wants to do is practice his latest gnarly trick? Maybe Vlad can find a way to do both!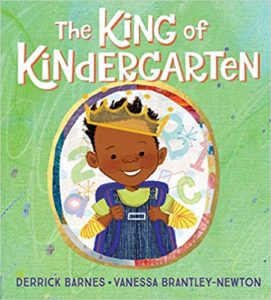 The King of Kindergarten by Derrick Barnes, illustrated by Vanessa Brantley Newton
Starting kindergarten is a big milestone–and the hero of this story is ready to make his mark! He's dressed himself, eaten a pile of pancakes, and can't wait to be part of a whole new kingdom of kids. The day will be jam-packed, but he's up to the challenge, taking new experiences in stride with his infectious enthusiasm! And afterward, he can't wait to tell his proud parents all about his achievements–and then wake up to start another day.
Look Again: Secrets of Animal Camouflage by Steve Jenkins and Robin Page
Why do some animals blend in to their surroundings? Why do certain creatures have fur, feathers, and features designed to look like the plants and rocks they live near? In Look Again!, the most well-disguised animals on the planet are gathered together to showcase the range of ways animals try to avoid each other's attention, and why. This eye-catching book invites readers to seek out the astonishingly camouflaged animals hiding in plain sight—then reveals them on the next page!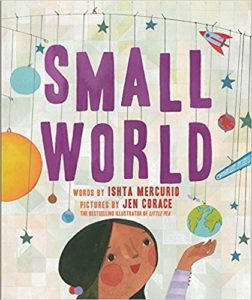 Small World by Ishta Mercurio, illustrated by Jen Corace
When Nanda is born, the whole of her world is the circle of her mother's arms. But as she grows, the world grows too. It expands outward—from her family, to her friends, to the city, to the countryside. And as it expands, so does Nanda's wonder in the underlying shapes and structures patterning it: cogs and wheels, fractals in snowflakes. Eventually, Nanda's studies lead her to become an astronaut and see the small, round shape of Earth far away. A geometric meditation on wonder, Small World is a modern classic that expresses our big and small place in the vast universe.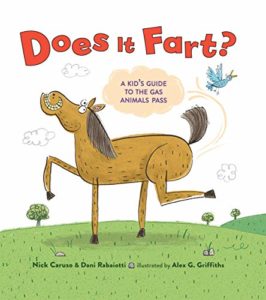 Does it Fart? by Nick Caruso & Dani Rabaiotti, illustrated by Alex G. Griffiths
Dogs fart. Cats fart. Horses fart (a lot). But what about snakes? Spiders? Octopuses? What about chimpanzees? Cheetahs? Or dinosaurs? In this gaseous guide to kids' favorite animals (and some they've probably never heard of), young readers will discover not only which animals pass gas, but also which have the stinkiest farts, which fart the most, and where all this smelly stuff comes from. They'll even learn which species has its own secret fart code! Perfect for reluctant readers, and with full-color illustrations throughout, Does It Fart? is the funniest book you never knew you needed.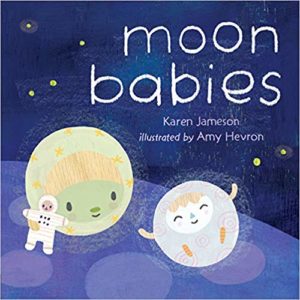 Moon Babies by Karen Jameson, illustrated by Amy Hevron
In the starry dark of night, / a secret moon world comes to light. / Make a wish and you just might / visit baby moons tonight. Follow the moon babies on their busy day from waking up in their crescent cradles, to breakfast on the Milky Way, to bundling up for moonwalks, to orbiting the earth in a lunar carousel, and more! And at day's end, watch as the babies finish bathtime with stardust powder, snuggle up with nursery rhymes and lullabies, and finally drift off to sleep.
Goodbye, Friend! Hello, Friend! by Cori Doerrfeld
Change and transitions are hard, but Goodbye, Friend! Hello, Friend! demonstrates how, when one experience ends, it opens the door for another to begin. It follows two best friends as they say goodbye to snowmen, and hello to stomping in puddles. They say goodbye to long walks, butterflies, and the sun…and hello to long evening talks, fireflies, and the stars. But the hardest goodbye of all comes when one of the friends has to move away. Feeling alone isn't easy, and sometimes new beginnings take time. But even the hardest days come to an end, and you never know what tomorrow will bring.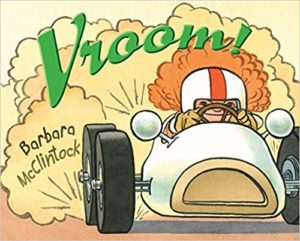 Vroom! by Barbara McClintock
Join a little girl as she zooms―
past fields and forests,
up mountains,
over rivers,
through deserts,
home again,
and into bed in this playful picture book about the power of imagination, from award-winning author and artist Barbara McClintock.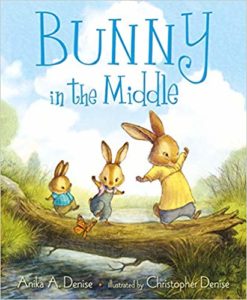 Bunny in the Middle by Anika A. Denise, illustrated by Christopher Denise
When you're in the middle . . . you're not the oldest, and you're not the youngest. You are right in between. There's someone bigger who helps you and someone smaller who needs you. From the middle, you can see both sides. But being in the middle isn't always easy―sometimes it's hard to know what makes you special, or how to follow a path that's just your own.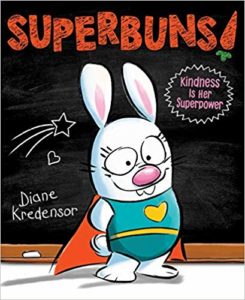 Superbuns by Diane Kredensor
Some superheroes can leap tall buildings in a single bound, some can crawl up a wall, some grow wolfsharp claws, and some have superhuman speed. And Superbuns? Her superpower is being kind. Super kind. She can't help but be kind: watering a neighbor's daisies; helping a friend cross the street; feeding a hungry goldfish. Superbuns's older sister Blossom is a super know-it-all who doesn't believe kindness is a superpower. Not one bit. And all this kindness is slowing them down on their way to Grammy's house, where a yummy carrot cobbler awaits.
Chapter Book New Release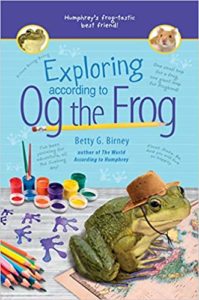 Exploring According to Og the Frog by Betty G. Birney
Og loves the kids in Room 26, but he's awfully curious about the human world outside his tank! His friend Humphrey has no problem getting out and about, but it's harder for Og because he can't climb the way a hamster can. But Og never let hard work or fear stop him from going after what he wants. And he's determined to help the tads in Room 26 understand that taking risks can pay off–especially when they are being true to themselves. Whether it's learning that a younger kid can have great ideas, a student who learns differently can have hidden talents, or ideas that seem crazy at first can actually be amazing if you look at them from a different perspective, Og wants everyone to celebrate their talents. And once he fully embraces his frogginess–BING-BANG-BOING–he figures out how to go where no frog has gone before.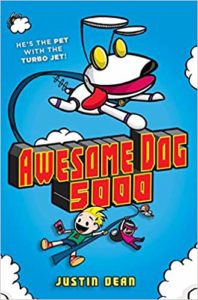 Awesome Dog 5000 by Justin Dean
Marty, Ralph, and Skyler might make the ultimate secret combo when battling alien-slime ninjas in their favorite video game, but in real life they're just regular kids. That is, until the three best friends discover Awesome Dog 5000, a robotic dog with very real power-ups. Awesome Dog can "bark" a sonic boom, "walk" at speeds over three hundred miles per hour, and "fetch" with an atomic cannon. Life for Marty, Ralph, and Skyler just got a major turbo-boost!
Middle Grade New Releases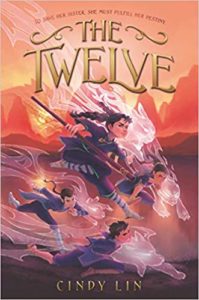 The Twelve by Cindy Lin
Usagi can hear a squirrel's heartbeat from a mile away, and soar over treetops in one giant leap. She was born in the year of the wood rabbit, and it's given her extraordinary zodiac gifts. But she can never use them, not while the mysterious, vicious Dragonlord hunts down all those in her land with zodiac powers. Instead, she must keep her abilities—and those of her rambunctious sister Uma—a secret. After Uma is captured by the Dragonguard, Usagi can no longer ignore her powers. She must journey to Mount Jade with the fabled Heirs of the Twelve, a mystical group of warriors who once protected the land. As new mysteries unfold, Usagi must decide who she stands with, and who she trusts, as she takes on deadly foes on her path to the elusive, dangerous Dragonlord himself.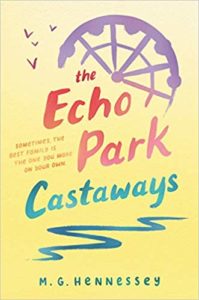 The Echo Park Castaways by M.G. Hennessey
Nevaeh, Vic, and Mara are veterans of the Los Angeles foster care system. For over a year they've been staying with Mrs. K in Echo Park. Vic spends most of his time living in a dream world, Mara barely speaks, and Nevaeh is forced to act as a back-up parent. Though their situation isn't ideal, it's still their best home yet. Then Child Protective Services places Quentin in the house, and everything is turned upside down. Nevaeh really can't handle watching over anyone else, especially a boy on the autism spectrum. Meanwhile, Quentin is having trouble adjusting and attempts to run away. So when Vic realizes Quentin just wants to see his mom again, he plans an "epic quest" to reunite them. It could result in the foster siblings getting sent to different group homes. But isn't family always worth the risk?
For those of you who enjoyed the math books in this past Sunday's newsletter, check out the Mathical Book Prize website! It has lots of great children's books about math. Many thanks to Kara Newhouse for letting me know about it.
I would love to know what you are reading this week! Find me on the Kidlit These Days podcast, on Twitter at @KarinaYanGlaser, on Instagram at @KarinaIsReadingAndWriting, or email me at karina@bookriot.com.
Until next time!
Karina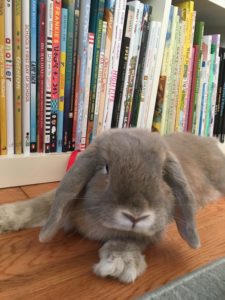 *If this e-mail was forwarded to you, follow this link to subscribe to "The Kids Are All Right" newsletter and other fabulous Book Riot newsletters for your own customized e-mail delivery. Thank you!*