Happy solstice! I hope you're enjoying your longest day if you're in the Northern hemisphere, or having a cosy longest night with a good book if you're in the Southern hemisphere. It's Alex, with some news for you and some random fun for Friday! May the odds be ever in your favor!
---
This newsletter is sponsored by Tor Books.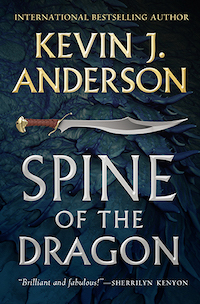 New York Times bestselling author Kevin J. Anderson triumphantly returns to epic fantasy with the Wake the Dragon series. Spine of the Dragon is a politically charged adventure of swords, sorcery, vengeance, and the rise of sleeping giants.
Two continents at war, the Three Kingdoms and Ishara, are divided by past bloodshed. When an outside threat arises—the reawakening of a powerful ancient race that wants to remake the world—the two warring nations must somehow set aside generational hatreds and form an alliance to fight their true enemy.
---
News and Views
Rosamund Pike will be joining the Wheel of Time adaptation as Moiraine.
There will be a Hunger Games prequel novel in 2020.
Cover reveal for Realm of Ash I AM SO EXCITED. (Have you read Empire of Sand? It's super good.)
Some juicy tidbits about Us from the blu-ray release.
Here's a great list of 6 fantasy books about queer princesses. Also, the 7 most important umbrellas that have ever graced our genre.
Marvel is so desperate to beat Avatar's box office numbers that it's going to do a theatrical re-release Avengers: Endgame with extra footage. Here's hoping some of that extra footage is an intermission.
Some characters from Japanese folklore who have made an appearance in Studio Ghibli films.
Here's our interview with Tabitha Bird, author of A Lifetime of Impossible Days.
This nonfiction book sounds interesting: Super Soldiers: A Salute to the Heroes and Villains Who Fought for Their Country
Adam Savage built an Iron Man suit. And it flies.
James D. Nicoll writes an interesting post about space opera that's confined to a single star system.
There's a robotic lion fish powered by "blood-like fluid."
Show me your biggest trilobite.
Free Association Friday
June 21st has some pretty cool history on it, in addition to getting to be the solstice more than its fair share of the time*.
(* – I don't know if this is actually a fact, but it is in my heart.)
So instead of going on a long thing, I'm going to pick the three coolest On This Day in Histories.
In 533 on June 21-ish, a Byzantine fleet left Constantinople, heading to Africa to attack the Vandals. If you, like me, had never heard of the Vandals, check Wikipedia because this is something World History class let me down on. But of course, if we're talking Byzantine Empire, is there any other book to name except A Memory Called Empire by Arkady Martine? Well, of course Guy Gavriel Kay has written some rather Byzantine books, starting with Sailing to Sarantium. Gene Wolfe's The Book of the New Sun definitely has that flavor as well.
Then if you jump forward 1,049 years, we hit the day that Oda Nobunaga was forced to commit seppuku. Sengoku was Japan's warring states period, and a source of some really good classic literature like The Tale of the Heike. Epic feudal battles and warring clans! Of course there's some fun fantasy out there. Across the Nightingale Floor by Lian Hearn is the first Sengoku-inspired novel I ever read. Then there's The Fox Woman by Kij Johnson. While less overtly fantastical (and mostly takes place in the Edo rather than Sengoku period), I'd argue Cloud of Sparrows by Takashi Matsuoka still fits the bill. Eiki Yoshikawa's Taiko is pure historical fiction, but it's got Nobunaga himself in it and it's darn good. Last, I want to mention how mad I am that 産霊山秘録 (Musubi no Yama Hiroku) still doesn't have an official English translation.
Forward 318 more years, and China formally declares war on the US, Britain, Germany, France, and Japan and the Boxer Rebellion officially starts. R.F. Kuang's The Poppy War doesn't riff off that period, but it's got some rhyming notes. (And the sequel, The Dragon Republic, is coming out in August. Squee!) I know I mention Cixin Liu's The Three Body Problem trilogy a lot, but the first contact scenario presented in the books definitely carries some notes of the Boxer Rebellion and other clashes with it. In Jade City by Fonda Lee, foreign occupation is successfully repulsed from a fantasy country. (Also, its sequel, Jade War, is coming in July! Double squee!) And I wouldn't forgive myself if I didn't mention Aliette de Bodard's sprawling Xuya Universe, in which the Chinese came to America before the Europeans and Asian countries dominate the future. My favorite from it so far is The Tea Master and the Detective.
See you, space pirates. You can find all of the books recommended in this newsletter on a handy Goodreads shelf. If you'd like to know more about my secret plans to dominate the seas and skies, you can catch me on the (Hugo-nominated!!!) Skiffy and Fanty Podcast or over at my personal site.