Hi Kid Lit Friends,
Last week I brought you my most anticipated picture books for the second half of 2019 and next week I'll share some middle grade books I'm really excited about. But today is all about C*H*A*P*T*E*R    B*O*O*K*S!
I love chapter books. They are geared for newly independent readers, usually kids in first through third grade, and there are so many great ones coming out this year! In chapter books, the works are printed a little larger with more space in between the lines, the chapters are shorter, and there are pictures interspersed with the text. Check out the chapter books I'm most excited about for the second half of 2019 (please note that all descriptions come from the publisher), and let me know if there are any chapter books on your radars!
---
Sponsored by Yellow Jacket, an imprint of Little Bee Books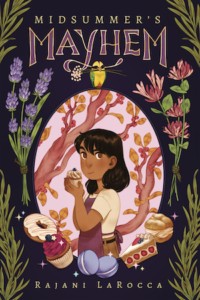 Can Mimi undo the mayhem caused by her baking in this contemporary-fantasy retelling of Shakespeare's A Midsummer Night's Dream? "Midsummer's Mayhem is an enchantment of a novel, bursting with magic, mystery, and mouth-watering baked goods. Readers who have their own baking-show dreams will be cheering for Mimi until the very last page." -Kate Messner, award-winning author of Breakout, The Seventh Wish, and All the Answers
---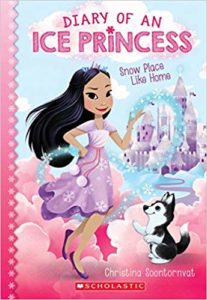 Diary of an Ice Princess: Snow Place Like Home by Christina Soontornvat (Scholastic, 7/30)
Princess Lina has a life any kid would envy. She lives in a massive palace in the clouds. Everyone in her family has the power to control the wind and weather. On a good day, she can even fly! She loves making lemons into lemon ice, riding wind gusts around the sky, and turning her bedroom into a real life snow globe. There's just one thing Lina wants: to go to regular, non-magical school with her best friend Claudia. She promises to keep the icy family secret under wraps. What could go wrong? (EVERYTHING!)
Diary of an Ice Princess Book Series 2019 Releases: Frost Friends Forever (7/30), On Thin Ice (10/1)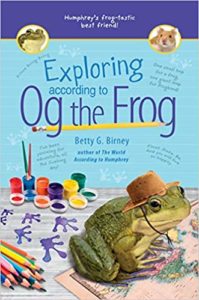 Exploring According to Og the Frog by Betty G. Birney (Putnam, 7/2)
Og loves the kids in Room 26, but he's awfully curious about the human world outside his tank! His friend Humphrey has no problem getting out and about, but it's harder for Og because he can't climb the way a hamster can. But Og never let hard work or fear stop him from going after what he wants. And he's determined to help the tads in Room 26 understand that taking risks can pay off–especially when they are being true to themselves. Whether it's learning that a younger kid can have great ideas, a student who learns differently can have hidden talents, or ideas that seem crazy at first can actually be amazing if you look at them from a different perspective, Og wants everyone to celebrate their talents. And once he fully embraces his frogginess–BING-BANG-BOING–he figures out how to go where no frog has gone before.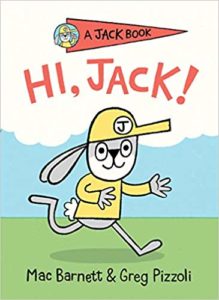 Hi Jack! by Mac Barnett, illustrated by Greg Pizzoli (Viking, 9/3)
Meet Jack: He lives in a tree house. His interests include snacks, petty theft, and lipstick graffiti. Jack also loves his friends, he just has a funny way of showing it sometimes . . .  A perfect read-aloud with snappy, rhythmic text, this series will bridge the gap between picture books and chapter books and fill the Elephant-and-Piggie-shaped hole in young readers' hearts.
Jack Series 2019 Releases: Jack Blasts Off (Viking, 9/3)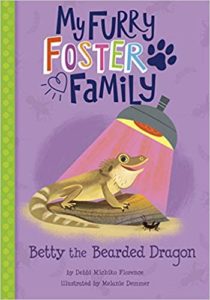 My Furry Foster Family: Betty the Bearded Dragon by Debbie Michiko Florence (Capstone, 8/1)
Eight-year-old Kaita Takano and her family are old pros at fostering rescued dogs and cats from the local animal shelter. But they've got their work cut out for them when a beautiful bearded dragon with plenty of attitude arrives at their doorstep. Even though Kaita narrates the rollicking adventure, this charmingly illustrated chapter book is all about Betty!
My Furry Foster Family Series 2019 Releases: Truman the Dog,  Buttons the Kitten, Apple and Annie, the Hamster Duo (all out of 8/1)
Sam Wu is Not Afraid of the Dark by Katie Tsang and Kevin Tsang (Sterling, 8/6)
Sam Wu is NOT afraid of the dark—but proving how brave you are is hard work. Especially when Sam's about to face his greatest challenge yet: a camping trip in the woods with his best friend, Bernard, Bernard's dad, and Sam's annoying cousin from Hong Kong. That means confronting all kinds of terrifying things, like grizzly bears, vampire bats, werewolves, aliens, and most horrible of all . . . Ralph ZInkerman, the worst person in the WHOLE UNIVERSE! But when something strange starts haunting the woods, can Sam and his crew band together to become Masters of the Dark? And could they even have FUN?
Kondo and Kezumi Visit Giant Island by David Goodner, illustrated by Andrea Tsurumi (Disney, 9/17)
Kondo is big. Kezumi is little. They lived on an island with fruit trees and berry bushes and flitter-birds and fluffle-bunnies. When a surprise bottle washes ashore, they discover a map with a mysterious message: WE ARE NOT ALONE. Kezumi wants to follow the map and explore the world. Kondo wants to stay home and pick fruit from the fruit tree and berries from the berry bushes. But once Kezumi builds the perfect boat, the best friends set sail together to see . . . well, they don't know!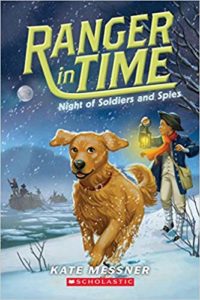 Ranger in Time: Night of Soldiers and Spies by Kate Messner (Scholastic, 7/9)
Ranger's next mission finds him in the middle of the Revolutionary War. There he meets Isaac Pope, a fisherman turned soldier for the Continental Army. When General George Washington is in need of a spy to cross into enemy territory, Isaac is chosen for the dangerous task. Ranger must help Isaac remain safe and undetected, or the battle — and their lives — will be lost.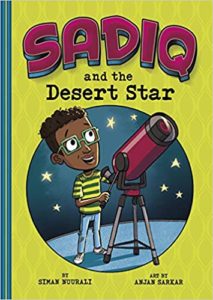 Sadiq and the Desert Star by Siman Nuurali, illustrated by Anjan Sarkar (Capstone, 8/1)
When Sadiq's father leaves on a business trip, he worries he'll miss his baba too much. But Baba has a story for Sadiq: the story of the Desert Star. Learning about Baba's passion for the stars sparks Sadiq's interest in outer space. But can Sadiq find others who are willing to help him start the space club of his dreams?
Sadiq Series 2019 Releases: Sadiq and the Pet Problem, Sadiq and the Green Thumbs, Sadiq and the Fun Run (all out on 8/1)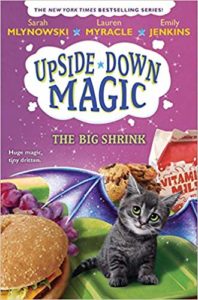 Upside Down Magic: The Big Shrink by Sarah Mlynowski, Lauren Myracle, and Emily Jenkins (Scholastic, 9/3)
Marigold Ramos can magically make things small – sometimes very, very small. The only problem? She can't figure out how to make them big again. Maybe a new tutor can help Marigold manage her magic. And maybe her magic will come in handy as she and her friends in the Upside-Down Magic class band together to protest a new rule by their principal, a super unfair rule that bans them from bringing their amazing new toy dragons to school.
Around the web…
The Board Books I Could Read All Day Every Day, via Book Riot
Decorate Your Spaces With These Fabulous Where the Wild Things Are Quotes, via Book Riot
Quick reminder: fill out our survey and enter to win a $50 gift certificate! We're always trying to do things better here at Book Riot, so we would love your feedback on this newsletter. Click here to complete the survey and enter to win a $50 gift certificate to Amazon; contest will close on June 30 at 11:45pm.
I would love to know what you are reading this week! Find me on Twitter at @KarinaYanGlaser, on Instagram at @KarinaIsReadingAndWriting, or email me at karina@bookriot.com.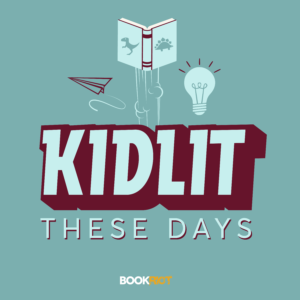 Also, check out Kidlit These Days, a new kid lit podcast that I co-host with Matthew Winner. We explore themes in children's literature and connect it with what is going on in the world today. Subscribe on iTunes or on your favorite podcatcher.
Until next time!
Karina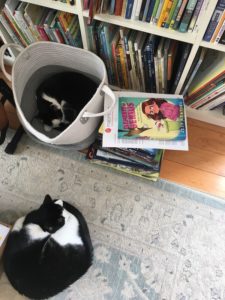 *If this e-mail was forwarded to you, follow this link to subscribe to "The Kids Are All Right" newsletter and other fabulous Book Riot newsletters for your own customized e-mail delivery. Thank you!*