Hello and happy Monday, my little page eaters! All this lovely weather has lifted my spirits. I have been reading up a storm, and can't wait to share all the good books with you. (A reminder that you can stay on top of great new releases with the New Books! newsletter and the All the Books! podcast.) Enjoy the rest of your week and remember to be excellent to each other! I'll see you again on Thursday. – xoxo, Liberty
---
Sponsored by Crazy4Fiction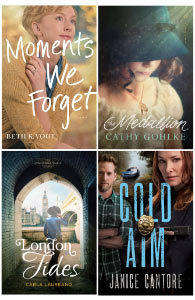 Sample this summer's titles, including:
MOMENTS WE FORGET: A woman overcomes cancer but struggles with her husband's shocking revelation.
THE MEDALLION: Two families torn apart by war are connected through a small child and the medallion she carries.
LONDON TIDES: A war photographer returns to London and reconnects with her ex-fiancé.
COLD AIM: Sheltering an FBI witness shines an unwelcome spotlight on Tess O'Rourke's small town.
---
Here's this week's trivia question: What author had four of his novels featured on the New York Times Best Seller List in the same week in 2004? (Scroll to the bottom for the answer.)
Deals, Reals, and Squeals!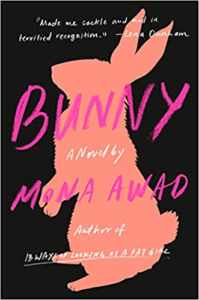 AMC to adapt Mona Awad's Bunny novel for TV.
The Lost Symbol by Dan Brown is being made into a series.
The survivor from the Brock Turner case is writing a memoir. (TW for discussion of sexual assault.)
Picador won the rights to the new novel from Sarah Moss.
Ansel Elgort will start in a series adaptation of Tokyo Vice, based on the book by Jake Adelstein.
The rights have sold to Margaret Atwood's first novel The Edible Woman.
Cover Reveals
Here's the first look at the cover of All Boys Aren't Blue by George M. Johnson. (FSG Books for Young Readers, April 28, 2020)
And Paste has the first look at Akemi Dawn Bowman's Harley in the Sky. (Simon Pulse, March 10, 2020)
Book Riot Recommends
At Book Riot, I work on the New Books! email, the All the Books! podcast about new releases, and the Book Riot Insiders New Release Index. I am very fortunate to get to read a lot of upcoming titles, and learn about a lot of upcoming titles, and I'm delighted to share a couple with you each week so you can add them to your TBR! (It will now be books I loved on Mondays and books I'm excited to read on Thursdays. YAY, BOOKS!)
Loved, loved, loved: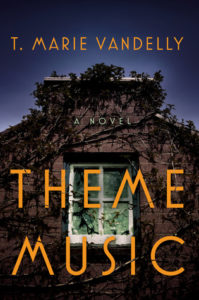 Theme Music by T. Marie Vandelly (Dutton, July 23)
(TW for discussion of extreme violence and murder.)
Dixie Wheeler was just a baby when her father murdered her mother and three brothers with an axe. The only survivor of the massive tragedy, she becomes known in the papers as "Baby Blue" (because of the song playing over and over while her father slaughtered her family.) Raised away from prying eyes by her aunt. Dixie feels aimless and curious as an adult about the family she doesn't remember. Maybe that's why she thinks it's a good idea to buy her old family home when it goes up on the market. (SPOILER: It isn't.) From the first day at the murder house, she begins seeing and hearing things. Are they real? Or is Dixie becoming unstable just like her dad? This book is wildly gruesome and spooky and comes completely unhinged at the end. I quite enjoyed it.
What I'm reading this week:
All City: A Novel by Alex DiFrancesco
Heaven, My Home by Attica Locke
Ghosts of Berlin: Stories by Rudolph Herzog and Emma Rault
Lock Every Door: A Novel by Riley Sager
Pun of the week:
I wasn't originally going to get a brain transplant, but then I changed my mind.
Here's a kitten picture:
I do very important work in my office.
And this is funny.
Trivia answer: Dan Brown.
You made it to the bottom! Thanks for reading! – xo, L