Hello mystery fans! This week I have for you a great P.I. series, frenemies, and a super good mystery I am surprised isn't getting more attention.
---
Sponsored by Forge Books.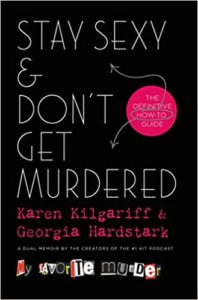 The highly anticipated first book by Karen Kilgariff and Georgia Hardstark, the voices behind the #1 hit podcast My Favorite Murder! Sharing never-before-heard stories ranging from their struggles with depression, eating disorders, and addiction, Karen and Georgia irreverently recount their biggest mistakes and deepest fears, reflecting on the formative life events that shaped them into two of the most followed voices in the nation. In Stay Sexy & Don't Get Murdered, Karen and Georgia focus on the importance of self-advocating and valuing personal safety over being "nice" or "helpful." They delve into their own pasts, true crime stories, and beyond to discuss meaningful cultural and societal issues with fierce empathy and unapologetic frankness.
---
Great Recent P.I. Series (TW suicide/ peeping Tom)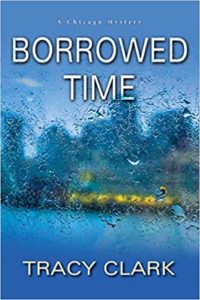 Borrowed Time (A Chicago Mystery #2) by Tracy Clark: I really like this series as it has a lot of nods to P.I. novels while being modern and fresh. Cass Raines is an ex-cop turned P.I. in Chicago who tries to survive as an island due to past trauma but has a soft gooey heart at her core. That gooey heart is how she ends up taking on the most annoying client ever. Jung swears his friend was murdered, but the police have already closed the case believing it was either suicide or an accident that led to his drowning. Jung refuses to accept this and ends up getting Raines to investigate. Of course that pisses off the cops. But more so it pisses off Raines who doesn't want to keep getting sucked into this case because Jung is clearly holding back information and lying. I love that this one follows Raines' steps through the investigation from clue to clue and has character growth as her ex-partner, nun friend (who is awesome), and possible romantic partner keep orbiting her, trying to be let in. If you like solid mysteries with explosive endings and funny no-nonsense leads, you'll really enjoy this series.
Frenemies Suspense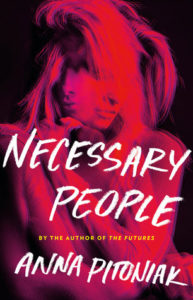 Necessary People by Anna Pitoniak: I wasn't sure what I was going to get with this one, and honestly I picked it up because I was obsessed with the cover. I found myself sneaking away to read more and more as the story just kept building, and I couldn't stop thinking about the tension and lives of Stella and Violet. Stella has always been wealthy and done as she wants. Violet was poor and fled her upbringing first chance she got. Stella took in Violet, giving her a taste of the wealth she'd never belong to. Now Stella has returned from partying around the world as Violet has been working hard in a TV news studio. And that's when the balance of their tug-and-push friendship begins to unravel. While I knew what was going to happen in the story, it didn't matter as the writing and ride still made this a page-turner. If you like writers like Megan Abbott and novels like Paulina & Fran this should be right in your wheelhouse. I found myself highlighting a few sentences and sitting with a few.
Super Good Mystery (TW past suicide mentioned/ anxiety attacks)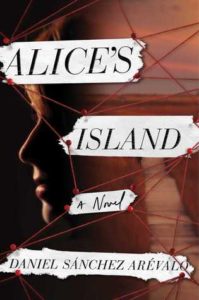 Alice's Island by Daniel Sánchez Arévalo: I think this one is flying under the radar and it should not be, it's one of the best mysteries this year–I inhaled the audiobook. The mystery surrounds Alice Dupont, who is pregnant and a mother of a six-year-old, when she gets a call that her husband was in a horrible car accident and is being rushed to the hospital. What snaps her out of the shock of the call is that the hospital, or area, being mentioned makes no sense because her husband is nowhere near there. He's supposed to be hours away in a different direction. Alice ends up uprooting her life, and her children, as her grief manifests itself into her deciding to figure out why her husband was not where he said he'd be. This took so many surprising turns, never veered into ridiculous, and had one of my favorite child characters. I'm still thinking about Alice and her daughter Olivia. Highly recommend this one! And it's not like a few other novels I've read with this premise, that are billed as mysteries, but the character never actually investigates. Alice is like a dog with a bone.
Recent Releases
Keep This to Yourself by Tom Ryan (YA serial killer mystery I really enjoyed.)
Some Choose Darkness by Charlie Donlea (Serial killer mystery)
The Sentence is Death (Hawthorne #2) by Anthony Horowitz (The Word Is Murder sequel–author of Magpie Murders)
Stay Sexy & Don't Get Murdered: The Definitive How-To Guide by Karen Kilgariff, Georgia Hardstark (Just got this true crime memoir on audiobook and am excited to start it!)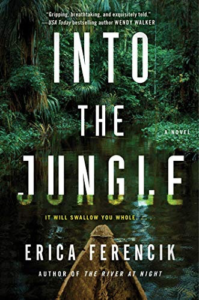 Into the Jungle by Erica Ferencik (Thriller)
Murder, She Wrote: Murder in Red (Murder, She Wrote #49) by Jessica Fletcher, Jon Land
The Disappearing by Lori Roy (Paperback) (Return to small-town mystery–Full review) (TW physical child abuse/ stalking)
Bimini Twist (Jane Bunker Mystery #4) by Linda Greenlaw (Paperback) (P.I.)
Last Woman Standing by Amy Gentry (Paperback) (Thriller)
Shell Game (V.I. Warshawski #19) by Sara Paretsky (Paperback) (Procedural)
Browse all the books recommended in Unusual Suspects previous newsletters on this shelf. And here's an Unusual Suspects Pinterest board.
Until next time, keep investigating! And in the meantime, come talk books with me on Twitter, Instagram, and Litsy–you can find me under Jamie Canavés.
If a mystery fan forwarded this newsletter to you and you'd like your very own you can sign up here.