Hello and happy Tuesday, goblins and Guardians. There's a lot of book news this week, both sad and happy, including some awards. I spent the weekend in a reading rut, picking up book after book only to abandon them 50 pages later, so instead of a single review this week I'm offering you a round-up of books newly in paperback, for the price-conscious/trade-waiters/vacation-read-seekers amongst you!
---
This newsletter is sponsored by BookCon.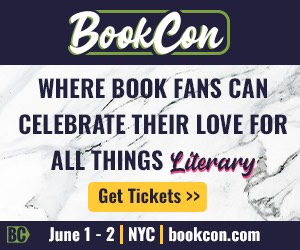 BookCon is a celebration of storytelling happening June 1 & 2 in NYC! BookCon is packed with authors you know and love, and new ones to discover! Have your books signed by V.E. Schwab, Leigh Bardugo, Charlie Jane Anders, NK Jemisin and more. Meet up with other book lovers, snag copies of books before they're released and explore this event packed with bookish goodies and interactive experiences.
---
In bookish news:
RIP Gene Wolfe and Vonda McIntyre both, two renowned SF/F writers who passed away in recent weeks. I still own a battered copy of McIntyre's The Moon and the Sun, which is about mermaids and the court of Louis XIV, and I was very sad to see this news.
Now for something happy: awards!
– The Ditmar Awards, for Australian SF, has announced its preliminary ballot.
– The Kitchies (a personal favorite, awarded to "the year's most progressive, intelligent and entertaining science fiction") have been announced — congrats to Circe by Madeline Miller and Frankenstein in Baghdad by Ahmed Saadawi!
Zen Cho has written a wuxia-inspired novella about a thief and a nun and Tor.com will be publishing it, and HOO BOY am I jazzed for this.
We've got an exclusive excerpt from the new epic fantasy We Hunt the Flame by Hafsah Faizal.
Saga by Brian K. Vaughn and Fiona Staples has an official end date, and I can't lie to you — I'm so relieved there's a planned ending!
And The Bone Season by Samantha Shannon is getting a TV show.
This week in new releases: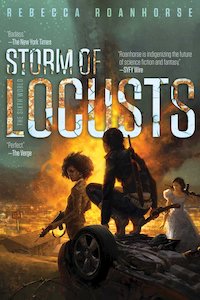 Storm of Locusts (The Sixth World #2) by Rebecca Roanhorse
It's finally here, y'all! That cover! I am 2 of 2 on library holds for it and I can't believe someone else beat me to it. I cannot wait to see what is next for my favorite grumpy, angry, vengeful monster-hunter Maggie.
And in ebook deals:
Cast in Shadow (Chronicles of Elantra #1) by Michelle Sagara, $1.99, for those who like a murder mystery plus supernatural hijinks.
Worlds of Exile and Illusion (Rocannon's World; Planet of Exile; City of Illusions) by Ursula K. Le Guin, $2.99, for completists who might have missed these early (and very strange) novels in Le Guin's Hainish Cycle.
Review Spotlight: New in Paperback!
I'm sure I'm not the only one who waits for paperback versions of books, even though exercising impulse control is the pits. This is a very good month for it — here are five books, both sequels and stand-alones, newly out in April and ideal for shoving into your backpack/suitcase/tote for all your summer reading needs.
Only Human (Themis Files #3) by Sylvain Neuvel
I'm not current with this series, alas, but I very much enjoyed talking to Neuvel about sci-fi on the Recommended podcast, and this conclusion to the Themis Files trilogy has been pitched as The Martian meets Pacific Rim, so it's on my list.
Tender by Sofia Samatar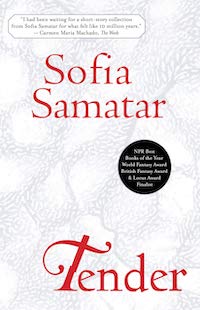 This short story collection is full of gems. Some have a scholarly feel, like "An Account of the Land of Witches" or "Ogres of East Africa," in which Samatar is cataloguing wonders previously unseen. Some are funny and heartbreaking, like "Walkdog." All of them are bursting at the seams with magic, and with Samatar's deliberate and precise use of language. Her style is a moving target — sometimes ornate and sometimes spare, some times casual and sometimes formal — but it's always deployed with purpose, and the results are spell-binding. In conclusion, I am president of the Sofia Samatar Fan Club, over here. (There is even a blurb from me on the back cover!) Get this collection on your shelf and into your brain.
European Travel for the Monstrous Gentlewoman by Theodora Goss
Another one from my TBR! This novel continues the adventures of Mary Jekyll and other daughters of mad scientists (great premise, amirite) who go on a trip across Europe to save another "monstrous girl," what could go wrong SLASH what's not to love? This is the sequel to The Strange Case of the Alchemist's Daughter, in case you missed it.
The Poppy War by R.F. Kuang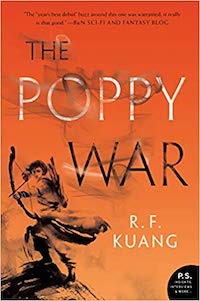 The Poppy War starts off feeling like a pre-Industrial silkpunk fantasy, similar to Dao's Forest of a Thousand Lanterns or Liu's The Grace of Kings; it becomes a somewhat wry underdog story set in a military academy; and then suddenly you are reading a drug-addled, supernaturally-twisted meditation on the horrors of war and prejudice.
Rin is a war orphan, raised by abusive foster parents who want to sell her off into a loveless marriage. She takes matters into her own hands when she decides to take the Keju, a nation-wide test that can send her to school and give her a shot at a future of her own choosing. Her stubborn determination sees her through and she receives a scholarship to the prestigious military academy of Sinegard. If she can hack it there, she'll become a general in the Empress's army, and she's determined to hack it — at any cost. And when war comes to Nikara, Rin is forced to face the darkest parts of both humanity and herself.
The Book of Flora (The Road to Nowhere #3) by Meg Ellison
Several of my Book Riot colleagues are in love with this series, and I somehow missed that there are now three of them (!). It's also won a Philip K. Dick Award, which is nothing to sneeze at. It's a post-apocalypse story about birth control and gender, among other things, and if that's your jam, all three of the books are now in paper.
And that's a wrap! You can find all of the books recommended in this newsletter on a handy Goodreads shelf. If you're interested in more science fiction and fantasy talk, you can catch me and my co-host Sharifah on the SFF Yeah! podcast. For many many more book recommendations you can find me on the Get Booked podcast with the inimitable Amanda, or on Twitter as jennIRL.
Your fellow booknerd,
Jenn