Hola, Audiophiles!
Things are pretty steady here in the land of Required Reading: still balancing 10+ books at the same time, still walking around audiobooking whenever I'm not regular-booking. Things have been so busy that I forgot to share some pretty cool news about Harry Potter and one of my crushes last week! Read on, dear friend, and bear with me while I babble about my latest listen. 
Let's audio.
---
Sponsored by Dreamscape Media, LLC and Good Riddance, by Elinor Lipman.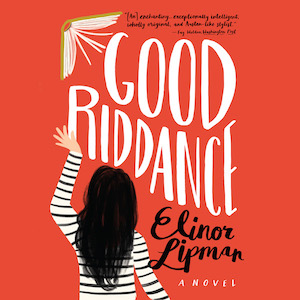 When an unsavory yearbook filled with her mother's past comments about students gets into the hands of a woman who wants to turn it into a documentary, Daphne must stop her before her family secrets are in danger. As she struggles to silence the documentarian, she also finds herself struggling with her own demons. Expertly written and beautifully narrated, Elinor Lipman's newest audiobook is available free with your library card on hoopla digital. Experience the novel that has received rave reviews from the Wall Street Journal, Cosmopolitan, and People.
---
Latest Listen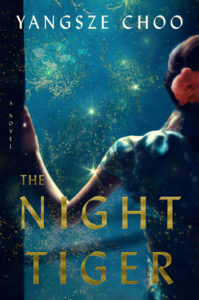 I finished The Night Tiger and… wow. Last week I mentioned starting this mythical, sumptuous and delightful read set in 1930s Malaysia about a young woman working at a dance hall on the low and a house boy whose master has given him a task to complete at his death. Their paths collide when they each embark on separate and dangerous missions involving a mysterious severed finger in a glass vial. You get a murder mystery, a ghost story, and tale of forbidden love all wrapped up in one!
What really sets this story over the top are the lush descriptions of scenery, aromas, and some of the most decadent food I've seen on a page (I paused the audio to Google "Malaysian food in San Diego" on at least three occasions). I also really love the theme of women's empowerment that's woven throughout; I clapped at the end when Ji Lin made a choice I was hoping she'd make but wasn't sure she would.
Listens on Deck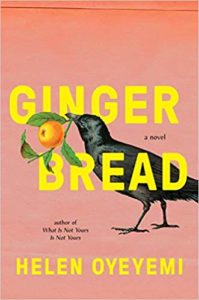 Get up, stretch, use the restroom and grab your coffee because I'm about rave about Helen Oyeyemi's Gingerbread. Oyeyemi is just a master at reworking a fairy tale in strange and lovely ways, and with language that has me hitting that rewind button on my Libro app to experience a sentence like this one again:
"A gingerbread addict once told Harriet that eating her gingerbread is like eating revenge…with darts of heat, salt, spice, and sulfurous syrup, as if honey was measured out, set ablaze, and trickled through the dough along with the liquefied spoon."
British schoolgirl Perdita and her mother, Harriet, live in a gold-painted seventh-floor walk-up apartment where they make gingerbread that no one seems to really… want? One day Perdita appears to commit suicide by ingesting some poisoned gingerbread, but leaves a note behind that's like, "BRB Mom! Not really dead, just going off to find the long-lost friend you always talk about!" That friend's name is Gretel and the mythical place is Druhástrana, a faraway land where Harriet spent her youth that most people don't believe exists. Perdita survives and comes back with a story, one she will only tell if Harriet first tells the truth about her mysterious past.
I've gone on long enough but one more thing: this one is narrated by Oyeyemi herself and her voice is silky smooth perfection.
From the Internets
They Came, They Saw, They Audied – The Audie Awards happened last week! The full list of winners is here. Some highlights include Children of Blood and Bone by Tomi Adeyemi winning Audiobook of the Year and Educated by Tara Westover winning for both Autobiography/Memoir and Best Female Narrator.
Audio Across the Pond – Here is some more talk of audiobooks' double-digit growth for you from the London Book Fair. Check out the write-up in Publisher's Weekly on why it's likely to continue.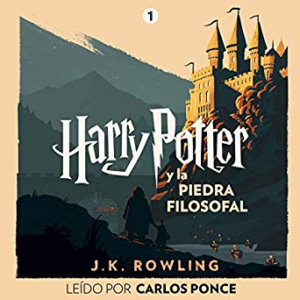 Harry Potter and the News I Forgot to Tell You – How I forgot to mention this last week, I don't know: the Harry Potter audiobooks will be available in Spanish for the first time this year. Alohomora, that is good news! The cherry on top here is that the books will be narrated by Carlos Ponce, the Puerto Rican actor and singer that  I crushed* on HARD for the better part of my youth. Those eyes!
*past tense used here because lies
Over at the Riot
LatinAudio Love – While I'm personally not an Audible user, I do support the creation of spaces for Spanish-language books. Audible has done just that with the launch of Audible Latino; I'll clap for that.
Sounds of SciFi – Rioter Alex has done us all a huge favor here with this list of 25 Science Fiction audiobooks to get into, plus a little more if you count the entire series and not just the first installment. As Alex points out, you get 35 audiobook recs for the price of 25!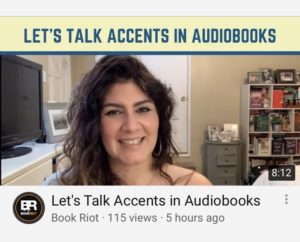 All About Accents – Last week I talked audiobook accents over at the YouTube – my thoughts on when they work, when they don't, and when they're doing the most.
---
That's all I got today! Shoot me an email at vanessa@riotnewmedia.com with audiobook feedback & questions or find me on Twitter and the gram @buenosdiazsd. Sign up for the In The Club newsletter, peep the Read Harder podcast, and watch me booktube every Friday too!
Stay bad & bookish, my friends.
Vanessa