Hello and happy Tuesday, friends! Today we've got a bajillion trailers, both of the book and screen variety, some very Star Wars beetles, exciting new releases and book deals, and a review of Tade Thompson's The Rosewater Insurrection.
---
This newsletter is sponsored by The Bird King​ by G. Willow Wilson, available now from Grove Press.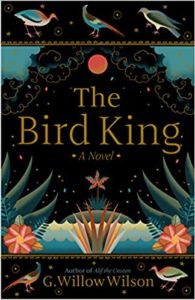 A fantastical journey set at the height of the Spanish Inquisition from the award-winning author of ​Alif the Unseen​ and writer of the Ms. Marvel series, G. Willow Wilson's ​The Bird King​ is a jubilant story of love versus power, religion versus faith, and freedom versus safety. The novel follows Fatima, the only remaining Circassian concubine to the sultan, and her dearest friend Hassan, the palace mapmaker, on their quest to find the mysterious, possibly mythic island of The Bird King, whose shifting boundaries will hopefully keep them safe.
---
Today's news round-up includes a bonanza of trailers:
Here's the trailer for the final season of Game of Thrones.
And here's the first full trailer for the adaptation of Good Omens.
And here's a book trailer for The Dysasters by P.C. Cast and Kristin Cast.
In adaptation news, One Hundred Years of Solitude by Gabriel García Márquez has been acquired by Netflix, for a Spanish-language series, and I am sure I am not the only magical realism fan who is (potentially) very excited about this. Let the fancasting begin!
The Lord of the Rings TV adaptation will be set during the Second Age, which is good news for Silmarillion fans but bad news for people who wanted to see young Aragorn; let us now all hope for young(er) Elrond and Galadriel! I remain skeptical but curious.
In "not a trailer" news: details have FINALLY been released about the Harry Potter AR game from the makers of Pokémon Go, and it's available for pre-order on Google Play (although no official release date yet).
In my continued glee over science nerdery, I present you with beetles named after Yoda and Artemis, among others.
And last but not least, in case you too are still playing catch-up with late February, this year's Oscar's red carpet rundown from Genevieve Valentine includes a fable about JLo. (Seriously.)
And in this week's stand-out new releases:
The Near Witch by V.E. Schwab
The Bird King by G. Willow Wilson
The Rosewater Insurrection by Tade Thompson (reviewed below!)
The ebook deal gods have smiled upon us with the discounts on the first books of several series:
The Fifth Season (The Broken Earth #1) by N.K. Jemisin, $2.99
Leviathan Wakes (The Expanse #1) by James S.A. Corey, $2.99
The Bear and the Nightingale (Winternight Trilogy #1) by Katherine Arden, $1.99
Ancillary Justice (Imperial Radch #1) by Ann Leckie, $2.99
And in today's review, we have aliens and zombies and special agents, oh my!
The Rosewater Insurrection (The Wormwood Trilogy #2) by Tade Thompson
Trigger warnings: self-harm, child abuse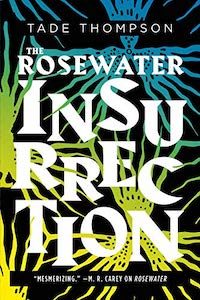 We did a whole SFF Yeah! book club episode on Rosewater, so you can imagine my excitement about the next installment — especially considering that my one wish upon finishing Rosewater was to get more story from Aminat's perspective, and The Rosewater Insurrection does just that! Of course, it's not all Aminat; instead we get multiple narrators, across multiple timelines, in the next gloriously tangled installment of this war for the fate of Earth and humanity.
To recap: Rosewater is the name of a city that formed around an alien creature that implanted itself into the planet, formed a biodome, and released spores and xenoflaura and -fauna. Some of those alien elements heal people, some hurt people, and some humans were granted psychic powers as the result of exposure. Kaaro, our narrator in the first book, was one of those "sensitives," who began to uncover exactly what the alien structure was, as well as its goal — nothing less than the takeover of the planet, and the possible end of humanity.
In Book 2, we follow Rosewater's mayor Jack Jacques, bad-ass S-45 special agent Aminat (who is dating Kaaro), and a soldier named Eric, among others, all of whom have a different part to play and whose own motivations are not always clear. Aminat's storyline was both my favorite and is the easiest to sum up: S-45 has discovered a human who has unusually high levels of alien DNA, and wants her brought in for examination and questioning. Aminat is sent out to locate and acquire this target, and in the process must make her way through riots, gunfights, pseudo-zombies and killer plants, and her own organization's twisted methods. That's just the tip of the plot iceberg, but it's a solid start, and to tell you anymore would spoil the fun (and actual plot points).
I've read a few sequels recently that suffer a bit from sophomore slump, or are very slow burns; The Rosewater Insurrection is anything but. This book is a whirlwind from start to finish, building on the foundation of Rosewater and ratcheting up the stakes, the action, and the plot threads, with an incredible finale that changes, yet again, the rules of this potentially deadly game. If you too were a fan of the first book, get this ASAP; if you haven't started yet, there's no time like the present.
And that's a wrap! You can find all of the books recommended in this newsletter on a handy Goodreads shelf. If you're interested in more science fiction and fantasy talk, you can catch me and my co-host Sharifah on the SFF Yeah! podcast. For many many more book recommendations you can find me on the Get Booked podcast with the inimitable Amanda, or on Twitter as jennIRL.
Stay away from suspicious domes,
Jenn