Hello and happy Tuesday, xenofauna and xenoflora! Today we're talking about Maggie Stiefvater's new series, a possible adaptation for Black Leopard, Red Wolf, some very good e-book deals, and The City in the Middle of the Night by Charlie Jane Anders.
---
This newsletter is sponsored by Here and Now and Then, a uniquely thrilling, genre-bending debut novel by Mike Chen.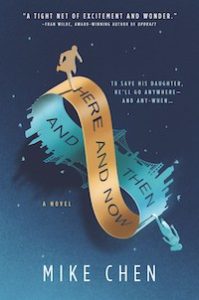 Kin Stewart is an everyday family man, working in I.T., trying to keep the spark in his marriage, and struggling to connect with his teenage daughter. But his current life is a far cry from his previous career…as a time-traveling agent from 2142.
Stranded in suburban San Francisco since the 1990s after a botched mission, Kin's past is a secret from everyone, despite the increasing blackouts and memory loss affecting his time-traveler's brain. But one day, his agency's rescue team arrives…18 years too late. Their mission: return Kin to 2142 where he's only been gone weeks, not years, and where another family is waiting for him—a family he can't remember.
---
Here are a few great bits of news from the books and adaptations world:
Clarkesworld Magazine is working on a dedicated translation imprint, and starting with Chinese sci-fi author Xia Jia!
Children of Blood and Bone is up for a 2019 Audie award.
For my Raven Cycle fans, Maggie Stiefvater has announced a new series, coming in November.
And the third book in S.A. Chakraborty's Daevabad Trilogy has a title (and a GIF).
In some beautiful synergy, Michael B. Jordan has acquired the rights to Black Leopard, Red Wolf by Marlon James as his first producer gig, and this could be incredible.
And Y: The Last Man's TV adaptation will be coming to FX in 2020.
In exciting new releases news, out this week:
Early Riser by Jasper Fforde (!!!!)
The Psychology of Time Travel by Kate Mascarenhas (which I am reading now and thoroughly enjoying)
And here are some ebooks to get on the cheap:
How about a free one? Everything Change is sci-fi around climate change, with an intro from Kim Stanley Robinson.
A couple of N.K. Jemisin's ebooks are downpriced, including How Long 'Til Black Future Month? for $4.99 and the entire Inheritance Trilogy for $9.99.
Sunshine by Robin McKinley (a perennial personal favorite) is $1.99.
An Unkindness of Ghosts by Rivers Solomon (also a favorite) is $2.99.
Today in reviews, I have a lot of FEELINGS.
The City in the Middle of the Night by Charlie Jane Anders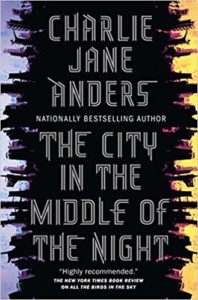 I enjoyed the heck out of Anders' first novel, All the Birds in the Sky, not least because it's an action-packed mash-up of sci-fi and fantasy. Her second book is a completely different beast; it's a colonization story, an alien-encounter story, an identity and family story, a survival story.
Our setting: the tidally-locked planet January, where humanity has settled and eked out a tenuous existence in the dusk zone. They cluster in a handful of cities, trying to defend themselves from the indigenous megafauna and keep enough Earth-tech going to ensure their survival — and time may be running out.
Our cast: Sophie and Mouth.
Sophie is a lower-class outsider living in Xiosphant who works her way into college, only to be left for dead outside the city gates for being involved with an illegal political student group. She's rescued by a creature she knows only as a "crocodile," a tentacled creature who finds a way to communicate with her and reveals that they have a massive city of their own. Sophie's struggle to understand and repay the Gelet clashes directly with her obsessive friendship with and love for the glamorous, wealthy, ambitious Bianca.
Mouth was born on the road and is used to the harshest of January's ways, quick to violence, and the last surviving member of an itinerant religious community. When a chance to retrieve an artifact from her community crosses her path, she in turn crosses Sophie and Bianca's paths, and the result might change the fate of all of January's inhabitants.
The first and last third are indeed action-packed, with pirate attacks, political machinations, gangsters battling in the streets, giant squid, and desperate struggles for survival aplenty. But the middle section is a ramble through January itself, a meander into the world-building, and a deep dive into each character's psyche. While some readers might lose patience with that long, slow middle section, I found I didn't care that the plot had come to rest for a moment. Mouth and Sophie were continually surprising me, as well as becoming beautifully familiar. January and the Gelet are fascinatingly complex, and I would have spent far more time among the Gelet in particular if it had been offered.
And the ending, friends! While some doors have closed, nothing is wrapped up with a bow and no one's survival is assured; the future is deeply unclear. I closed the book and sat there having feelings for a good five minutes. What will happen to Sophie and Mouth? What does it mean to be human? What does our past grant us, and what should we set down? And why do we pick the wrong people to love? There are no answers, just various beings struggling with these questions. If that sounds like your jam as well, then grab a copy and @ me when you're done; we can have feelings together.
That's a wrap! You can find all of the books recommended in this newsletter on a handy Goodreads shelf. If you're interested in more science fiction and fantasy talk, you can catch me and my co-host Sharifah on the SFF Yeah! podcast. For many many more book recommendations you can find me on the Get Booked podcast with the inimitable Amanda, or on Twitter as jennIRL.
Your fellow booknerd,
Jenn