Happy Monday, folks! What a week we've had. But as usual, since it's Monday, we've got books to talk about!
---
Sponsored by Broken Beautiful Hearts by Kami Garcia and Fierce Reads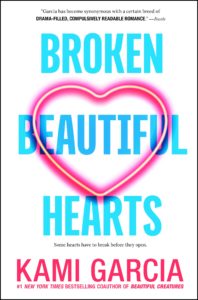 From #1 New York Times bestselling author Kami Garcia comes a red-hot romance that will break your heart and put it back together again. When star soccer player Peyton receives an offer from her first-choice college, senior year starts off exactly as planned. But when Peyton uncovers her boyfriend's dark secret, she confronts him—and finds herself falling down a flight of stairs. Peyton's knee—and maybe her dream of going pro—is shattered. With her future on the line, dating is the last thing on her mind—until she meets sweet, sexy Owen Law.
---
News and Useful Links
I was so distracted by the cover of Can't Escape Love that I completely forgot the other big news that happened the previous weekend. It had been hinted at that Loveswept, a digital first imprint belonging to Random House, was closing, but no announcement had been made. Rumors started to spread on Twitter, surprising a few authors who wrote for them. I still can't find an official statement, but it has been confirmed that Random House is closing its digital genre imprints. So we'll see what happens there. Sometimes, people get shifted around. Other times, they get pushed out or elect to move on their own. I hope the authors who primarily publish through Loveswept are offered a soft place to land.
In completely different news: Looking for a new convention to go to? Check out Coastal Magic Convention, which is happening relatively soon. It's not strictly dedicated to romance, but they've apparently picked up a pretty good following. (And if you're just looking to check out all the things everywhere, check out Girl Have You Met, happening in April.)
If you don't follow the other Kissing Books, you should.
You might have heard that The Proposal was the first romance selected for Reese Witherspoon's book club. Read this interview with Jasmine Guillory!
Have you checked out Blush? It's a new romance-dedicated digital magazine, and the first issue is really pretty. There are interviews, photo galleries, and much more.
If you're looking for a new Kickstarter to back, look no further! Love's Sweet Arrow wants your help.
Deals!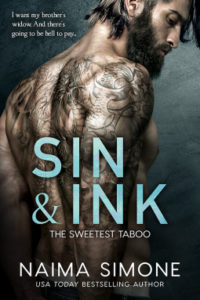 As you all recall, I only recently read my first Naima Simone book, and holy Hera was it hot hot hot. I've been hearing a lot about Sin and Ink, from people I follow as readers and authors alike. Now is as good a time to check it out as ever, as it's 99 cents. The series is called "The Sweetest Taboo," so forewarning if you have issue with workplace boss/employee romances or spouses of dead siblings. Otherwise, happy reading.
Do you like Victoria Dahl books? Well, I'll tell you: Jane Doe is definitely not her usual book. It's not even written under the same pen name (in this case, Victoria Helen Stone). But it has all of the same quality of writing that she's known for, and has a satisfying ending…just not your typical romance genre HEA. If you're interested in seeing what a romance author can do with a revenge plot, 1.99 isn't too much to spend on an author whose chops you already know.  I'm mostly sharing this for people interested in reading non-romance by a romance author, but skip it if you'd rather do happy for now.
Recs
Are you participating in Read Harder this year? If you are, you might know that one of the tasks is to read a historical romance by an author of color. Since you're reading Kissing Books, you might have read all of the usual suspects: Alyssa Cole's An Extraordinary Union; Beverly Jenkins's Old West series (starting with Forbidden); Jeannie Lin's Tang Dynasty (Butterfly Swords, etc). So I'm hoping to help you find some new authors to read! (And if you listen to When In Romance you know one of my goals this year is to read more authors, so I'm helping myself too :D) (So if you have discovered any new authors of color who write historicals, send them my way, would you?)
Behind These Doors
Jude Lucens
Do you ever watch The Importance of Being Earnest and think "can someone just write the version where Jack and Algy are dating"? Okay, that's not this book, but Behind These Doors does have an Edwardian setting and all kinds of shenanigans. We start the book with Aubrey, Henrietta, and Rupert, who are all lovers, at a play. There, they meet Lucien, who has found an accessory belonging to Henrietta in the hallway. Things happen, eye-screwing ensues, and Aubrey and Lucien end up going home together. From there, we get to navigate the world of the British upper class when scandalous relationships must be kept secret at all cost. We also see that of the working class, from the perspective of Lucien, who grew up in service and is now a journalist (oh hey, Read Harder bonus!). There are sexy times, and talks of consent, and good conversations about demisexuality. Also, if you're interested in more representations of polyamory than just the usual puppy pile of people all sharing a bed, this has a good depiction of what metamours might look like. It's a bit of a slow read, and the characters can get almost saccharine, but it's definitely worth checking out. It's not quite the comedy of errors we might attribute to books set in the era of Wilde; instead Lucens takes all of that stuff that's usually satirized and speaks very plainly. Also, there's a darling short (maybe too short?) about a pair of secondary characters that you'll want to devour afterwards.
So as a RH recap, this one works for: Histrom by AOC, About a journalist, self-published. Check, check, and check.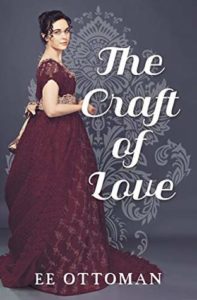 If you're jonesing for more historical romance after reading that one, you might also want to check out The Craft of Love by EE Ottoman. This is a Victorian romance by a trans author featuring a trans protagonist, so you can also use it for that Read Harder task. It's also set in New York which is definitely a delight. Both romantic leads are craftspeople—Benjamin is a silversmith, and Remembrance is a quiltmaker—and it's just a delightful story. It's brief, but a great introduction to EE Ottoman's writing.
What are you reading this week? As usual, catch me on Twitter @jessisreading or Instagram @jess_is_reading, or send me an email at jessica@riotnewmedia.com if you've got feedback or just want to say hi!