This edition of Today in Books is sponsored by How Long 'Til Black Future Month – the "Dazzling" (NYT) first collection of short stories from three-time Hugo Award winner N. K. Jemisin.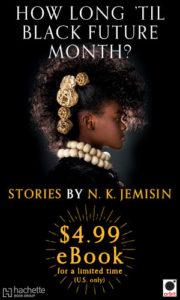 ---
Jimmy Carter Won A Grammy
Again! This time he won the 2019 Grammy for spoken word album for his audiobook Faith: A Journey for All. And he's the third-oldest winner in Grammy history at age 94.
Timbaland Publishing Children's Book
Nighttime Symphony, illustrated by Christopher Myers, will be a "melodious bedtime story which uses nighttime city sounds to create a lively lullaby." That sounds super fun and check out the cover, it's beautiful.
Teaser For Disney's Live Action Aladdin
In case you missed the teaser drop for the upcoming Guy Ritchie-directed Aladdin and have always fantasized about a Smurf-y Will Smith, here you go. And yes, that is all I'm going to say about it.