Hi Kid Lit friends,
Today on the newsletter we have a cover reveal for Terry Lynn Johnson's middle grade book Dog Driven, a story about a musher who sets out to prove her impaired vision won't hold her back from competing in a rigorous sled race through the Canadian wilderness. I had the opportunity to chat with Terry about sled dog racing, her love for extremely cold temperatures, and the most dangerous thing she's ever done.
---
Sponsored by New Kid by Jerry Craft, published by HarperCollins Children's Books.
Seventh-grader Jordan Banks loves drawing cartoons about his life. But instead of sending him to the art school of his dreams, his parents enroll him into a prestigious private school known for its academics, where Jordan just happens to be one of the few kids of color in his entire grade. As he makes the daily trip from his Washington Heights apartment to the upscale Riverdale Academy Day School, Jordan is torn between two worlds–and not fitting into either one. Can Jordan learn to navigate his new school culture while keeping his neighborhood friends and staying true to himself?
---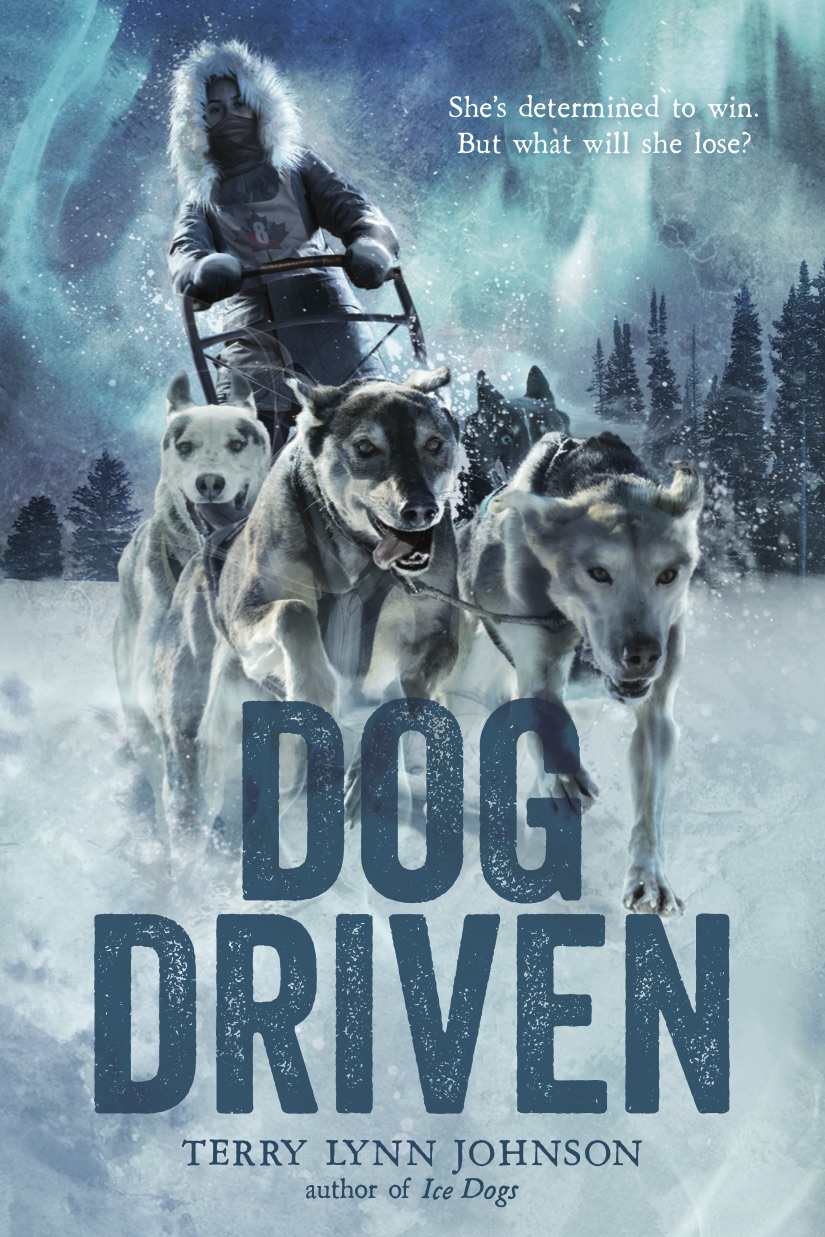 Karina Glaser: I've read that you used to have eighteen sled dogs. When did you first get into sled dog racing?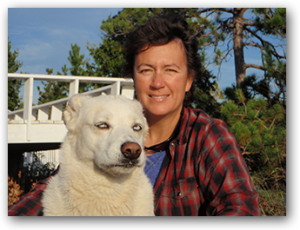 Terry Lynn Johnson: I'll never forget one day in my youth watching a sled dog race. The mushers were heading out across a frozen lake and there was ice fog in the air. I watched the orange bib of a musher slowly disappear into the fog and it looked like he was being transported into a magical land. I wanted to go to that place! That image was burned into my brain. In my twenties, I started running dogs as an apprentice before I got my own. I spent years working for mushers as a "handler". I quickly learned that the dogs do indeed take you to a magic place – a place you can only get to by dog team. Zipping along a quiet trail with only the sound of the dogs' necklines jingling and the shush of the runners fills me up. It's nothing like riding a noisy, smelly snow machine. It's more exhilarating than skiing. The magic comes from watching the joy of the dogs.
KG: That sounds amazing. Have you always loved cold weather?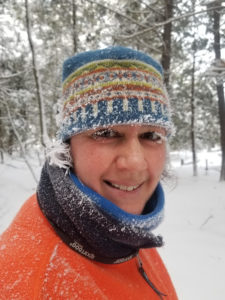 TLJ: I do love winter! The crunch of boots, the freshness of the air, the frost build up on my eyelashes, but most importantly there are NO BUGS. We have black fly season, mosquito season, deer fly season, and winter.
KG: I've heard that you do kayak expeditions. Can you tell us more about that?
TLJ: My husband and I started kayaking over ten years ago. We've been on a slow mission to explore all of Lake Huron and Lake Superior, doing parts each year. A memorable trip was circumnavigating Manitoulin Island, which is the largest freshwater island in the world. We got up at four am every day to paddle because there's normally less wind in early morning. Some days we'd stay too long and struggle in five foot swells. That might sound exciting, but the water of northern Lake Huron is six degrees Celsius in July. I wasn't sure I'd be able to roll back up in some of the nasty conditions, and doing a wet exit wasn't too appealing! One morning there was fog so thick, we had to follow a line by compass and watch the clock to estimate where we were. Our trips lately have been less hard core. We kayaked with whales in the St. Lawrence River in Quebec a few years ago, and that was definitely another highlight having a creature the size of a bus surface beside you!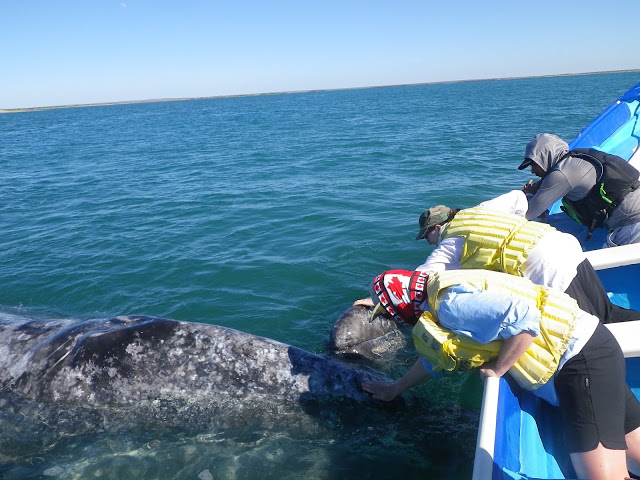 KG: I read on your website that you have fallen through ice a time or two, been dragged by a dog team, blown up a wood stove, been attacked by a sloth (slowly), nearly drowned on a portage, and chased a bear with a chainsaw. What is the most dangerous thing you have ever done?
TLJ: Out of all my misadventures, the thing that nearly killed me was a tiny tick. So I'd say going to Austin, Texas was the most dangerous thing I've ever done!
Dog Driven by Terry Lynn Johnson will release on December 3, 2019!
In honor of Terry's cover reveal day, I thought I would share some of my favorite dogs in books.
Picture Books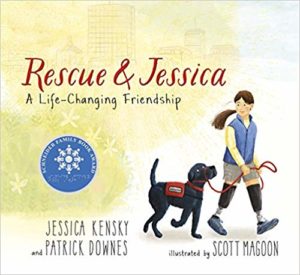 Rescue from Jessica and Rescue: A Life-Changing Friendship by Jessica Kensky and Patrick Downes, illustrated by Scott Magoon
Rescue thought he'd grow up to be a Seeing Eye dog — it's the family business, after all. When he gets the news that he's better suited to being a service dog, he's worried that he's not up to the task. Then he meets Jessica, a girl whose life is turning out differently than the way she'd imagined it, too. Now Jessica needs Rescue by her side to help her accomplish everyday tasks. And it turns out that Rescue can help Jessica see after all: a way forward, together, one step at a time.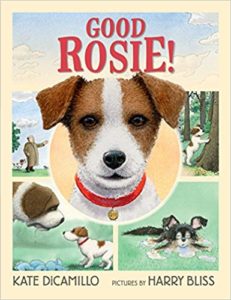 Rosie from Good Rosie! by Kate DiCamillo
Rosie is a good dog and a faithful companion to her owner, George. She likes taking walks with George and looking at the clouds together, but the closest she comes to another dog is when she encounters her reflection in her empty dog bowl, and sometimes that makes Rosie feel lonely. One day George takes Rosie to the dog park, but the park is full of dogs that Rosie doesn't know, which makes her feel lonelier than ever. When big, loud Maurice and small, yippy Fifi bound over and want to play, Rosie's not sure how to respond. Is there a trick to making friends? And if so, can they all figure it out together?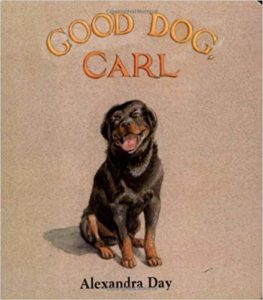 Carl from Good Dog, Carl by Alexandra Day
The book begins with the mother saying, "Look after the baby, Carl. I'll be back shortly." Let the adventure begin! Carl looks out the window to make sure Mom is gone. Once the coast is clear, the baby crawls out of the crib and onto Carl's back. First stop? Mom's bed. Second stop? The top of the dresser where powder puffs are sported as hats. The infant–now in Carl's capable paws–slides down the laundry chute, swims in the fish tank, dances, raids the refrigerator, and makes a huge mess. Carl dutifully bathes the baby, cleans up the chaos, puts his charge back in the crib, and plays it cool when Mom comes home.
Chapter Books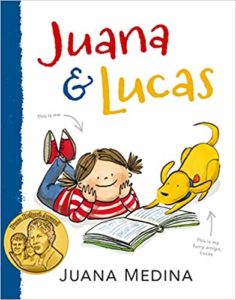 Lucas from Juana and Lucas by Juana Medina
Juana loves many things — drawing, eating Brussels sprouts, living in Bogotá, Colombia, and especially her dog, Lucas, the best amigo ever. She does not love wearing her itchy school uniform, solving math problems, or going to dance class. And she especially does not love learning the English. Why is it so important to learn a language that makes so little sense? But when Juana's abuelos tell her about a special trip they are planning—one that Juana will need to speak English to go on—Juana begins to wonder whether learning the English might be a good use of her time after all.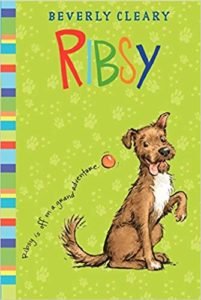 Ribsy from Ribsy by Beverly Cleary
Good ol' Ribsy's ever-curious mind has always gotten him into trouble, but this time he may have gone too far. After a comical turn of events, Ribsy finds himself in the wrong station wagon with the wrong children. Ribsy will do anything to find Henry, but there's plenty of excitement to be had along the way—and scoring a touchdown for a local high school team is only part of the fun!
Middle Grade Books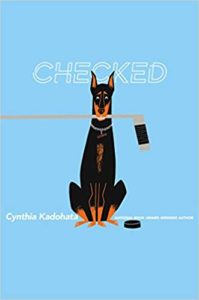 Sinbad from Checked by Cynthia Kadohata
Hockey is Conor's life. His whole life. He'll say it himself, he's a hockey beast. It's his dad's whole life too—and Conor is sure that's why his stepmom, Jenny, left. There are very few things Conor and his dad love more than the game, and one of those things is their Doberman, Sinbad. When Sinbad is diagnosed with cancer, Conor chooses to put his hockey lessons and practices on hold so they can pay for Sinbad's chemotherapy.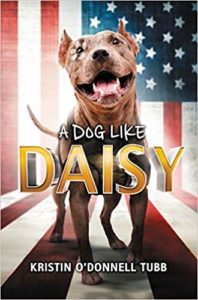 Daisy from A Dog Like Daisy by Kristin O'Donnell Tubb
Daisy has only ten weeks to prove her usefulness or else be sent back to the pound. Yet if she goes back, who will protect Colonel Victor from his PTSD attacks? Or save the littler human, Micah, from those infernal ear muzzles he calls earphones? What if no one ever adopts her again? Determined to become the elite protector the colonel needs, Daisy vows to ace the service dog test. She'll accept the ridiculous leash and learn to sit, heel, shake, even do your business, Daisy when told to. But Daisy must first learn how to face her own fears from the past or risk losing the family she's so desperate to guard—again.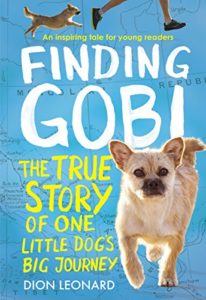 Gobi from Finding Gobi: Young Reader's Edition by Dion Leonard, adapted by Aaron Rosenberg
is the incredible true story of Dion Leonard, a New York Times bestselling author and athlete, who was befriended by a stray dog while running an ultramarathon through the Gobi Desert. Named for the desert in which he found her, Gobi became Dion's closest companion for 77 miles of the 155-mile race across China. The scrappy little pup ran mile after mile alongside Dion, through treacherous conditions and across raging rivers. He let her sleep in his tent and share his food, and eventually, his focus shifted from winning to the newfound friendship he and Gobi shared. They crossed the finish line together—not first, but together—and Dion decided to bring Gobi home to Scotland. Just before they were about to leave, however, Gobi disappeared, setting off a worldwide search for the stray.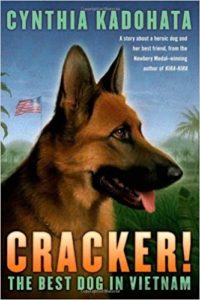 Cracker from Cracker! The Best Dog in Vietnam by Cynthia Kadohata
Cracker is one of the United States Army's most valuable weapons: a German shepherd trained to sniff out bombs, traps, and the enemy. She's a Big Deal, and she likes it that way. Rick Hanski is headed to Vietnam. There, he's going to whip the world and prove to his family and his sergeant — and everyone else who didn't think he was cut out for war — wrong. When Cracker is paired with Rick, she isn't so sure about this new owner. He's going to have to prove himself to her before she's going to prove herself to him. They need to be friends before they can be a team, and they have to be a team if they want to get home alive.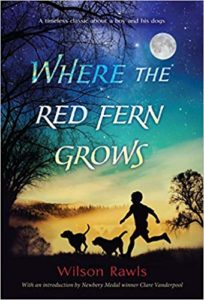 Old Dan and Little Ann from Where the Red Fern Grows by Wilson Rawls
Billy has long dreamt of owning not one, but two, dogs. So when he's finally able to save up enough money for two pups to call his own—Old Dan and Little Ann—he's ecstatic. It doesn't matter that times are tough; together they'll roam the hills of the Ozarks. Soon Billy and his hounds become the finest hunting team in the valley. Stories of their great achievements spread throughout the region, and the combination of Old Dan's brawn, Little Ann's brains, and Billy's sheer will seems unbeatable. But tragedy awaits these determined hunters—now friends—and Billy learns that hope can grow out of despair, and that the seeds of the future can come from the scars of the past.
I would love to know what your favorite dogs in children's books are! Find me on Twitter at @KarinaYanGlaser, on Instagram at @KarinaIsReadingAndWriting, or email me at karina@bookriot.com.
Until next time!
Karina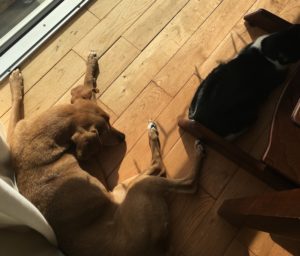 That's my sweet dog, Ginger Pye, sunbathing with her cat friend.
*If this e-mail was forwarded to you, follow this link to subscribe to "The Kids Are All Right" newsletter and other fabulous Book Riot newsletters for your own customized e-mail delivery. Thank you!*