This edition of Today in Books is sponsored by Polaris Rising by Jessie Mihalik.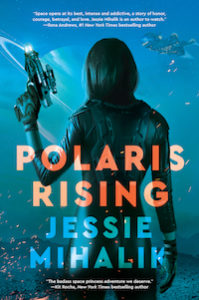 ---
Free Black Panther Digital Comics!
Now through 11:59 p.m. ET on Sunday, you can download for free 2005's Black Panther No. 1 by Reginald Hudlin and John Romita Jr.; 2016's Black Panther: World of Wakanda No. 1 by Ta-Nehisi Coates, Roxane Gay, Yona Harvey, Alitha E. Martinez and Afua Richardson; 2017's Marvel's Black Panther Prelude No. 1 by Will Corona Pilgrim and Annapaola Martello; 2018's Black Panther No. 1 by Coates and Daniel Acuna; and the same year's Shuri No. 1 by Nnedi Okorafor and Leonardo Romero. All the info here.
Author/Publisher Accused Of Serious Ethical Transgressions

Twenty-two transgender men featured in Invisible Men: Inside India's Transmasculine Network by Nandini Krishnan, published by Penguin Random House India, are accusing the author and publisher of using off the record conversations, being misgendered, not being given translated versions of the interviews in their language, and using their dead names. "Both Krishnan and Penguin Random House India have denied all wrongdoing."
A Trailer Of Beautiful People
Ahhhhh the trailer for the adaptation of Nicola Yoon's The Sun Is Also a Star is finally here! It stars Yara Shahidi and Charles Melton, and my heart already melted and yours can too–just watch the trailer here.