How's the reading going? My week's been a little full, but I've been delighted to get the snatches of reading that I did.
But it's Thursday, which means new books!
---
Sponsored by Shadow Mountain Publishing.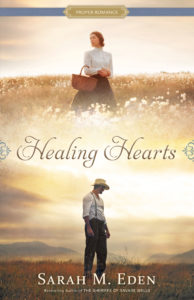 As the only doctor in the Wyoming Territory, Gideon needs the help of a nurse. And maybe something more. So he sends away for a mail-order bride with nursing experience. But when Miriam arrives in Savage Wells ready to work, she finds herself as the bride at an unexpected wedding. She refuses to marry Gideon, and embarrassed by the misunderstanding, the good doctor offers her a job, and romance begins to blossom. But Miriam has a dark secret, and they must decide if they are willing to risk their hearts for love as buried secrets are brought to light.
---
Over on Book Riot
It's time for #riotgrams again! Since it's a full month, we're a little behind, but nobody says you can't do a bunch to catch up.
Have you ever wondered what romance trope you are? I was actually surprised by mine, mainly because it's not what I tend to read. But knowing me, I'm not surprised at all. Take the quiz!
You have until February 28 to enter this drawing for a gift card to The Ripped Bodice! Support indie bookstores, support romance, and get one of the best selections of signed books pretty much anywhere? You know what to do.  (PS – obviously, you've already signed up for Kissing Books, but just do it again for the entry. You'll be alright. I swear.)
Considering Kindle Unlimited for 2019? Here is a list of 50 books you can find there, including some romances I'm very intrigued about.
(PS – did you know that you had access to several books every month with Prime Reading? Every once in a while, I forget, until I land on a book that's like "Free with Prime!" and I punch myself because I have so many other books to read.)
Deals!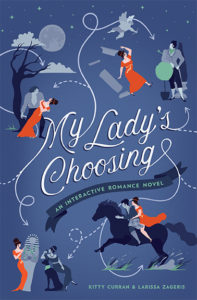 You know what there needs to be more of? Interactive romance novels. No, not that kind. I mean the kind where you decide what's going to happen to the heroine. Good thing My Lady's Choosing is a thing you can try and try again, as much as you want (until you've used up all the options, of course). And if you want to have the choice regarding who your heroine ends up with, you can pay 2.99 for the pleasure.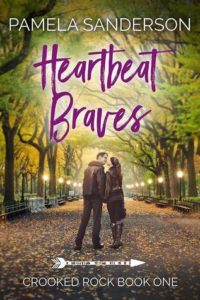 How many romances have you read by Native American authors? If you're like me, your answer is probably an average of…one. (Me? Robin Covington, who I love.) So when I asked around a while ago, the first book a few people recommended to me was Heartbeat Braves by Pamela Sanderson. Not only does it have a wildly compelling love story, but it also exposes readers to the serious impact the US has made on the country's first residents. The first one is 99 cents, and if you want more, the other two in the series are 2.99 each. Not a bad price for that much reading.
New Books!
I sometimes say I need publishing to just take a minute, stop for one minute, so I can catch up on my reading. But then we wouldn't be able to celebrate awesome books like the ones out this week.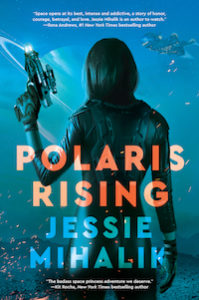 Polaris Rising by Jessie Mihalik
I discovered Jessie Mihalik's existence when she signed on to come to my local book festival and wanted to be on a romance panel in addition to her sci-fi/fantasy appearances. I was up for it, but didn't have much interest in her book until I had one in my hands. The premise—space princess and outlaw killer on the run, imperial intrigue, all the best workings of a space opera—pushed all kinds of buttons. And then some of my most trusted folks on twitter started buzzing about it. I was sad not to be able to get to it immediately, but once I had leave, I sat down to devour it. By the time I looked up, I'd read 65 pages, and had to go do other things. Sadness.
Anyway, you probably want to know what it's about, eh?
Badass heroine Ada has been on the run from her family for two years, anticipating betrothal to another of the ruling families. When she's grabbed by bounty hunters, she's thrown in with Loch, who is apparently a Bad. But when her betrothed arrives ahead of their arrival back on Earth, Ada and Loch work together to escape. And then? Sky's the limit. As long as they're not caught.
Effing. Delightful.
So yeah, that one's out now. Here are some others you might want to check out: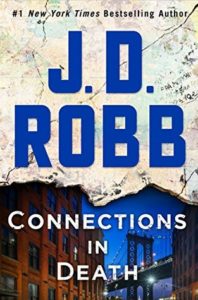 Connections in Death by J. D. Robb
I've got a bone to pick with someone, and that person is my Aunt Bernadette. She let me sleep on J. D. Robb for YEARS, knowing full well that a futuristic sci fi romantic procedural was all kinds of me. I thought it was just an ongoing series of regular murder books by Nora Roberts, whose books I enjoyed in high school but of which there are just too many to read now, when there are so many other authors to explore. But come on. I had to fall into this knowledge creeping on someone else's twitter convo?
So anyway. Do you read the In Death series? If not, you've got 48 as of Tuesday. Seriously. Forty. Eight.
The Matchmaker's List by Sonya Lalli
Raina doesn't want to deal with her matchmaking grandmother, but she will if it means getting her off her back. But then her ex comes back into her life and doesn't know what to do. I have heard that there is an element of deception that might turn some people off, but I haven't checked it out myself.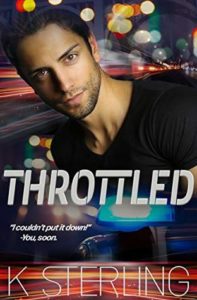 Throttled by K. Sterling
I don't know anything about this author, but I will definitely read anything that features a lovesick detective who fakes car issues to talk to the mechanic/vintage car restorer he is pretty much still in love with after a failed relationship.
99 Percent Mine by Sally Thorne
So this is another brother's best friend story. (Maybe I don't understand how this works because I don't have any siblings? Why wouldn't I date my brother's friend? Is the answer "the patriarchy"? Because I think the answer's "the patriarchy.") Anyway. Darcy's life is a bit of a mess, and she can't hide that from Tom anymore. Maybe she doesn't need to. (Also, this isn't a sequel to The Hating Game, but I would totally recommend checking it out. It has its issues, but it's still hilarious.)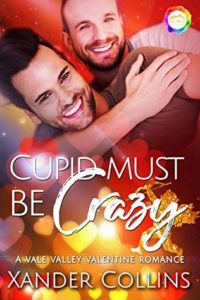 Cupid Must Be Crazy by Xander Collins
A meet-not-cute involving some roadside splashing plus a later meet-again-not-cute when both heroes are down on their luck are all I know, but I'm looking forward to checking out how the two broken heroes will grow and learn with each other's help.
Four Novellas by Alyssa Cole
So none of these are new, but they are newly on audio. If you've been thinking about picking up Be Not Afraid, That Could Be Enough, Let Us Dream, or Let It Shine, why not pick up the set of four in audio? And if you don't already have an Audible account, this one would be one of your free books, yes?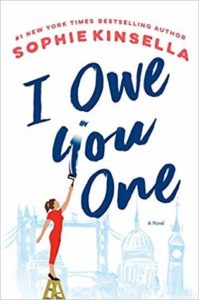 I Owe You One by Sophie Kinsella
This isn't technically romance, but I think there are a lot of us who enjoy a few of Sophie Kinsella's romcoms. In this one, there are IOUs. First one, then lots more. The description rings a little more like her more serious alter ego, Madeline Wickham, but you know, could still be pretty funny.
What are you reading this week? As usual, catch me on Twitter @jessisreading or Instagram @jess_is_reading, or send me an email at jessica@riotnewmedia.com if you've got feedback or just want to say hi!