Hello and happy Tuesday, shapeshifters and spice mongers! Today we've got a bunch of book news including an Atwood cover reveal, a lost Merlin story, Dune casting continued, plus buzzy new releases, some ebook deals, and a review of The Mistress of Spices by Chitra Bannerjee Divakaruni.
---
This newsletter is sponsored by Polaris Rising by Jessie Mihalik.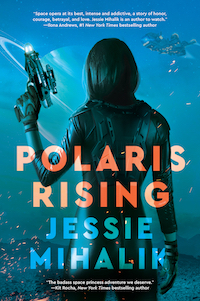 Ada von Hasenberg fled her family after her father tried to arrange a politically valuable, but personally undesirable, marriage. Now, after two years on the run, the spirited princess's luck has run out. Thrown into a prison cell with the notorious former soldier Marcus Loch, she's about to be returned to her father when her ship is attacked by a rival noble house – the man she was supposed to marry. If her jilted fiancé captures her, Ada will become a political prisoner. Her only hope is to strike a deal with the dangerous fugitive Loch – but if she's not careful, she'll lose much more than she bargained for…
---
Let's start on book and adaptation news:
You might recall that Margaret Atwood is writing a sequel to The Handmaid's Tale, called The Testaments, and her publisher recently revealed the cover. Reactions are STRONG, y'all.
Also in cover reveals, Karen Lord's Unraveling is one of my most anticipated reads of 2019 and just look at this gorgeous cover!
And in sequel news, Kat Howard has announced that there will be a sequel to An Unkindness of Magicians called A Sleight of Shadows, releasing in 2020.
Academics discovered new story material about Merlin of Arthurian legend in a book printed in the late 1400s, and I cannot wait for the full transcription omg.
In further Dune casting news, which is just getting bonkers at this point, Javier Bardem is in talks to play Stilgar and Oscar Isaac might play Duke Leto and Zendaya might play Chani, and I don't even begin to know how to feel about all of this?!
CBS All Access is bringing viewers a new limited-series adaptation of The Stand by Stephen King. Watching the 1994 mini-series was a formative moment in my life, and this religiously-apocalyptic pandemic novel is my favorite of his bar none, and therefore I feel personally attacked by this news. Will they finally get my $5 a month!? Stay tuned, friends.
A few of this week's new releases to keep an eye on:
A People's Future of the United States, edited by Victor LaValle and John Joseph Adams
Binti: The Complete Trilogy by Nnedi Okorafor
Black Leopard, Red Wolf by Marlon James (which I'm reading right now, stay tuned for a future review and in the meantime, trigger warning for every kind of violence under the sun to all possible persons)
The Ruin of Kings by Jenny Lyons (the buzz has been strong on this one)
And here are your ebook deals:
The Book of the Unnamed Midwife by Meg Elison, $0.99.
The Black God's Drums by P. Djèlí Clark, $3.99.
The Traitor Baru Cormorant by Seth Dickinson (reviewed here), $2.99.
Today's review is for a backlist title that recently jumped out of the library and into my heart.
The Mistress of Spices by Chitra Banerjee Divakaruni
Content warnings: domestic violence; rape; racially motivated violence; narrow representation of Native Americans.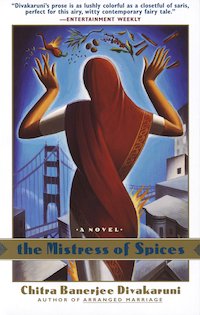 I found this book through the magic of late night library e-book browsing, and it feels like a book I should have read years ago. It's got real-world-plus-magic, nuanced characters, takes a hard look at racism, immigration in America, the gaps between generations, identity, and love, and it reads like a dream.
Tilo, our narrator, was born a long time ago in a land far away, and through a tangled personal journey (including sea snakes and pirates!) discovered that she has a talent: she can see into people's hearts and souls, and name their troubles. That talent also means that she had the ability to learn the magic of spices, which have the power to help heal or harm (please note, I will never look at ginger or cinnamon the same way). But to become a Mistress of Spices, you have to let go of your time, physical being, and identity, and accept the mission you are given. Hers takes her to Oakland in modern times (well, modern-ish — this book was published in 1998) and gives her the body of an old woman, where she runs a small spice shop and dispenses her magic unbeknownst to her customers. There are many rules, and she follows them willingly, until the night a lonely stranger walks into the store. He's struggling to make peace with his own identity, and his pull on Tilo is almost irresistible.
Tilo must decide what her powers mean to her; she has to figure out who exactly she is; she has a chance at love, but it's not a fairytale in the slightest; and most importantly, she has to help the people around her — and make sure her help doesn't make things worse. There are heartbreaking moments in here, alongside the magical ones, as well as a deep-dive into the Indian-American experience, and I was gripped from the first to the last page. It's not a perfect book, but it is a beautiful one, and it gave me many feelings.
Side note, I just discovered there is a movie version!? Will watch and get back to you all.
And that's a wrap! You can find all of the books recommended in this newsletter on a handy Goodreads shelf. If you're interested in more science fiction and fantasy talk, you can catch me and my co-host Sharifah on the SFF Yeah! podcast. For many many more book recommendations you can find me on the Get Booked podcast with the inimitable Amanda, or on Twitter as jennIRL.
The spice must flow,
Jenn