Hello and happy Friday and happy first day of February, wargs and woozles! Today we've got linky goodness from around the web including a Hugo Awards explainer, a Star Wars reading order, fan-art, and a review of the Folio Society edition of Anansi Boys by Neil Gaiman, introduced by Nalo Hopkinson and illustrated by Francis Vallejo.
---
This newsletter is sponsored by DAW Books.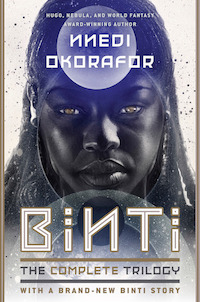 Collected for the first time in an omnibus edition, discover the Hugo- and Nebula-award-winning sci-fi trilogy that tells the story of Binti, a young Himba girl with the chance of a lifetime: to attend the prestigious Oomza University. But after the jellyfish-like Medusae attack her spaceship, Binti must fend for herself, alone with the beings who murdered her crew, with five days until she reaches her destination. If Binti is to survive this voyage and save the inhabitants of the unsuspecting planet that houses Oomza Uni, it will take all of her knowledge and talents to broker the peace.
---
This week on SFF Yeah!, Sharifah and I got very excited about this year's Hugo awards, and here's a reminder that you can (and should) nominate and vote, plus a step-by-step tutorial on how!
If you too feel like you've been dumped into the wrong timeline, here are some parallel universe reads that might make you feel better. (Or worse? Or just the same; mileage, it varies!)
Looking for advice on where to start with the many recent Star Wars books? Kristina breaks it down for you!
SF/F by female authors is often mistakenly categorized as YA, and this piece has some thoughts on how and why it happens.
Baby, it's cold outside … excuse me while I put every one of these superhero hoodies on my wishlist (but particularly that Cap. Marvel one, holy wow).
Winter is here, obviously, and we've got 50 Game of Thrones quotes to use around the fire (or in work emails or whatever).
This is such a simple fan-art concept, and yet this Meet Cute piece gave me feelings.
In today's review, we're gonna talk about Books as Art.
Anansi Boys by Neil Gaiman, with an introduction by Nalo Hopkinson, illustrated by Francis Vallejo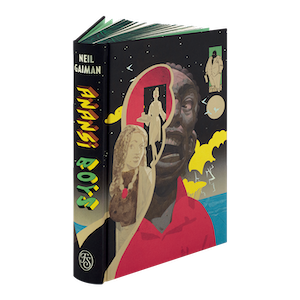 If you're not familiar with the Folio Society, be prepared to drool. They do beautifully packaged and illustrated editions of classics, and have more modern titles alongside standbys like Alice in Wonderland and The Time Machine. One of their latest releases is an incredibly lush edition of Anansi Boys, and wowza.
Anansi Boys was actually the first book by Neil Gaiman that I ever read, probably close to 20 years ago now, and I've somehow never revisited it. My intention was just to read the new Hopkinson intro and then page through this Very Fancy, Oh God Must Not Get Food On It edition; I started reading and found myself five chapters in before I knew it. I hadn't realized that Gaiman reached out to Hopkinson for help with the Caribbean dialogue and details when he was first writing it, and Hopkinson's notes both on what that process was like and on 'nancy stories' are wonderful. And rediscovering Fat Charlie and Spider was a pleasure, especially since I did an American Gods reread not too long ago. I'll definitely be finishing the book, and glorying in seeing the art unfold alongside the text this time around.
I say this time around, because absolutely the first thing I did upon receiving this book was to page through and find each and every one of Vallejo's illustrations. There are the chapter splash pages, which tell their own spider story; full-color pages scattered throughout that are a glorious riot of color and style; and the black and white drawings that share space with text, grace notes bringing specific moments of plot to life. I love the range of texture and media Vallejo employs; his art feels just as exuberant, dynamic, and moody as the story itself. There's a lovely video interview with him here — it's very thoughtful, and also gets into the nitty gritty of how one specific illustrator approaches a task like this.
You won't be surprised to hear that the price-tag is high; at $135, this isn't a casual purchase for most readers. If you want an entirely new reading experience and a killer intro from Nalo Hopkinson, put it on your wishlist or in your birthday budget; you won't regret it.
Bonus: Hopkinson is also part of the team writing new installments in the Sandman universe, which you should check out if you have not already!
And that's a wrap! You can find all of the books recommended in this newsletter on a handy Goodreads shelf. If you're interested in more science fiction and fantasy talk, you can catch me and my co-host Sharifah on the SFF Yeah! podcast. For many many more book recommendations you can find me on the Get Booked podcast with the inimitable Amanda, or on Twitter as jennIRL.
Your fellow booknerd,
Jenn