Welcome to Check Your Shelf! This is your guide to help librarians like you up your game when it comes to doing your job (& rocking it).
"Check Your Shelf" is sponsored by Flatiron Books.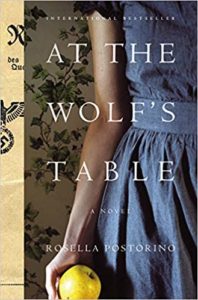 At the Wolf's Table is the internationally bestselling novel based on the untold true story of the women conscripted to be Hitler's food tasters, from Rosella Postorino. Germany, 1943: Twenty-six-year-old Rosa's parents are gone, and her husband's fighting in WWII. Impoverished and alone, she decides to leave war-torn Berlin for the countryside. But one morning, the SS come and say she's been conscripted to be one of Hitler's tasters: each day, she and nine other women go to his headquarters to eat his meals before he does. And as secrets and resentments grow, this unlikely sisterhood reaches a dramatic climax.
---
To any readers who live in the Midwest, I hope you survived the horrible polar vortex. I have spent the last several days hunkered down with a blanket, a stack of books, and my cats, and I'm looking forward to positive digit temperatures in the near future.
Libraries & Librarians
ALA Midwinter Recap
Book Adaptations in the News
Books & Authors in the News
By the Numbers
Award News
All Things Comics
Audiophilia
Upcoming Books in 2019
Book Lists, Book Lists, Book Lists
Bookish Curiosities & Miscellaneous
Level Up (Library Reads)
Do you take part in LibraryReads, the monthly list of best books selected by librarians only? We've made it easy for you to find eligible diverse titles to nominate. Kelly Jensen created a database of upcoming diverse books that anyone can edit, and Nora Rawlins of Early Word is doing the same, as well as including information about series, vendors, and publisher buzz.
Thanks for hanging out and I'll see you again next week!
–Katie McLain, @kt_librarylady on Twitter. Currently reading Every Heart a Doorway by Seanan McGuire.