Hi mystery fans! I had the best reading weekend and can't wait to share with you a mystery with characters I loved, a heist thriller with drag queens (!!), and a great dark procedural!
---
Sponsored by Gallery Books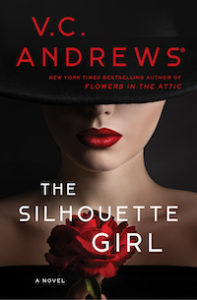 From New York Times bestselling author V.C. Andrews (Flowers in the Attic) comes a gripping psychological thriller about a stalker hell-bent on destroying a young woman's life. Pru Dunning has everything she ever wanted: a successful boyfriend, a thriving career, and a truly comfortable life. But then the strange voicemails start. Scarletta, the woman calls herself. She seems to know Pru, although Pru doesn't know that name or recognize the voice leaving her poisonous messages. When Pru suddenly becomes a person of interest in a murder case, it feels like Scarletta's toxic voice will silence all beauty in Pru's life, once and for all.
---
Great Characters, Great Mystery, And Heart-Emoji The Cover!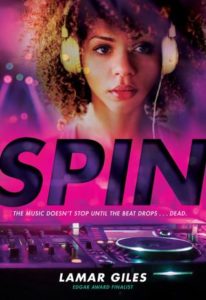 Spin by Lamar Giles: I love Giles' characters and this time he gave me three great ones! DJ ParSec, real name Paris Secord, is a sixteen-year-old up-and-coming DJ ready for fame and most importantly fortune–or was before she was murdered. Being questioned in the police station are Fuse, basically her social media hype girl, and Kya, her childhood best friend. But the questioning doesn't last long because the girls' parents refuse to let the police keep questioning them, plus they swear they just found Paris dead and don't know what could have happened. This alternates between the present where Kya and Fuse, who don't like each other, try to figure out what happened to Paris while reconciling how their relationships had deteriorated prior to Paris' death. We get to know Paris in flashback chapters that show her rise and struggle with leaving it all behind in order to "make it." Giles gives us three different girls, with different families and struggles who are all trying to find their way, while shining a light on the inequalities of social justice, obsession, and the dark side of social media and fame. If you haven't read Giles' novels yet you really should–he's writing some fantastic teen characters in the crime genre.
If Robin Hood Were A Rich Teen Girl With A Crew Of Drag Queens! (TW addiction)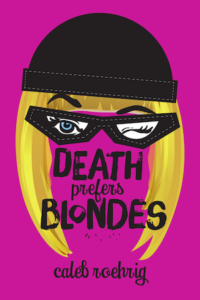 Death Prefers Blondes by Caleb Roehrig: This novel is a heist thriller with a murder mystery starring Robin Hood–if Robin Hood were a rich teenage girl with a crew of drag queens. I adored it! Margo Manning is a socialite whose father has more money then a person can spend in a lifetime so naturally she steals from the rich. And I mean she has a full-on operation with a fence, and help with gadgets, and a crew of teenage drag queens. The heist scenes are kick-ass, and read like scenes from awesome thriller movies–but this novel is far from just flashy fun scenes. Rather than stereotypical drag queen characters used just for fun quips we get to know the entire crew, including their personal lives and the how and why they ended up as thieves. The novel is about birth families, found families, trying to make the best out of terrible situations, social justice, and the wrong path for the believed right reasons. I absolutely loved every second of this ride Roehrig took me on. And if that isn't enough of a sell, think of this book like Ocean's 11 dated RuPaul's Drag Race and the wedding reception got crashed by Hamlet.
*Dark Procedural–SO GOOD! (TW kidnapping/ domestic violence/ child rape/ alcoholism)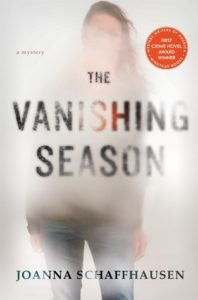 The Vanishing Season (Ellery Hathaway, #1) by Joanna Schaffhausen: If you like fictional serial killers and need a great procedural have I got the read for you! This is dark, but without doing it for shock value and it's mostly blips throughout. Ellery Hathaway is a police officer in a small town where three people have gone missing, and no one is listening to her that there is a connection and there will be more. The problem is, she can't divulge the reason she thinks there is a connection because then she'd have to share her secret: as a child she was abducted by a notorious serial killer and was the rescued victim who landed him on death row. Since she can't come out with any of that, she instead calls an FBI agent, the one who saved her, to come help. Of course there's a problem with that too–he's kind of on leave and the sheriff loses it when he finds out she went behind his back. This is one of those page-turners where you start suspecting everybody that turns into a thriller by the end. And if you hate waiting between books you'll be thrilled to know the sequel just published, so happy reading! (*If you regularly read dark serial killer fiction, this is dark-ish.)
Recent Releases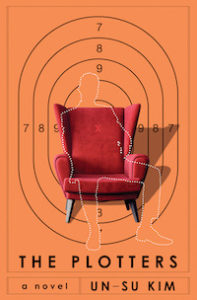 The Plotters by Un-Su Kim (Currently Reading: So far this makes me think of Han Kang, but with assassins and I am very into this dark weird novel–more literary at the moment.) (TW animal cruelty)
Come Find Me by Meg Miranda (Two teens become friends after separate tragedies looking for answers to a murder and a missing persons case–really enjoyed the audiobook.) (TW domestic abuse)
Dead as a Door Knocker (House-Flipper Mystery #1) by Diane Kelly (Cozy mystery)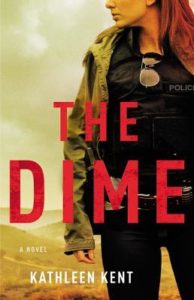 The Dime by Kathleen Kent (Paperback) (This is one of my favorite procedural novels and if you haven't gotten to it yet ruuuun to it: Review) (I'm sorry I don't remember trigger warnings.)
Crimson Lake by Candice Fox (Paperback) (Another great Australian crime novel–Review) (TW child rape/ pedophilia)
Browse all the books recommended in Unusual Suspects previous newsletters on this shelf. And here's an Unusual Suspects Pinterest board.
Until next time, keep investigating! And in the meantime, come talk books with me on Twitter, Instagram, and Litsy–you can find me under Jamie Canavés.
If a mystery fan forwarded this newsletter to you and you'd like your very own you can sign up here.