Hi mystery fans! This week I have a historical mystery, a small-town procedural, and a missing persons mystery.
---
Sponsored by our Unusual Suspects giveaway of $100 to the bookstore of your choice!
We're giving away $100 to the bookstore of your choice! Enter to win by signing up for Unusual Suspects, our mystery/thriller newsletter about new releases, book recommendations, book deals, and more. Enter here.
---
Historical Mystery (TW suicide/ pedophile–not graphic)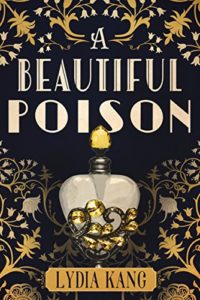 A Beautiful Poison by Lydia Kang: I loved Kang's last novel, The Impossible Girl, so as soon as I finished that I went looking for more of her writing–and now I have a new author to love. This is set in New York in 1918 and follows three childhood friends, who have lost touch, brought back together to solve a murder. Allene is wealthy, engaged, and bored–so clearly the one who wants to play detective. Birdie is working at a factory, struggling to feed her little sister, and Jasper is working as a janitor, hoping to go to medical school one day and avoid the draft. While the deadly Spanish influenza is killing people Allene, Jasper, and Birdie are realizing that some deaths are murder and not sickness… This was a great read that showed you each character's private struggles along with how childhood bonds evolve, break, repair, and change through life–all while staying focused on the mystery and teaching you some chemistry along the way.
Missing Persons Mystery
The Suspect (Kate Waters #3) by Fiona Barton: First, for any readers who may skip this thinking it's the third in the series, the books are connected by a reporter character but read as standalones, so this series works both for standalone readers and series readers. What I really like about Barton's novels is she creates unrelated characters and slowly starts weaving everyone together. This time there are two families who haven't heard from their just-graduated-from-high-school daughters and aren't sure what to do since they're in England and their daughters are in Thailand. Journalist Kate Waters, with a somewhat missing son of her own, goes searching for answers along with DI Bob Sparkes, whose wife is terminally ill. Told in present, from multiple POV, it also weaves in one of the missing girl's journals, which tells a very different trip from what they'd been reporting back home and posting on social media…
Procedural (TW suicide/ gambling addiction/ ableism)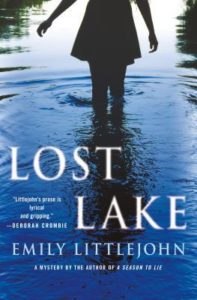 Lost Lake (Detective Gemma Monroe #3) by Emily Littlejohn: This procedural follows Detective Gemma Monroe in Cedar Valley, Colorado. She's a recent mom, has a fiancé, has a bit of an obnoxious work partner, and a grandmother with dementia. While juggling all those things she takes the case of a missing woman who was camping with her boyfriend and friends. Then there's a museum theft and a murder and Monroe must figure out if the cases are related or not–all while trying to figure out who in her department is leaking information to the media. This gives you a good amount of procedural, as she tries to figure out what is happening, while also giving you scenes of her private life, but it never becomes a character driven novel. What I liked about Monroe was that she makes mistakes while investigating, as I imagine happens more often than we see with fictional detectives, and watching her try to balance her personal life with the work hours of a detective who can't let go of cases. I jumped in here with the series and wasn't lost at all. She gives you brief summaries of past cases without revealing the solve, and gives you enough information to know why her personal relationships are where they are.
Recently Released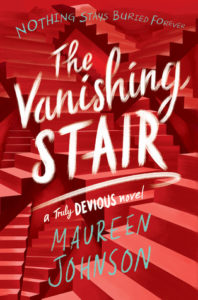 The Vanishing Stair (Truly Devious #2) by Maureen Johnson (TBR: I've been really looking forward to this sequel since the first book, Truly Devious, ended on a cliffhanger!)
The Smiling Man (Aidan Waits Thriller #2) by Joseph Knox (TBR: Procedural set in Manchester.)
The Hangman's Secret (Victorian Mystery #3) by Laura Joh Rowland (Currently reading: Historical mystery, with characters I really like who photograph crime scenes and play detective.)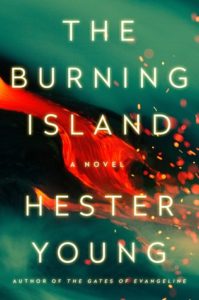 The Burning Island (Charlie Cates #3) by Hester Young(TBR: A journalist who has visions/dreams that lead her to find missing children.)
The Current by Tim Johnston (TBR: "One girl's survival, and the other's death—murder, actually—stun the citizens of a small Minnesota town, thawing memories of another young woman who lost her life in the same river ten years earlier, and whose killer may yet live among them.")
Golden State by Ben H. Winters (TBR: Dystopian-mystery/speculative-mystery)
The Golden Tresses of the Dead (Flavia de Luce #10) by Alan Bradley (TBR: Flavia is a delightful child chemist who runs towards solving murders.)
Browse all the books recommended in Unusual Suspects previous newsletters on this shelf. And here's an Unusual Suspects Pinterest board.
Until next time, keep investigating! And in the meantime, come talk books with me on Twitter, Instagram, and Litsy–you can find me under Jamie Canavés.
If a mystery fan forwarded this newsletter to you and you'd like your very own you can sign up here.