Hi, Kid Lit friends!
We are right in the middle of January, and I'm wondering how many great books you've discovered so far in 2019! I'm in the middle of This Promise of Change by Jo Ann Ellen Boyce with Debbie Levy, which is a novel in verse about the integration of Clinton High School in Tennessee in 1956. The writing is quite beautiful, and I'm learning a lot about this time in history.
I've got piles of books all over my apartment, and I look forward to discovering more book gems this year! In the meantime, here are some new releases that you might want to check out. As usual, if there is a book I have read and loved, I'll mark it with a 
.
*Please note that all book descriptions are from Goodreads.
---
Sponsored by our Unusual Suspects giveaway of $100 to the bookstore of your choice!
We're giving away $100 to the bookstore of your choice! Enter to win by signing up for Unusual Suspects, our mystery/thriller newsletter about new releases, book recommendations, book deals, and more. Enter here.
---
Picture Book New Releases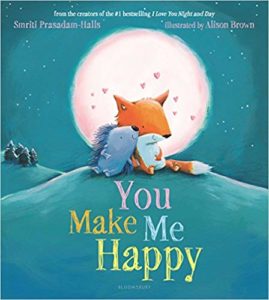 You Make Me Happy by Smriti Prasadam-Halls, illustrated by Alison Brown
In this delightfully optimistic and uplifting observance of that special someone who makes you happy, Fox and Porcupine discover that when they're together, life is ever so much brighter. Gorgeous, fun, and full of heart, this is the perfect gift for that sweet ray of light in your life.
How Do You Do? by Larissa Theule, illustrated by Gianna Marino
Water Buffalo and Crane's field is dry, empty, and hot–so hot that they can barely think of anything else. Every day is the same…  Until one day, they hear something new. "How do you do?" When Goat dances into their lives, Water Buffalo and Crane can't help but join in. Suddenly their field doesn't seem dry, empty, and hot at all. Even after Goat dances away, their world is no longer so small.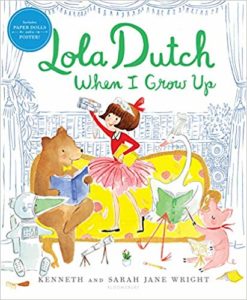 Lola Dutch When I Grow Up by Kenneth and Sarah Jane Wright
Lola Dutch is always bursting with grand plans–so of course she has many ideas for what she wants to be when she grows up!
She could be a magnificent performer . . .
or a daring inventor . . .
or a brilliant botanist . . .
there are exciting ideas all around! But Lola is too excited–she wants to try EVERYTHING. How will she ever decide what she is destined to become?
The curious and creative Lola Dutch is inspired to imagine every way to explore the wonder of her world. And she doesn't have to wait until she grows up!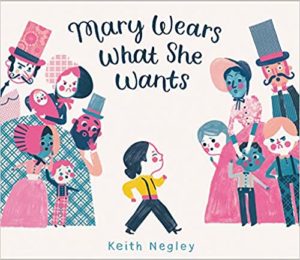 Mary Wears What She Wants by Keith Negley
Once upon a time (but not that long ago), girls only wore dresses. And only boys wore pants. Until one day, a young girl named Mary had an idea: She would wear whatever she wanted. And she wanted to wear pants!
This bold, original picture book encourages readers to think for themselves while gently challenging gender and societal norms.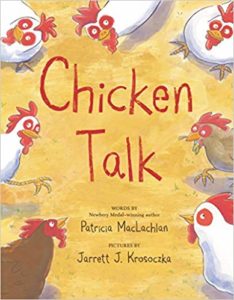 Chicken Talk by Patricia MacLachlan, illustrated by Jarrett J. Kroscoczka
The chickens on the farm have a message for their farm owners! They're tired of arugula salad, how about putting a fan in their hot coop, and HEY—watch out for that snake in your tent. As the children walk around their beloved farm, they discover more and more chicken talk scratched into the dirt. The family can hardly believe it. What will the chickens possibly say next!?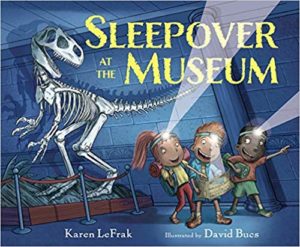 Sleepover at the Museum by Karen LeFrak, illustrated by David Bucs
Mason couldn't wait to celebrate his birthday with a sleepover at the museum of natural history–his favorite place to visit. Armed with headlamps for the dark hallways, a map, and a list of clues, Mason and his two best friends take off on a scavenger hunt through each hall of the museum. But they aren't just trying to solve the clues. They're scouting for the best place to spend the night. Sleeping next to a T. rex in the Hall of Dinosaurs felt too scary. And sleeping with the monarch butterflies would probably tickle. This decision isn't as easy as Mason thought it would be….
Middle Grade New Releases
 Dragon Pearl by Yoon Ha Lee
Min feels hemmed in by the household rules and resents the endless chores, the cousins who crowd her, and the aunties who judge her. She would like nothing more than to escape Jinju, her neglected, dust-ridden, and impoverished planet. She's counting the days until she can follow her older brother, Jun, into the Space Forces and see more of the Thousand Worlds. When word arrives that Jun is suspected of leaving his post to go in search of the Dragon Pearl, Min knows that something is wrong. Jun would never desert his battle cruiser, even for a mystical object rumored to have tremendous power. She decides to run away to find him and clear his name. The outcome may not be what she had hoped, but it has the potential to exceed her wildest dreams.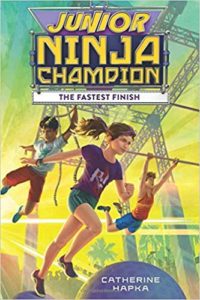 Junior Ninja Champion: The Fastest Finish by Catherine Hapka
When tweens Izzy, Ty, Kevin, JJ, and Mackenzie heard there was going to be a kids' version of the reality-TV obstacle competition National Ninja Champion, they all found themselves drawn to Fit Kidz Gym. They quickly formed a team—training together and helping one another overcome all kinds of obstacles as they tried out for a spot on Junior Ninja Champion. Now Izzy and JJ are headed to the finals in Hollywood, and the rest of the team is coming along to cheer them on. Ty is an alternate, hoping for his shot at glory. But when the show throws them a curve ball and announces a wildcard episode, it brings a new competitor to the Fit Kidz team and takes the competition up a notch.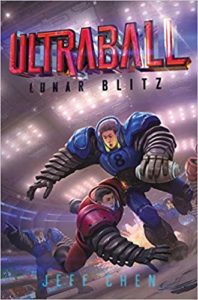 Ultraball: Lunar Blitz by Jeff Chen
Strike Sazaki loves defying gravity on the moon in his Ultrabot suit. He's the best quarterback in the league, but while Strike's led the Taiko Miners to the Ultrabowl three years in a row, each one has ended in defeat. This year, Strike thinks he's finally found the missing piece to his championship quest: a mysterious girl who could be his new star rocketback. When rumors surface of a traitor on the Miners, Strike isn't sure who he can trust. If Strike can't get his teammates to cooperate and play together, they'll lose more than just the Ultrabowl. The stake of the colony's future is on his shoulders.
The Whispers by Greg Howard
Eleven-year-old Riley believes in the whispers, magical fairies that will grant you wishes if you leave them tributes. Riley has a lot of wishes. He wishes bullies at school would stop picking on him. He wishes Dylan, his 8th grade crush, liked him, and Riley wishes he would stop wetting the bed. But most of all, Riley wishes for his mom to come back home. She disappeared a few months ago, and Riley is determined to crack the case. He even meets with a detective, Frank, to go over his witness statement time and time again. Frustrated with the lack of progress in the investigation, Riley decides to take matters into his own hands. So he goes on a camping trip with his friend Gary to find the whispers and ask them to bring his mom back home. But Riley doesn't realize the trip will shake the foundation of everything that he believes in forever.
Nonfiction New Releases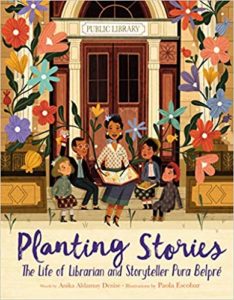 Planting Stories: The Life of Librarian and Storyteller Pura Belpré by Anika Aldamuy Denise, illustrated by Paola Escobar
An inspiring picture book biography of storyteller, puppeteer, and New York City's first Puerto Rican librarian, who championed bilingual literature. When she came to America in 1921, Pura Belpré carried the cuentos folklóricos of her Puerto Rican homeland. Finding a new home at the New York Public Library as a bilingual assistant, she turned her popular retellings into libros and spread story seeds across the land. Today, these seeds have grown into a lush landscape as generations of children and storytellers continue to share her tales and celebrate Pura's legacy.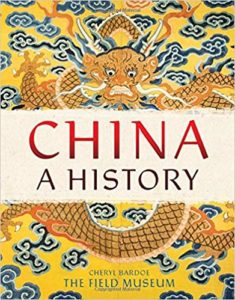 China: A History by Cheryl Bardoe and The Field Museum
Discover the history of one of the world's most influential civilizations. Based on the Cyrus Tang Hall of China exhibit at The Field Museum, China: A History traces the 7,000-year story of this diverse land. Full-color maps, photos, and illustrations of the people, landscape, artifacts, and rare objects bring the history of this nation to life! Young readers learn about prehistoric China, follow the reign of emperors and dynasties, and come to understand how China became the world power that it is today.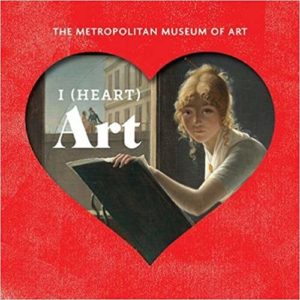 I (Heart) Art by The Metropolitan Museum of Art
A charming, chunky book filled with more than 150 works we love from The Metropolitan Museum of Art. The book is divided into different themes for readers to explore, including people, animals, transportation, and places. Accompanying text provides readers with insight into each piece without distracting from the beauty of the work. From paintings to collages to sculptures to photographs, I (Heart) Art helps readers discover the best that the museum has to offer.
Backlist Book Recommendations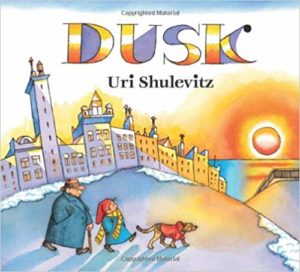 Backlist Picture Book Recommendation: Dusk by Uri Shulevitz
One December afternoon, boy with dog and grandfather with beard take a walk to watch the sun begin to set over the river. When the sun drops low in the sky, they start home. Buildings grow dimmer. People are rushing. As nature's lights go out, one by one, city's lights turn on, revealing brilliant Hanukkah, Kwanza, and Christmas displays in streets, homes, and stores.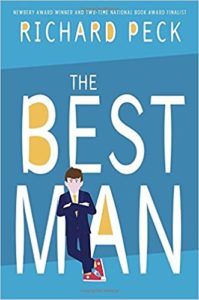 Backlist Middle Grade Book Recommendation: The Best Man by Richard Peck
Archer Magill has spent a lively five years of grade school with one eye out in search of grown-up role models. Three of the best are his grandpa, the great architect; his dad, the great vintage car customizer; and his uncle Paul, who is just plain great. These are the three he wants to be. Along the way he finds a fourth—Mr. McLeod, a teacher. In fact, the first male teacher in the history of the school. But now here comes middle school and puberty. Change. Archer wonders how much change has to happen before his voice does. He doesn't see too far ahead, so every day or so a startling revelation breaks over him. Then a really big one when he's the best man at the wedding of two of his role models. But that gets ahead of the story.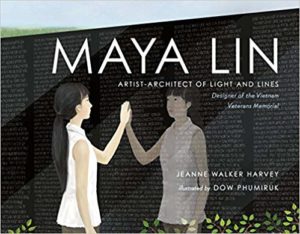 Backlist Nonfiction Book Recommendation: Maya Lin: Artist-Architect of Light and Lines by Jeanne Walker-Harvey, illustrated by Dow Phumiruk
As a child, Maya Lin loved to study the spaces around her. She explored the forest in her backyard, observing woodland creatures, and used her house as a model to build tiny towns out of paper and scraps. The daughter of a clay artist and a poet, Maya grew up with art and learned to think with her hands as well as her mind. From her first experiments with light and lines to the height of her success nationwide, this is the story of an inspiring American artist: the visionary artist-architect who designed the Vietnam Veterans Memorial.
I would love to know what you are reading this week! Find me on Twitter at @KarinaYanGlaser, on Instagram at @KarinaIsReadingAndWriting, or email me at karina@bookriot.com.
Until next time!
Karina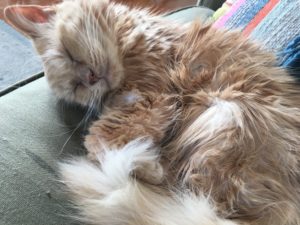 *If this e-mail was forwarded to you, follow this link to subscribe to "The Kids Are All Right" newsletter and other fabulous Book Riot newsletters for your own customized e-mail delivery. Thank you!*