Hola, Audiophiles!
Welcome to the second week of January and to land o'audiobooks, where I am YET AGAIN cooped up in bed with some upper respiratory plague. Friends! What is wrong with my immune system this year?! I remember the days when I could breathe out of both nostrils…. ah yes, those were good times. How I long for those times…
The "good" news is that between extreme sinus pressure and a cough that sounds more like the bark of a sea lion, me and my audiobooks are super BFFs right now. It's the only way I can get any reading done at all! So take your vitamins, wash your hands, and stay hydrated to avoid whatever virus has set up shop in my chest. Audio because you want to! Not because your fever demands it.
Let's talk audio.
---
Sponsored by Libby, the one-tap reading app from your library and OverDrive.
Meet Libby. The award-winning reading app that makes sure you always have something to read. It's like having your entire library right in your pocket. Download the app today and get instant access to thousands of ebooks and audiobooks for free thanks to your public library and OverDrive.
---
Latest Listen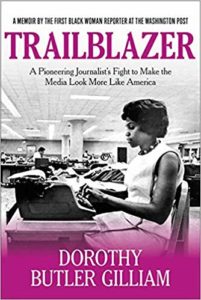 Trailblazer: A Pioneering Journalist's Fight to Make the Media Look More Like America by Dorothy Butler Gilliam, narrated by January LaVoy

In this memoir that I'm so excited to read (ehhemReadHarderresearchehhem), Gilliam shares details from her trailblazing 50-year journalism career. She covered everything from the segregated South, the civil rights movement, feminism, and race relations in America while breaking barriers as a woman, an African American, a mother, and a writer. Her work is fascinating, but so is her very personal narrative of struggle, loss, and intense perseverance. I love that we're at long last seeing so many stories of the pioneering women of color who shaped history and can't wait to get to know Dorothy Butler Gilliam a little bit better.
Listen on Deck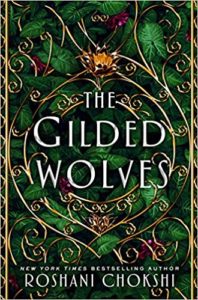 The Gilded Wolves by Roshani Choksi, narrated by Laurie Catherine Winkel & P. J. Ochlan

I've shared with you all how I tend to do mostly nonfiction on audio, and I really am smitten by this super gorgeous cover. Still, I don't think I can wait too much longer to devour this book and will probs give it a go on audio. Treasure-hunter and wealthy hotelier Séverin Montagnet-Alarie is your guy if you're looking for the skinny on secrets in Belle Epoque Paris. When an all-powerful society called the Order of Babel enlists his help for their agenda, Séverin can't really say no. Yo soy intrigued.
I also think I'm going to op for Ibi Zoboi's Black Enough on audio. With that all star cast of contributors who also narrate their own stories… yeah, I'm in.
From the Internets
How it All Gets Done – We all love audiobooks here, obvi. But how do they come to be a thing? Bustle sat down with Penguin Random House's Sara Jaffe to get the skinny on how audiobooks are produced. She would know: she does it for a living.
Over at the Riot
Where It All Began – If you'd asked me to take a guess at how audiobooks came to be, I most assuredly wouldn't have come close to guessing that we owe it all to Dylan Thomas. It turns out his recording of A Child's Christmas in Wales on the "B" side of an LP is credited with launching this beloved industry here in the states. Who knew?
Going Public – By now you may have heard of the slew of works set to hit the public domain in 2019. This could mean lots of new audio content for which I have all the maracas and muppet arms (you're picturing that, aren't you?) Check out some highlights of the books going public here.
---
That's all I got today! Shoot me an email at vanessa@riotnewmedia.com with audiobook feedback & questions or find me on Twitter and the gram @buenosdiazsd. Sign up for the In The Club newsletter, peep the Read Harder podcast, and watch me booktube every Friday too!
Stay bad & bookish, my friends.
Vanessa