Hello and welcome to 2019, Earthlings and Ents! We're kicking the year off with some food for thought about magic, the future of work, highly anticipated reads of the year to come, and more.
---
This newsletter is sponsored by The Similars by Rebecca Hanover.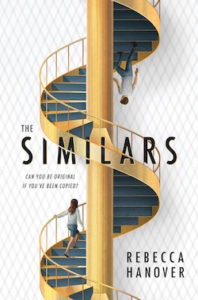 This fall, six new students are joining the junior class at the elite Darkwood Academy. But they aren't your regular over-achieving teens. They're clones. And they're joining the class alongside their originals. The Similars are all anyone can talk about: Who are these clones? What are the odds that all of them would be Darkwood students? And who is the madman who broke the law against cloning to create them? Emmaline Chance couldn't care less. Her best friend, Oliver, died over the summer and it's all she can do to get through each day without him. Then she comes face-to-heartbreaking-face with Levi—Oliver's exact DNA replica and one of the Similars.
---
We interviewed debut author Nana Kwame Adjei-Brenyah about being a genre writer (and of course Hogwarts Houses came up).
Lest we forget that it's not all unicorns and rainbows, here's a post about five books that remind us of the dangers of magic.
And speaking of dark/dangerous things, here are 20 dark YA fantasies to suit that wintry reading mood you might be in.
Need more short fantasy fiction in your life? Alex has you covered!
And speaking of short fiction, Wired asked eight writers to imagine various futures around work (including Ken Liu, Nisi Shawl, Charlie Jane Anders, and Martha Wells!).
We're going to kick the year off with some of my most anticipated reads of January to June 2019 — meaning I haven't read them yet, this is completely speculation, but WOW AM I EXCITED. Note: these are either stand-alones or the starts of a new series; we'll look at Most Anticipated Sequels next week!
Black Leopard, Red Wolf by Marlon James (Feb 5)
Booker Award winner James is trying his hand at fantasy, and this has been pitched as the first book in a trilogy in the vein of an African Game of Thrones. Nuff said!
Early Riser by Jasper Fforde (Feb 12)
A new stand-alone! From Jasper Fforde! Involving killer viral dreams, hibernating humans, stamp-collecting, and I probably don't need to say anything else.
The Psychology of Time Travel by Kate Mascarenhas (Feb 12)
This is a debut and I am intrigued: it's about four women who invent time travel, but then erase one of the original team's contributions, and the descendant who must find out what actually happened.
The City in the Middle of the Night by Charlie Jane Anders (Feb 12)
A dying planet, two cities and a wasteland in between, a student exile, and found family from the author of All the Birds in the Sky. Sold!
Broken Stars: Contemporary Chinese Science Fiction in Translation, translated by Ken Liu (Feb 19)
Ken Liu is a force of nature determined to bring us sci-fi in translation, and I could not be more delighted for any and all of his next efforts.
The Raven Tower by Ann Leckie (Feb 26)
A fantasy novel from the sci-fi genius who brought us Ancillary Justice! Intriguing. Gods and their human agents, blood sacrifice, a succession crisis and invading forces, :grabby hands: gimme.
The Bird King by G Willow Wilson (March 12)
An alt-history fantasy novel set during the Spanish Inquisition featuring a mapmaker who can alter reality, a concubine, and a jinn, from the author of Ms. Marvel and Alif the Unseen. Sign. Me. Up.
The Light Brigade by Kameron Hurley (March 19)
I have thoroughly enjoyed Hurley's epic fantasy, so much so that even though I couldn't handle the body-horror of The Stars are Legion, I am chomping at the bit to get my hands on this futuristic military novel.
A Memory Called Empire by Arkady Martine (March 26)
Another one that caught my eye, from a historian of the Byzantine Empire who has decided to write a space opera! I am here for this.
Unraveling by Karen Lord (June 4)
My love for Karen Lord's work (Redemption in Indigo, Galaxy Game) is well-documented, and I am SO EXCITED to see her doing a Caribbean-folktale-inspired fantasy-murder-mystery.
The Deep by Rivers Solomon, Daveed Diggs, William Hutson, and Jonathan Snipes (June 4)
Go listen to this story-in-the-form-of-a-song from the hip hop group clipping., and then come back and freak out with me about how exciting it is that Rivers Solomon (An Unkindness of Ghosts) was tapped to write the novel version!
Bonus: Sharifah and I each picked a few anticipated titles (including some of the above) to talk about on this week's SFF Yeah!.
And that's a wrap! You can find all of the books recommended in this newsletter on a handy Goodreads shelf. If you're interested in more science fiction and fantasy talk, you can catch me and my co-host Sharifah on the SFF Yeah! podcast. For many many more book recommendations you can find me on the Get Booked podcast with the inimitable Amanda, or on Twitter as jennIRL.
Live long and prosper,
Jenn