Hello mystery fans! I am back and ready for a new year filled with mystery and suspense and thrills–and really anything that fits under the crime umbrella. Let's start with a cozy, a dark Icelandic mystery, and some revenge.
---
Just for Book Riot readers: sign up for an Audible account, and get two audiobooks free!
---
Cozy!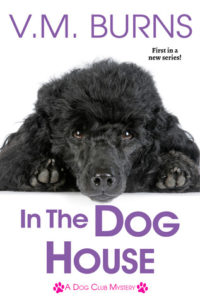 In the Dog House (Dog Club Mystery #1) by V.M. Burns: This was a great cozy to read during the holiday stress; it had a good pace for me and balance. You get dogs, but it doesn't become the focus nor draw away from the mystery, and things keep happening to the characters so it doesn't become too character driven where no one seems to remember they should be solving a mystery. Lilly Echosby's husband left her and is of course with a younger woman. Lilly's friend Dixie, who is in the dog show circuit, comes to visit to lift her spirits. Except when Lilly's husband is found dead and Lilly becomes the suspect, friends and dogs aren't going to make her feel better unless they solve what is actually happening–which they attempt to do, also joined by Lilly's daughter who is a lawyer. (The ebook is currently $.99.)
Dark Icelandic Mystery (TW suicide/ torture/ fat shaming)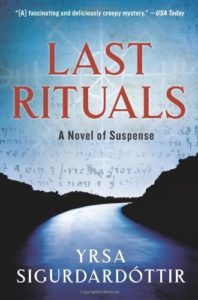 Last Rituals (Thora Gudmundsdottir 1) by Yrsa Sigurðardóttir, Bernard Scudder (Translator): This was a mystery that, for me, balanced the focus on solving the mystery and the main character's personal life in that you get to know her and her life but it's not the focus, the mystery is. It also goes into dark subjects and dark histories, but never felt like it was just trying to shock, and it moved along pretty quickly from each instance. I really disliked that the secretary character was created as a stereotype and just to fat shame, but since the majority of the book takes place away from the main character's office it's only a few obnoxious times in the novel. The mystery starts with a German student being found dead at an Icelandic university in a gruesome way. While there is an arrest and the case is thought to be solved, the victim's family has concerns and hires Matthew Reich to look into the matter. Being German, they want a local person to help Reich navigate and end up asking an attorney, Thóra Gudmundsdóttir, to help. As a single mother with a practice she doesn't think she'll be much help, since she's not a PI, but needs the money the very wealthy family is offering, so she agrees. While this doesn't go down the rout of thriller or suspense, I did enjoy watching them try to uncover the mystery and also the history of Iceland's witch hunting.
Time for revenge! (TW brief discussion about child suicide/ pedophilia)
For Better and Worse by Margot Hunt: I read this knowing NOTHING about it and recommend you do the same if you like domestic thrillers (I hate that term) and/or authors like Gillian Flynn. I think the summary gives away too much of how things unfold but if that doesn't matter to you, you can go read that. I'm going to keep it sparse. This had a great opening hook for me: a couple on their first date plays the "Could you get away with murder game." Or, to be more accurate, only one of them really plays. Years later they're married with a young son and have hit the stage of marriage where things aren't great but nothing is broken in a way that anyone is thinking to work on the relationship. And then someone in their lives, and part of their community, is accused of molestation, which will test them as individuals and as a family…
Recent Releases (Publishing is still sleepy but I promise next week this will explode with books.)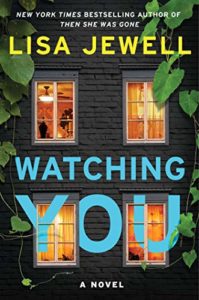 Watching You by Lisa Jewell (Currently Reading: I'm a fan of Jewell's mysteries which usually follow a group of people, has secrets, and stars women and girls.)
The Drowned Girl (Louise Rick #3) by Sara Blaedel  (Scandinavian procedural)
Live and Let Pie (A Bakeshop Mystery #9) by Ellie Alexander (Cozy mystery)
Truly Devious by Maureen Johnson (Paperback) (Delightful mystery with nods to old school mysteries set at an elite school- Full review)
Before I Let Go by Marieke Nijkamp (Paperback) (Corey tries to unravel what really happened to her best friend in an insulated Alaskan town: Full review) (TW I don't remember specifically but it's heartbreaking look at mental illness.)
Browse all the books recommended in Unusual Suspects previous newsletters on this shelf. And here's an Unusual Suspects Pinterest board.
Until next time, keep investigating! And in the meantime, come talk books with me on Twitter, Instagram, and Litsy–you can find me under Jamie Canavés.
If a mystery fan forwarded this newsletter to you and you'd like your very own you can sign up here.