Hi mystery fans! A few weeks back I asked you to tell me about mysteries you enjoyed this year, which you thought didn't get the attention they deserved, and I've collected those here. And of course I added some more because I always have more books to talk about.
---
Sponsored by Before We Were Strangers by Brenda Novak.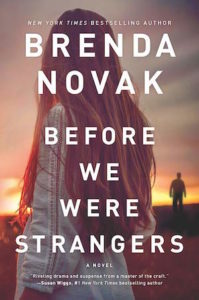 The official story was that Sloane's mother abandoned the family, which hadn't sat any better at the time than it did when Sloane moved out at eighteen. But not even a fresh start in New York could keep the nightmares at bay. Or her fears that the domineering father she grew up with wasn't just difficult—he was deadly. Now another traumatic loss forces Sloane to realize she owes it to her mother to find out the truth, even if it means returning to a small town full of secrets and lies, a jilted ex-boyfriend, and a father and brother who'd rather see her silenced.
---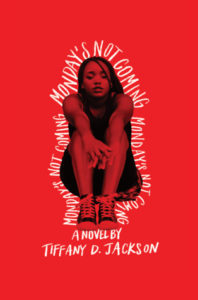 "I don't know how much attention it received, but I stumbled on Monday's Not Coming, I also loved Tangerine by Christine Mangan but didn't hear much about it."–Tynisha
"The Real Michael Swann by Bryan Reardon. Very good, and twisty."– Sandra
"I read Our Kind Of Cruelty by Araminta Hall early in the season and was certain it would be one of the most talked about books of the year. But in fact, the opposite was true. I heard very little about this smart, thrilling, captivating book that had me anxiously turning pages from the very first page of the book. If you want to read an edge of your seat mystery with multi dimensional characters, this book is for you."– Columbus
"I didn't hear anything about The Ruin anywhere but book riot and I thought it was A++"– Maddie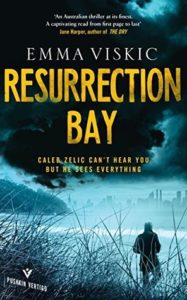 "Emma Viskic's books are awesome, but I'm not sure if they are both out in the US yet (Resurrection Bay and And Fire Came Down)"–Sue (They are both out in the U.S.!)
"Tear Me Apart by JT Ellison was pretty great."–Jennie
"I know you already know about Salt Lane. I did also like November Road, and it didn't seem to make much of a dent."–Jessica
"Ways to Hide in Winter by Sarah St. Vincent: It's gorgeously written and beautifully sad, and really thought-provoking."– Liberty
And I'm going to add: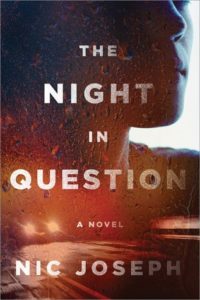 The Night In Question by Nic Joseph: For fans of character driven mysteries that are exploring an idea–like where the line between good and bad is? Also, great for fans of characters unraveling after a bad decision. (Review)
#FashionVictim by Amina Akhtar: If you like "fun" psychopaths/satire/Serial Mom meets Devil Wears Prada. (Review) (TW suicide attempt)
The Dinosaur Artist: Obsession, Betrayal, and the Quest for Earth's Ultimate Trophy by Paige Williams: If you enjoyed Bad Blood and The Feather Thief–my current obsession are these nonviolent, bonkers true crime reads–this is another must-read. (Review)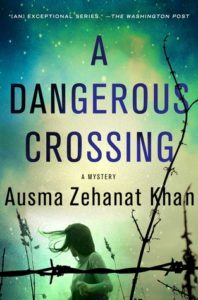 A Dangerous Crossing (Rachel Getty & Esa Khattak #4) by Ausma Zehanat Khan: I love this procedural series that focuses on two Canadian detectives, and travels around the world–it should get way more attention than it does. Plus, I'm super excited that the next book in the series, A Deadly Divide, comes out in February! (Review) (TW child deaths/ rape/ torture)
Hollywood Ending (Detective by Day #2) by Kellye Garrett: If you're a fan of cozy mysteries this one has a great group of friends, is funny, and I love seeing Day evolve in the second book to work towards becoming a real P.I. Can be read as a standalone. (Review) (TW suicide)
Recent Releases + End of December Releases (If they don't have TW in this case it's because I haven't read them yet and don't know.)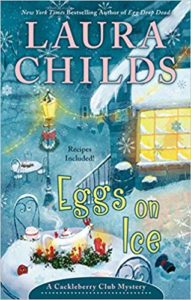 Eggs on Ice (Cackleberry Club #8) by Laura Childs (Cozy mystery)
The Drowned Girl (Louise Rick #3) by Sara Blaedel (Dec 24) (Scandinavian procedural)
Live and Let Pie (A Bakeshop Mystery #9) by Ellie Alexander (Dec 31) (Cozy mystery)
Half of What You Hear by Kristyn Kusek Lewis (Dec 31) (Being compared with Big Little Lies.)
The Perfect Mother by Aimee Molloy (Paperback Dec 31) (Missing child thriller that, if I remember correctly, Reese Witherspoon chose as a book club pick; and it's being adapted into a film.) (TW domestic abuse)
The Pope of Palm Beach by Tim Dorsey (Paperback)
Browse all the books recommended in Unusual Suspects previous newsletters on this shelf. And here's an Unusual Suspects Pinterest board.
Until next time, keep investigating! And in the meantime, come talk books with me on Twitter, Instagram, and Litsy–you can find me under Jamie Canavés.
If a mystery fan forwarded this newsletter to you and you'd like your very own you can sign up here.