This edition of Today in Books is sponsored by A.A. Knopf, publisher of Blood Communion, the latest in the Vampire Chronicles, by Anne Rice.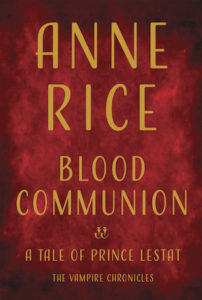 ---
Highest Paid Authors In The World
Forbes listed the world's highest-paid authors in 2018, and while I guessed fewer women would be on the list I did guess correctly in what they'd all have in common. You can check out the list here.
If Your TBR Isn't So Big It's Trying To Kill You
Here's a great list to use to add more to your TBR: PEN America announced the longlists for the 2019 PEN America Literary Awards. So many genres and so many beautiful covers! The finalists will be announced in January.
Well Hello To This Cast!
An upcoming biopic of Gloria Steinem, based on her memoir My Life on the Road, just added Janelle Monáe to "play Dorothy Pitman Hughes, the civil rights activist who co-founded Ms. magazine with Steinem." The amazing Monáe joins an already amazing cast: Julianne Moore, Alicia Vikander, Bette Midler. I'm making all the popcorn.