Welcome to Check Your Shelf! This is your guide to all things book talk worth knowing to help librarians like you up your game when it comes to doing your job (& rocking it).
"Check Your Shelf" is sponsored by So Done by Paula Chase.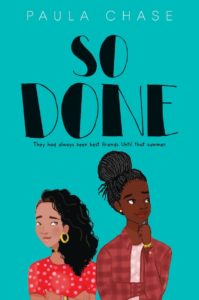 Inseparable since they were toddlers, Metai Johnson can't understand how her best friend, Jamila can go away for an entire summer and not return a single text. When Jamila returns, Metai is ready to pick up where they left off. Jamila, on the other hand, is determined to change everything about her situation, which may include letting go of Tai. A 2018 Junior Library Guild Selection, So Done dives into the complexity of middle school friendships and the dangers of keeping secrets.
---
Libraries & Librarians
Book Adaptations in the News
Books in the News
By the Numbers
Award News
Pop Cultured
All Things Comics
Best Books of 2018
Book Lists, Book Lists, Book Lists
Bookish Curiosities & Miscellaneous
Level Up (Library Reads)
Do you take part in LibraryReads, the monthly list of best books selected by librarians only? We've made it easy for you to find eligible diverse titles to nominate. Kelly Jensen created a database of upcoming diverse books that anyone can edit, and Nora Rawlins of Early Word is doing the same, as well as including information about series, vendors, and publisher buzz.
Thanks for hanging out and I'll see you again next week!
–Katie McLain, @kt_librarylady on Twitter.