Happy Friday, fairfolk and Ferengi! Today we've got more nerdy gift guides, the best dragon books, rogue robots, a review of Gunsmoke & Glamour by Hillary Monahan, and more.
---
This newsletter is sponsored by Fierce Reads and Archenemies by Marissa Meyer.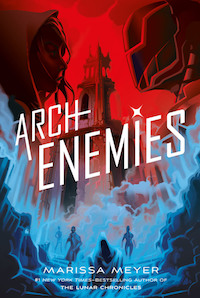 They are the world's best hope… but each other's worst nightmare. In this second installment of the bestselling Renegades trilogy, Nova, Adrian, and the rest of their crew are faced with escalating crime in Gatlon City, while covert weapons and conflicting missions have Nova and Adrian questioning not only their beliefs about justice, but also the feelings they have for each other. The line between good and evil has been blurred, but what's clear to them both is that too much power could mean the end of their city—and the world—as they know it.
---
Our official Best of 2018 is here, behold! You can sort by category if you just want the SF/F picks.
We had a "low fantasy" primer and now we've got one for "high fantasy" and one for "urban fantasy." Enjoy!
Calling all VE Schwab fans: we've got a gift guide just for you.
What are the best dragon series? Silvana has picked 15, and maybe your favorite is on the list. Mine was not (although also perhaps too obvious), obligatory shout-out to The Dragonriders of Pern.
This round-up of Captain Marvel merch has me positively drooling (that bomber jacket!!!).
Did you read Fire & Blood yet? If so, then Tor.com has six mysteries it would like to ponder with you.
Do we need another "books to read if you like Doctor Who" list? Sure, why not. (I really love a bunch of books on this list, actually.)
It was only a matter of time — a "personality prototype" robot turned belligerent on the International Space Station, HAVE WE LEARNED NOTHING FROM SCI-FI, I ASK YOU.
Important update: Luke Skywalker's lightsaber is actually NOT up for auction.
Can NASA rescue Iron Man? Stay tuned!
If you're a fan of weird Westerns and magical hijinks, this review is for you.
Gunsmoke & Glamour by Hillary Monahan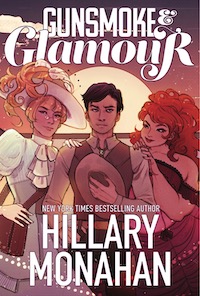 Trigger warnings: depictions of transmisogynism, ableist language
What do you get when you take a magic-sensing sheriff, two fairy sisters (one of whom has, shall we say, flexible morals), a transgender lady doctor, and a family of very bad tempered witches, and throw them in a blender with the Old West? You get Gunsmoke & Glamour, that's what.
Clay's mother was a fairy of the Seelie Court, his father human, and that gives him the ability to sense both magical beings and magic being used. When a marshal specializing in magical crimes meets him and discovers his talent, Clay finds his calling. But he also finds himself enamored with Cora, a con-artist and fairy who flits in and out of his life. They both know that some day his duty to the law will come into conflict with her … shall we say, extra-legal activities … but they take a chance on love anyway. Our story begins with Clay suffering from a deadly curse and searching desperately for a cure, because that day has come to pass. We find out how it went down chapter by chapter, alongside the cross-country adventure to save Clay's life.
While written in the third person, the book stays true to Clay's POV, which is fine — he's entertaining and likable, a horny cowboy with a good heart. But it's the female characters in this book that truly shine: clever and impulsive Cora, her voracious man-eating sister Adelaide, the sweet and pragmatic Doc Irene. If there's a sequel, I can only hope it follows the further adventures of Irene because lady doctors in the Old West are an obsession of mine (you can blame Dr. Quinn) and when you add magic, you've got my attention.
There are some odd touches; for example, the Civil War is referred to as the "War of Northern Aggression" more than once, in what I can only assume is an attempt at historical accuracy given the places the characters are visiting, even though the characters' sympathies clearly lie with the Union. And while the book is overall body-positive, I found Clay's constant commentary on the relative attractiveness of every female he meets wearisome. But overall, the book delivers on its promises and premise. This is a raunchy, bordering on sex-obsessed, fun, fairy-filled Western with a diverse cast that readers of Sarah Gailey and Seanan McGuire should definitely check out.
And that's a wrap! You can find all of the books recommended in this newsletter on a handy Goodreads shelf. If you're interested in more science fiction and fantasy talk, you can catch me and my co-host Sharifah on the SFF Yeah! podcast. For many many more book recommendations you can find me on the Get Booked podcast with the inimitable Amanda, or on Twitter as jennIRL.
Stay away from the fairy food,
Jenn