Hello mystery fans! After reading a great mystery that is told in reverse chronology, I decided to roundup a few more mysteries told backwards.
---
Sponsored by Book Riot's 10 Best Nonfiction Books of 2018 Giveaway
We're giving away ten of our favorite works of nonfiction of the year! Click here to enter.
---
Backwards Procedural With Great Puzzle Mysteries (TW rape/ suicide)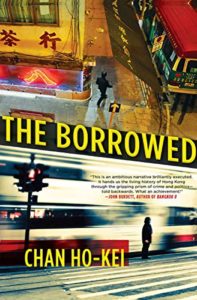 The Borrowed by Chan Ho-Kei, Jeremy Tiang (Translation): This was a great read that I think will appeal to many types of mystery fans. You get an apprenticeship; a procedural; lots of good, different-from-each-other, twisty puzzle mysteries; and a historical look at social/political changes in Hong Kong. It starts in the present day moving to the past, always following the same detective, Kwan Chun-dok, who had a thirty year career with a hundred percent success rate–I know! Seriously, so great. The opening is big, too. It's a case of a dead man that takes place in the hospital room of a comatose detective, who is solving the case while in said coma, and one of the victim's family members, also in the room, is the murderer. Watching the twists, and the unraveling is really fun, and you get six different mysteries that are all different–while tied together because of the detective and his career. I found it to be a super satisfying mystery and demand more of Ho-Kei's work be translated, please!
Small Town Mystery Told Backwards (It's been so long I'm sorry I don't remember potential trigger warnings.)
All The Missing Girls by Megan Miranda: So this one overall is a thriller with a premise that is common: Young woman returns back to her small hometown where there is a long-ago mystery still unsolved. But this one stands out in that a good chunk of this book is told in reverse chronological order. Nic returns home to the town where, as a teenager, her best friend went missing; her and her brother, boyfriend, and friend's boyfriend were all the suspects. Hence her getting out of Dodge and not being happy about going back, especially since upon returning another girl disappears! And that's when this story goes backwards–literally. While this is a twisty page-turner, my favorite part that resonated with me was watching Nic as an adult reviewing for the first time her childhood relationships.
Suspense and Friendship Mostly Told Backwards (TW suicide)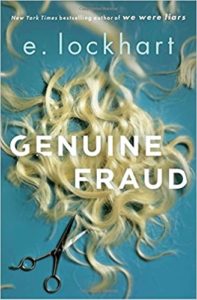 Genuine Fraud by E. Lockhart: Jules appears to be on the run, or hiding, when it seems she's found and must run again. From there, we're taken back to her friendship with Imogen and we start to see the pieces of her life stack together, while being told backwards. While this isn't so much a mystery about what, because we're usually told that–or you'll possibly figure it out–it's more about the who, how, and why until the next reveal in the story which I found interesting. While I did enjoy the narrator on the audiobook and recommend it, if you zone out during audiobooks or get lost easily go with the print.
Recent Releases
For Better And Worse by Margot Hunt (If you like revenge and domestic thriller page-turners.) (TW pedophile/ brief discussion about child suicide)
The Last Equation of Isaac Severy by Nova Jacobs (Paperback) (TBR: Literary mystery with a bookselling main character.)
Browse all the books recommended in Unusual Suspects previous newsletters on this shelf. And here's an Unusual Suspects Pinterest board.
Until next time, keep investigating! And in the meantime, come talk books with me on Twitter, Instagram, and Litsy–you can find me under Jamie Canaves.
If a mystery fan forwarded this newsletter to you and you'd like your very own you can sign up here.