This edition of Today in Books is sponsored by Book Riot's 10 Best Nonfiction Books of 2018 Giveaway.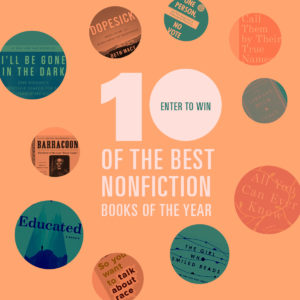 ---
And We All Cheer!
Since Michelle Obama started her book tour, and all these great conversations have been coming out, I've been saying she should be on a permanent book tour. Obviously she listened to me–that's my story and I'm sticking to it–because she just announced she's extended her book tour with new dates and places in 2019!
Publishing And Booksellers Struggling In Brazil
Blamed on the recession and increase in book prices, large book chains are filing for bankruptcy and leading publishers have warned, "These are dark days for the book in Brazil." Companhia das Letras co-founder Luiz Schwarcz is pleading for people to buy books as gifts this holiday season.
Wondering What The Best Selling Book Of 2018 In Japan Was?
The book wholesaler Nippan named Kimitachi wa dō ikiru ka (How Do You Live?) by Yoshino Genzaburō Japan's best-selling book of 2018. The manga is an adaptation of a children's book originally published in 1937. Read more about the book and other best Japanese sellers here.