Hello and happy Tuesday, vagabonds and Vogons! Today we're talking about Doctor Who, notable SF/F of 2018, new She-Ra books, a couple new releases, N.K. Jemisin's collection How Long 'Til Black Future Month?, and more.
---
This newsletter is sponsored by Rebel Base Books and The Spectral City by Leanna Renee Hieber.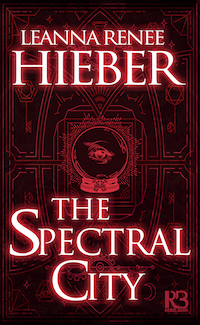 In 1899 New York City, the police have a secret spiritual go-to for solving the city's most haunting crimes. Her name is Eve Whitby, gifted medium and leader of The Ghost Precinct. With her group of female psychics and wayward ghosts, nineteen-year-old Eve holds her own against New York's darkest threats. But when her ghostly conduits begin to disappear, Eve realizes that a malevolent force is out to destroy the balance between two realms. Now, she must brave the darkness to make sure no one is ever left for dead.
---
Here's the latest very handy round-up of SF/F adaptations in the works on Tor.
The NY Times picked their 100 notable books of 2018, and congrats go out to the genre books that made the list: Eternal Life by Dara Horn (reviewed here), Spinning Silver by Naomi Novik, and Washington Black by Esi Edugyan (critically acclaimed and high on my TBR).
We've got a trailer and a fancy shmancy website for the Harry Potter AR game over at Wizards Unite, and it's very appealing to this Potterhead at least.
Where my Scots at? Scotland is getting its own SF, F, and Horror festival in 2019, and it looks very interesting.
In gifty news, my fellow Bitch Planet fans and I can now rock a non-compliant boot tag!
Get your pre-ordering engines ready; there will be Little Golden Books for He-Man and She-Ra in July!
Doctor Who actor Tom Baker has written a Doctor Who novel, based on a script that never saw the light of day. (Doctor? Doctor!)
New releases you might also be excited about:
Aladdin: A New Translation, translated by Yasmine Seale (very interested in this!)
The Mortal Word: An Invisible Library Story by Genevieve Cogman
Today's review is for this week's most exciting new release, AT LONG LAST!
How Long 'Til Black Future Month? by N.K. Jemisin
The first short story of Jemisin's I ever came into contact with was "Non-Zero Probabilities," which she read at a group event in Brooklyn years ago. I gushed over it, thinking it was new, only to find out that it had come out in 2009 and was a Hugo award nominee. (DERP.) The chance to read it again here, having since read all of her novels and some other short works, was a delight. And let's get right to it: I love this collection. Not only does it contain my favorite Jemisin short stories plus exciting new ones, it also includes an Introduction and Acknowledgements that shed light on her writing process (for all you aspiring writers/process lovers).
Whether they are from 2009 or 2004 or 2017, all of these stories hold up, and I couldn't have told you from a first read which were more recent than others. (If anyone wants to really nerd out and read them in chronological order, they're listed as such on the copyright page.) Instead, I just lost myself in each one. Each showcases in its own way her huge imagination and willingness to experiment with structure, voice, and place.
The collection kicks off with "The Ones Who Stay and Fight," which is both a response to Ursula K. Le Guin's "The Ones Who Walk Away from Omelas" and a clarion call for accountability that is all too relevant in the current political climate. Others, including "The You Train," "Non-Zero Probabilities," "The City Born Great," and "Cuisine des Mémoires," are just the slightest bit off from our present world. Still others play with history ("The Effluent Engine"), and then there's the hard sci-fi of "The Evaluators," which is rare for Jemisin and most welcome to this reader. Longtime readers of hers will be delighted by "Stone Hunger," which takes place in the Broken Earth 'verse and contains some familiar characters, and "The Narcomancer," which revisits the world of the Dreamblood Duology. And if I were going to make a playlist for this collection, which I am strongly tempted to do, I would pair "Sinners, Saints, Dragons, and Haints, in the City Beneath the Still Waters" with Beyoncé's "Formation." Read it, and you'll see why.
Whether she's exploring alien life forms or political machinations, self-sacrifice or monsters in New Orleans, Jemisin's characters are boldly drawn, complex, and so engaging. This is a great gift for any long-time fan and a solid introduction to her work for the curious, and I highly recommend you grab yourself the gorgeous hardcover version.
Bonus! You can read (either before or after the collection, suit yourself!) the piece entitled "How Long 'Til Black Future Month?" that the collection was named after but does not contain.
And that's a wrap! You can find all of the books recommended in this newsletter on a handy Goodreads shelf. If you're interested in more science fiction and fantasy talk, you can catch me and my co-host Sharifah on the SFF Yeah! podcast. For many many more book recommendations you can find me on the Get Booked podcast with the inimitable Amanda, or on Twitter as jennIRL.
You gotta tip on the tightrope,
Jenn