This edition of Today In Books is sponsored by Flatiron Books, publishers of Frankie.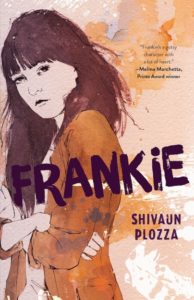 ---
The Satanic Temple Wasn't Bluffing
Netflix and Warner Bros. is being accused of having a statue in The Chilling Adventures of Sabrina that bears a striking resemblance to the Satanic Temple's statue of Baphomet. The Temple filed a $50 million copyright suit alleging "its copyrighted artwork has been hijacked in service of a stereotypically evil representation."
In Honor Of Michelle Obama's Memoir Becoming
Gal-dem's upcoming pop-up bookshop will exclusively stock books written by women and non-binary people of color. "Gal-dem is an online and print magazine written by women of colour and non-binary people of colour for all to explore. We want that sentiment to translate to this fantastic pop up." It'll open for a week starting November 23 at 2 Bury Place in Bloomsbury–if you're in the U.S., you'll have to cross the pond!
Star Wars And Black Panther Stars Unite For Sci-Fi Adaptation
Katie Khan's sci-fi love story Hold Back the Stars is being adapted and in OMG YES, BEST CASTING IS BEST news: it will star Letitia Wright and John Boyega! You may know them as Shuri (Black Panther) and Finn (Star Wars: The Last Jedi).