Hi friends,
I love reading poetry with my daughters, and I am not just saying that because my father-in-law is the former Poet Laureate of Maryland and he reads these newsletters. Poet Grace Cavalieri, when speaking to a room full of novelists at a writer's conference about five years ago, said, "Poets clean off language for the rest of you." I feel like she is spot on. When I read poetry, I am amazed at how such sparse language can evoke wonderful emotions.
Here are some of my favorite poetry collections. What are yours?
*Please note all book descriptions are from Goodreads.
---
Sponsored by Disney Publishing Worldwide.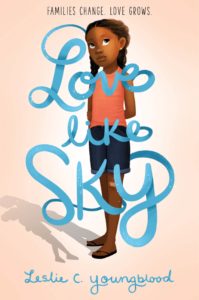 G-baby and her younger sister, Peaches, are still getting used to their "blended-up" family. They live with Mama and Frank out in the suburbs, and they haven't seen their real daddy much since he married Millicent. G-baby is so preoccupied with trying to earn her stepsister, Tangie's, approval that she isn't there for her own little sister when she needs her most. Peaches gets sick—really sick. It's up to G-baby to put things right. She knows Peaches can be strong again if she can only see that their family's love for her really is like sky.
---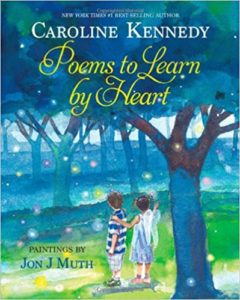 Poems to Learn By Heart by Caroline Kennedy, illustrations by Jon J Muth
There's a poem to celebrate every moment in life, whether its hitting a home run watching a sunset or laughing with your best friend. A poem is a gift of the heart that can inspire reassure or challenge us. Memorize it, share it, it's yours forever. In this diverse collection, a companion to her New York Times best-seller A Family of Poems, Caroline Kennedy has chosen more than a hundred poems that speak to all of us the young and young at heart readers new to poetry and devoted fans. These poems explore deep emotions as well as ordinary experiences.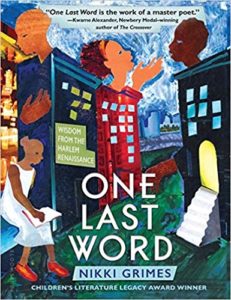 One Last Word: Wisdom from the Harlem Renaissance by Nikki Grimes
Inspired by the writers of the Harlem Renaissance, bestselling author Nikki Grimes uses "The Golden Shovel" poetic method to create wholly original poems based on the works of master poets like Langston Hughes, Georgia Douglas Johnson, Jean Toomer, and others who enriched history during this era. Each poem is paired with one-of-a-kind art from today's most exciting African American illustrators–including Pat Cummings, Brian Pinkney, Sean Qualls, James Ransome, Javaka Steptoe, and many more–to create an emotional and thought-provoking book with timely themes for today's readers.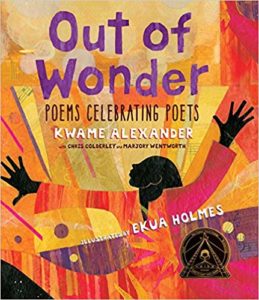 Out of Wonder: Poems Celebrating Poets by Kwame Alexander and Chris Colderly, illustrated by Ekua Holmes
Out of gratitude for the poet's art form, Newbery Award–winning author and poet Kwame Alexander, along with Chris Colderley and Marjory Wentworth, present original poems that pay homage to twenty famed poets who have made the authors' hearts sing and their minds wonder. Stunning mixed-media images by Ekua Holmes, winner of a Caldecott Honor and a John Steptoe New Talent Illustrator Award, complete the celebration and invite the reader to listen, wonder, and perhaps even pick up a pen.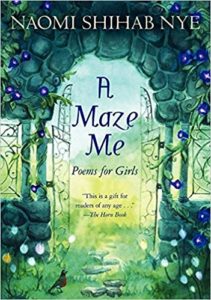 A Maze Me: Poems for Girls by Naomi Shihab Nye, illustrated by Terre Maher
First love, friendship, school, family, community, having a crush, loving your mother and hating your mother, sense of self, body image, hopes and dreams . . . these seventy-two poems by Naomi Shihab Nye—written expressly for this collection—will speak to girls of all ages. An honest, insightful, inspirational, and amazing collection.
I'm Just Not Good at Rhyming: And Other Nonsense for Mischievous Kids and Immature Grown-Ups by Chris Harris, illustrated by Lane Smith
Harris's hilarious debut molds wit and wordplay, nonsense and oxymoron, and visual and verbal sleight-of-hand in masterful ways that make you look at the world in a whole new wonderfully upside-down way. This entirely unique collection offers a surprise around every corner: from the ongoing rivalry between the author and illustrator, to the mysteriously misnumbered pages that can only be deciphered by a certain code-cracking poem, to the rhyming fact-checker in the footnotes who points out when "poetic license" gets out of hand.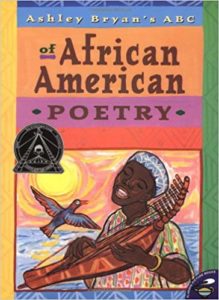 Ashley Bryan's ABC of African American Poetry by Ashley Bryan
"And God stepped out on space,
And he looked around and said:
I'm lonely — I'll make me a world."
— James Weldon Johnson
Thus begins Coretta Scott King Award-winner Ashley Bryan's collection of inspiring excerpts of poems by celebrated African American poets. Beautifully illustrated with his own tempera and gouache paintings, Ashley Bryan's unique alphabet book will delight readers of any age.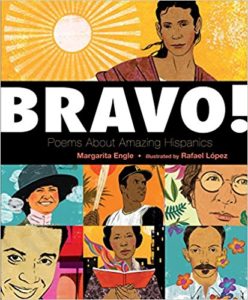 Bravo! Poems About Amazing Hispanics by Margarita Engle, illustrated by Rafael Lopez
Musician, botanist, baseball player, pilot―the Latinos featured in this collection, Bravo!, come from many different countries and from many different backgrounds. Celebrate their accomplishments and their contributions to a collective history and a community that continues to evolve and thrive today!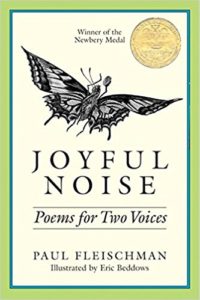 Joyful Noise: Poems for Two Voices by Paul Fleischman, illustrated by Eric Beddows
Funny, sad, loud, and quiet, each of these poems resounds with a booming, boisterous, joyful noise. The poems resound with the pulse of the cicada and the drone of the honeybee. They can be fully appreciated by an individual reader, but they're particularly striking when read aloud by two voices, making this an ideal pick for classroom use. Eric Beddows′s vibrant drawings send each insect soaring, spinning, or creeping off the page in its own unique way.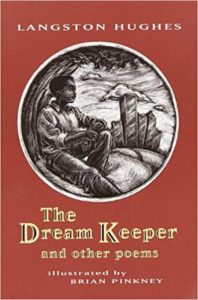 The Dream Keeper and Other Poems by Langston Hughes, illustrated by Brian Pinkney
This classic collection of poetry is available in
a handsome new gift edition that includes seven additional poems written after "The Dream Keeper" was first published. In a larger format, featuring Brian Pinkney's scratchboard art on every spread, Hughes's inspirational message to young people is as relevant today as it was in 1932. "There's no better way to show kids what poetry is about than to share this collection."– "Booklist."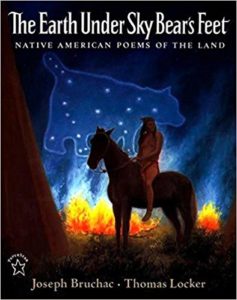 The Earth Under Sky Bears Feet by Joseph Bruchac and Thomas Locker
Native American elders will tell you there is as much to see in the night as in the familiar light of day, and here Abenaki storyteller and American Book Award recipient Joseph Bruchac offers twelve unforgettable stories of the living earth seen from the sky.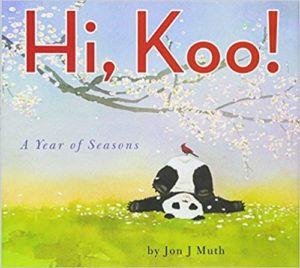 Hi, Koo! by Jon J Muth
Eating warm cookies
on a cold day
is easy
water catches
every thrown stone
skip skip splash
With a featherlight touch and disarming charm, Jon J Muth–and his delightful little panda bear, Koo–challenge readers to stretch their minds and imaginations with twenty-six haikus about the four seasons.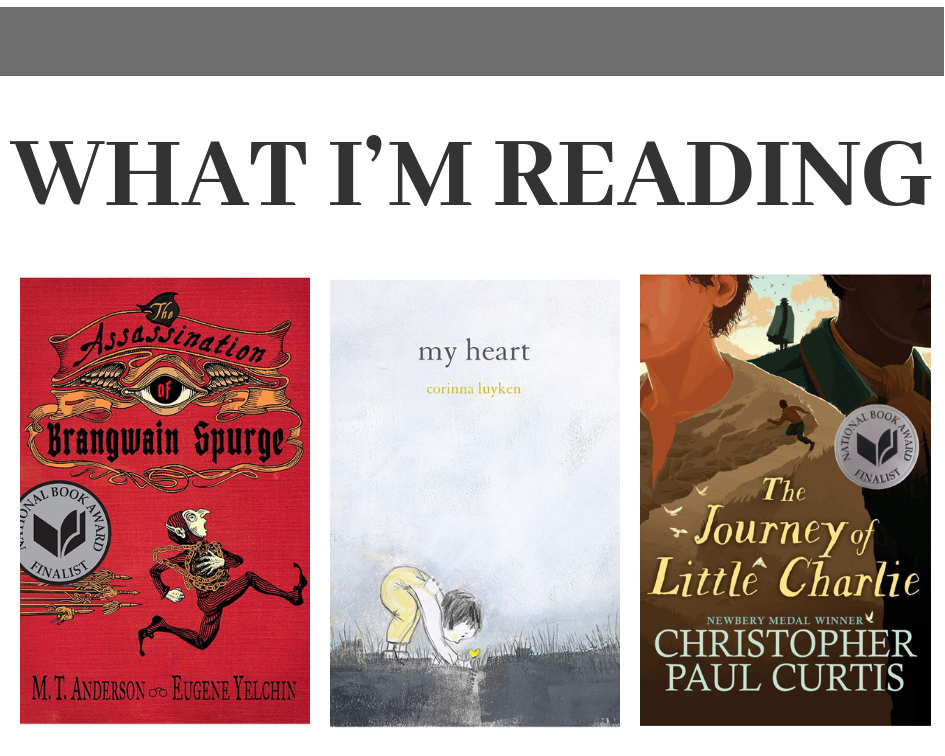 I have been catching up on the finalist books from the National Book Award. The two that I hadn't read were The Assassination of Brangwain Spurge by M.T. Anderson, illustrated by Eugene Yelchin and The Journey of Little Charlie by Christopher Paul Curtis. Both were fantastic.
The Assassination of Brangwain Spurge is a middle grade book told in multiple perspectives. The elfin historian Brangwain is sent to the goblin kingdom to deliver a goblin artifact, and his perspective is told completely in illustrations. Brangwain's host, goblin historian Werfel, tries to accommodate the uptight and hard-to-please elf, until a series of extraordinary double crosses, blunders, and cultural misunderstandings throws these two bumbling scholars into the middle of an international crisis that may spell death for them — and war for their nations.
My Heart by Corinna Luyken (Dial Books, January 2019) is such a beautiful picture book. I absolutely loved this author's previous book, The Book of Mistakes, and this one is just as fantastic.
I could not put The Journey of Little Charlie down. Geared for upper middle grade readers, this book is about twelve-year-old Charlie who is down on his luck: His sharecropper father just died and Cap'n Buck — the most fearsome man in Possum Moan, South Carolina — has come to collect a debt. Fearing for his life, Charlie strikes a deal with Cap'n Buck and agrees to track down some folks accused of stealing from the cap'n and his boss. It's not too bad of a bargain for Charlie… until he comes face-to-face with the fugitives and discovers their true identities. Torn between his guilty conscience and his survival instinct, Charlie needs to figure out his next move — and soon.
Around the web…
A Tribute to Todd H. Bol, Founder of the Little Free Library, via Publisher's Weekly
Your Guide to the Essential Jacqueline Woodson Books, via Book Riot
Strategies to Improve Kids' Nonfiction Reading Comprehension, via Brightly
I would love to know what you are reading this week! Find me on Twitter at @KarinaYanGlaser, on Instagram at @KarinaIsReadingAndWriting, or email me at karina@bookriot.com.
Until next time!
Karina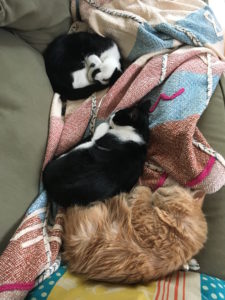 My three cats snoozing while I work.
*If this e-mail was forwarded to you, follow this link to subscribe to "The Kids Are All Right" newsletter and other fabulous Book Riot newsletters for your own customized e-mail delivery. Thank you!*