Hello and happy Tuesday, Transformers and terraformers! Today we've got lots of sequel news, some exciting adaptations, seasonally appropriate ebook sales, and a review of An Easy Death by Charlaine Harris.
---
This newsletter is sponsored by Vault Comics.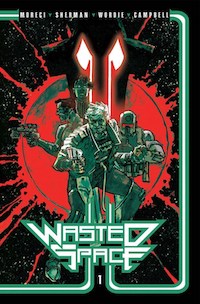 Billy Bane is a prophet who got it all wrong, and the galaxy has been burning ever since. All he wants is to waste away in the darkest corner of space with his best pal Dust, a supercharged Fuq bot. But when a new prophet comes calling, Billy is summoned to save the galaxy he's at least partially responsible for destroying.
---
Let's start with the specifically-books news:
We have a cover reveal for R.F. Kuang's The Dragon Republic, sequel to previously-reviewed The Poppy War! I love this illustration style and the single pop of color; these are gonna look amazing on the shelf next to each other.
Are you on the Tea Dragon train? I love Katie O'Neill's webcomic, which is also available as a beautiful collection, and I've spent a happy afternoon or two playing the card game, so I'm very happy to fire the confetti canons for a sequel, The Tea Dragon Festival!
We're getting a nonfiction book from sci-fi author extraordinaire Nnedi Okorafor! The novella-length book, Broken Places and Outer Spaces (June 2019)  will include elements of memoir and a look the creative process, and my body is ready.
And now for some screen news:
There's an update on the adaptation of Carmen Maria Machado's Her Body and Other Parties — FX has picked it up and it's in development for a TV series.
We're getting a modern-day Sword in the Stone movie, called The Kid Who Would Be King, and this trailer is ev. ery. thing. Enemies to friends! Diverse casting! School jokes! Here for it.
The BBC and Netflix are making a Dracula mini-series and it will be a period piece. (Which I'm confused about the need to make a point of, aren't all adaptations of the book period pieces?! Anyway.)
Ryan Coogler got a deal to write AND direct Black Panther 2! Wakanda forever! Now might be a good time to catch up on the comics, which Ta-Nehisi Coates has been writing — you can start with Black Panther: A Nation Under Our Feet, Book 1.
How about some new releases? I've got my eye on:
Kingdom of Ash (Throne of Glass #7) by Sarah J. Maas,
Red Moon by Kim Stanley Robinson (who is going to be on Recommended tomorrow, so keep an ear out),
Kat Howard's short story collection, A Cathedral of Myth and Bone,
And Dragons in a Bag, written by Zetta Elliott and Geneva B, which looks ADORABLE.
Also, here are some cheap e-books:
Leviathan Wakes (The Expanse #1), $2.99
Seasonally appropriate: A Secret History of Witches by Louisa Morgan, $2.99, The Witches of East End by Melissa de la Cruz, $2.99, and Akata Witch (Akata Witch #2) by Nnedi Okorafor $2.99
Heartstone by Elle Katharine White, $1.99 (which is Pride & Prejudice with dragons)
And now, a review of another addition to the weird Western/Historicals category:
An Easy Death (Gunnie Rose #1) by Charlaine Harris 
Content warning: rape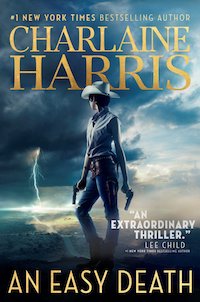 There have been several great additions to "weird Westerns" and/or "weird historicals" lately — Trail of Lightning, The Black God's Drums, Dread Nation, River of Teeth — and I'm here for it. An Easy Death is for those who are ready for the next one, as well as fans awaiting the next book from Harris.
In the twisted history of An Easy Death, FDR was assassinated and the states, weakened by the loss of the president and the Depression, fractured. Various states have now become allied with or ruled by other countries, including Russia and Great Britain, Mexico is expanding northwards, and the Native population has reclaimed their land. Lizbeth Rose lives in Texoma right near the Mexican border, and is a gunslinger for a crew that runs people back and forth, protecting them from bandits. A job goes horribly wrong, leaving Rose emotionally drained and out of work — and then two Russian wizards show up with an offer of employment that she has no choice but to take. From family secrets to international politics to bandits to magic ambushes, she's got more than enough on her plate and only so many bullets.
Rose is beautifully voiced; she's pragmatic almost to the point of flatness, gruff, and isolated — in fact, she reminds me a lot of Magic Bites-era Kate Daniels. She's also carving her way through a man's world, and she's not afraid to kill in the process. I loved reading her, in all her murderous glory, and will definitely be hanging around for the next installment.
As for the world-building, it's an interesting twist on the alternative US history trope, and Harris avoids the standard Western pitfalls by giving a few positive cameos to Native characters, as well as characters of color. There aren't too many characters of color that make it to the end of the book aside from Lizbeth herself (who is definitely half-Russian and implied to be half-Latina), but the body count is incredibly high and pretty indiscriminate.
TL;DR: If you like gun battles, magic, and crochety heroines, and/or Charlaine Harris, pick this up.
And that's a wrap! You can find all of the books recommended in this newsletter on a handy Goodreads shelf. If you're interested in more science fiction and fantasy talk, you can catch me and my co-host Sharifah on the SFF Yeah! podcast. For many many more book recommendations you can find me on the Get Booked podcast with the inimitable Amanda, or on Twitter as jennIRL.
Your fellow booknerd,
Jenn