Greetings, Book Folk! Welcome to In The Club, a newsletter of resources to keep your book group well-met and well-read. 
Today I'm giving you a dose of YA-related snark, some Obama reads, hexes, costume ideas, and more! And if that don't sound like a poppin' kind of club you, I really don't know how to help you.
Here we go.
---
This newsletter is sponsored by HMHTeen.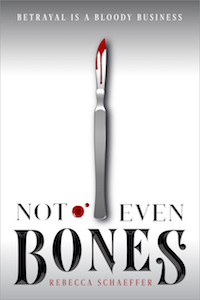 Dexter meets This Savage Song in this dark fantasy about a girl who sells magical body parts on the black market — and seeks revenge when she is betrayed.
---
Everest or GTFO – Another day, another terrible take on YA, and another hilarious takedown. Read Annika's brilliant rebuttal to the latest bad opinion piece that we read so you wouldn't have to. A snippet of the brilliance: "Collect anything? God help you if it is four-inch Star Wars figures, you absolute infant. You should be collecting frown lines, real estate, and income tax returns like an adult." DEAD. 
Book Club Bonus:

I (clap) CAN (clap) NOT (clap) with all of these stuffy I'm-too-good-for-YA types. Go sit down somewhere and congratulate yourself for reading

Crime & Punishment

in its original Russian, bruh, but keep your snobbery to your damn self. For the rest of us who know better, we really need to make a bigger push for including YA titles in book club. I'd love to read

Children of Blood and Bone

and then break down how the story is a commentary on racism, classism, colorism… but sure, tell me again how YA is just fluff?!
Read Like Obama – I would personally love to see an "Oh HELL no. MICHELLE! Hold my beer!" Twitter rant from my boy Barry going aaaaall the way off on the GOP, or even a Facebook or Instagram Live dragging 45 to absolute Cheeto dust filth. Sigh. Barack is of course classier than that and prefers to serve his shade – and calls to action – in the form of a well-curated reading list. I'm here for that too.
Book Club Bonus:

What I love about the idea of Obama Book Club is that it offers some variety in reading experience; you could read the books he suggests in traditional book club format, or could also read and discuss the articles he links to in this post. If you find yourself strapped for time but want to engage in civic discourse with a book-club feel, this is a great way to do so.
Paris Review, Je T'Aime – Last week in Critical Linking, Kelly linked to an installment of Feminize Your Canon, a new column in The Paris Review dedicated to lesser-known female writers.
Book Club Bonus

: I mean… this is like book-club-in-a-box, n'est-ce pas? Reading inspiration is served up on a fine and prestigious platter with a side of feminism and a history lesson too. Get to know female writers that you might not otherwise have ever discovered like Olivia Manning, who as Kelly points out is someone I think I'd like to have spent time with. 

Related: If your book group likes to open or close the discussion with a quote for inspiration, here's a great round up of empowering feminist quotes that you might find handy. 
Hex in the City – The good people at Catland Books in Brooklyn hosted an event to hex Brett Kavanagh and "all rapists and the patriarchy which emboldens, rewards and protects them." Some people were real in their feelings about this. Oh, you have a problem with hexing rapists but not with… actual rapists? Let's have a moment of silence for all of the f*cks we don't give…
If you missed the event, fear not, witches! There is indeed a Hex Part II on the books for November 3. If you can attend the event or just want to support the cause, click here to buy tickets or make a donation. Fifty percent of the event proceeds will be donated to charity: 25% to the Southern Poverty Law Center and 25% to the Sylvia Rivera Law Project. Hex yeah! (I'm sorry I just HAD TO.)
Book Club Bonus:

Whether or not your club is learned in the art of brujeria, I love the idea of dedicating space & time to rid ourselves of bad energy. Pick a deliciously indulgent read, then pick some kind of ritual to either kick off or wrap up your meeting. Light candles. Burn some palo santo. Break out the crystals. Write down the things that ail you on a small piece of paper and then burn that thing in a blaze of symbolic glory. Find empowerment in small acts of resistance.
Gonna Dress You Up in My Club – With Halloween just around the corner, it feels like a good time to revive this piece from last year on 31 awesome literary costumes. Aaaaah that teeny tiny Dobby costume kills me!
Book Club Bonus

: Dress up for book club (duh) BUT don't tell anyone what you're coming as. Choose a literary character and then take turns guessing what each other's costumes are, and try to make it challenging! I've thought about dressing up as a calendar with the word "death" written on a random Tuesday. You know, like an

Appointment with Death

?
---
Thanks for hanging with me today! You can find me on both the Twitter and the gram @buenosdiazsd. Shoot me an email at vanessa@riotnewmedia.com if you want to say hola or if you have any book club questions!
Stay bad & bookish, my friends.
Vanessa