This edition of Today in Books is sponsored by …And Then You Die of Dysentery: Lessons in Adulting from the Oregon Trail by Lauren Reeves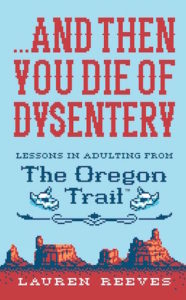 ---
In Sad News: Todd Bol, Creator Of The Little Free Library Has Died
"Bol believed the now-ubiquitous little boxes of books — and the neighbors who cared for them — could change a block, a city, the world. So he brought them to front yards all over, often installing them himself." A great read to get to know Bol and how The Little Free Library started and grew.
Holy Cats!
Have you seen the cast for the upcoming movie adaptation of Andrew Lloyd Webber's musical Cats?! Judi Dench, Idris Elba, Ian McKellen, Jennifer Hudson, James Corden, and Taylor Swift! If you're wondering why I'm talking about Cats in a bookish newsletter, the musical was based on T. S. Eliot's whimsical poems Old Possum's Book of Practical Cats. The meow you know–sorry, not sorry.
In Merger News:
The Crown Publishing Group has joined the Random House Publishing Group. "As a result of the merger, Maya Mavjee, president and publisher of Crown, will leave the company at the end of the year. The imprints will retain their distinct editorial identities, McIntosh continued in the memo, and the change is effective immediately." Random Crown will look awesome on tote bags–just sayin'.
And don't forget to enter our giveaway for a custom book stamp to make your personal library books feel special.