Happy Friday, alchemists and astronauts! For those of you attending NYCC, I wish you hearty immune systems and minimal train issues (no 7 train, WHY); for those of you nerding it up at home, I'll wish you the same because why not. Today we're talking about Norse myths, escapism, dinosaurs, fantastical playlists, and Kiersten White's The Dark Descent of Elizabeth Frankenstein.
---
This newsletter is sponsored by Houghton Mifflin Harcourt.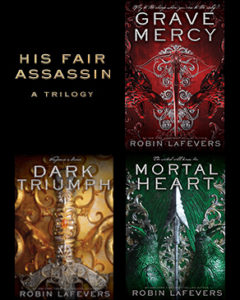 In fifteenth-century France, the convent of St. Mortain provides sanctuary to girls seeking refuge from the cruelty of the outside world. But sanctuary comes at a price—and each of Death's Handmaids pay it in blood. Grave Mercy, Dark Triumph, and Mortal Heart make up the New York Times bestselling His Fair Assassins trilogy: where romance, magic, and political intrigue collide. Fans of Marie Lu's The Young Elites and Kiersten White's And I Darken will love this seductive dark fantasy collection.
---
April Genevieve Tucholke picked five books with ties to Norse mythology, and I'd like to add Daughters of the Storm by Kim Wilkins to the stack.
This list of fantasy novels (YA specifically) by women of color is GREAT, so many good books to choose from!
If October is anything like September, we're going to need some escapist reads. Thankfully, Swapna has us covered.
Feelings alert: this personal essay on elder care, dementia, and fantasy worlds had me reaching for my tissues.
Quiz time: Which Greek hero are you? Build a Tinder profile to find out. (My result, Jason, made me actually LOL.) You can also find out which Wicked & Divine god you are, and which lady of Westeros (I got Daenerys, you may now address me as Mother of Dragons).
Scientists have discovered a new dinosaur, a giant one, and that has nothing to do with books but I bet I am not the only one pretty excited about it.
Need a Harry Potter playlist? Here are some suggestions for the songs you should put on it.
Remember that new Robin Hood movie that mashes up our favorite medieval thief with Oceans Eleven? The final trailer has been released, and this is the kind of fun nonsense I'm here for.
Giveaway alert! Enter our giveaway for a custom book stamp for your personal library right here.
Today in reviews, we've got a retelling of Frankenstein that I fell for, and hard.
The Dark Descent of Elizabeth Frankenstein by Kiersten White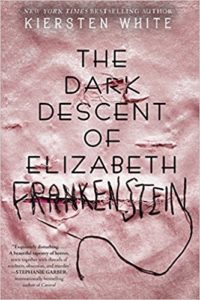 Who are we, if we've spent our lives being what someone else wanted us to be? How do we find our voices? Who will tell our stories? Kiersten White uses Elizabeth Lavenza and Justine Moritz, the two central women in Mary Shelley's Frankenstein, to explore these questions in an insightful and action-packed YA novel.
In the original, Elizabeth Lavenza is the beautiful, saintly orphan Victor Frankenstein grew up with and marries; Justine Moritz is the nanny wrongly accused of his young brother William's murder. In Dark Descent, Elizabeth is indeed an orphan but far from saintly. Trapped in an abusive home life, she's given the chance to escape when the Frankensteins come looking for a companion to their strange young son. She makes the most of her chance, turning herself into the perfect friend for Victor and making herself essential to the family by whatever means possible. Justine, a fellow orphan, and Henry are her only other friends — but Elizabeth manipulates them too, however and whenever she needs to to keep her place in the Frankenstein household.
When the novel opens, Victor has been gone for months and she's terrified that his father will turn her out of the house if she can't bring him home. She and Justine set off to find Victor, and Elizabeth finds far more than she bargained for. As she starts to realize that the young man she has spent her life appeasing, the man she hopes to marry, is far more of a monster than she knew, she also has to reckon with who she has turned herself into.
White gives Elizabeth a new ending and a beautifully realized voice, recasting the creature-horror of the original Frankenstein alongside the psychological horror of a woman trapped in an untenable situation, looking for escape. Dark Descent has beautiful moments of friendship, blood-chilling moments of confrontation, and a careful balance of character and plot that kept me turning the pages, and is an ideal spooky read for your Fall.
And that's a wrap! You can find all of the books recommended in this newsletter on a handy Goodreads shelf. If you're interested in more science fiction and fantasy talk, you can catch me and my co-host Sharifah on the SFF Yeah! podcast. For many many more book recommendations you can find me on the Get Booked podcast with the inimitable Amanda.
It's aliiiiiiiiiive!,
Jenn