Welcome to Check Your Shelf! This is your guide to all things book talk worth knowing to help librarians like you up your game when it comes to doing your job (& rocking it).
"Check Your Shelf" is sponsored by A Blade So Black by L.L. McKinney, published by Imprint.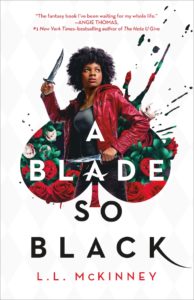 The fantasy book I've been waiting for my whole life. Alice is Black Girl Magic personified." —Angie Thomas, #1 New York Times-bestselling author of The Hate U Give Life in real-world Atlanta isn't always simple, as Alice juggles an overprotective mom, a high-maintenance best friend, a slipping GPA, and an ongoing battle against monstrous creatures in the magical dream realm known as Wonderland. When Alice's handsome and mysterious mentor is poisoned, she has to find the antidote by venturing deeper into Wonderland than she's ever gone before. And she'll need to use everything she's learned in both worlds to keep from losing her head . . . literally.
---
Libraries & Librarians
Book Adaptations in the News
Books in the News
By the Numbers
Award News
All Things Comics
Book Lists, Book Lists, Book Lists
Bookish Curiosities & Miscellaneous
Level Up (Library Reads)
Do you take part in LibraryReads, the monthly list of best books selected by librarians only? Whether or not you read and nominate titles, we'll end every newsletter with a few upcoming titles worth reading and sharing (and nominating for LibraryReads, if you so choose!).
We've made it easy for you to find eligible diverse titles to nominate. Kelly Jensen created a database of upcoming diverse books that anyone can edit, and Nora Rawlins of Early Word is doing the same, as well as including information about series, vendors, and publisher buzz.
And to make it even easier, I've picked a couple specific titles that are being released in February 2019. Links direct you to Edelweiss, where you can request a digital advance copy, and nominations are due by January 1st.
And make sure to check out Episode 16 of our Annotated podcast, which talks about how Andrew Carnegie transformed the American public library!
____________________
Thanks for hanging out and we'll see you again in two weeks!
–Katie McLain, @kt_librarylady on Twitter. Currently reading Destiny's Captive by Beverly Jenkins.
PS: Don't forget to enter to win a custom book stamp for your personal library in our giveaway.