This edition of Today in Books is sponsored by The Reckless Club by Beth Vrabel, Running Press Kids.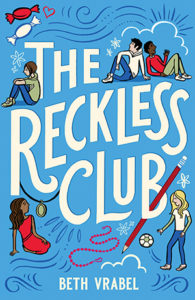 ---
Barnes & Noble May Be For Sale
In the latest times-are-tough-for-B&N news, the company has said that there have been, "Expressions of interest from multiple parties in making an offer to acquire the company." So they've created a formal review process. Read more about it–including how to prevent a possible hostage takeover–here.
The Hate U Give Is Offering Free Screenings
Underserved and underrepresented young adults have the opportunity to see the film adaptation of Angie Thomas' The Hate U Give Saturday, Oct. 6 at 11 a.m. The 9 participating cities are Atlanta, Ga., Baltimore, Md., Dallas, Texas, Houston, Texas, Los Angeles, Calif., Miami, Fla., New York, N.Y., Philadelphia, Pa., and Washington, DC. Schools, community groups and nonprofit organizations can apply for free screenings at screenings.thehateugive.com.
Circe Has Been Optioned For A TV Show
Madeline Miller, the author of Circe, announced on Instagram that she was returning from a meeting where the rights to her Greek mythology novel have been sold. As a Rioter favorite novel, we all cheered and look forward to hearing more!
Don't forget to enter our giveaway for a custom book stamp for your personal library!