Hello hello! This week's newsletter features eight new nonfiction books out this week plus a couple of awards longlists, and a collection of great nonfiction posts recently published over at Book Riot.
---
Sponsored by How to Be a Good Creature by Sy Montgomery.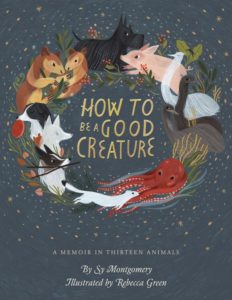 A restorative memoir from author, naturalist, and adventurer Sy Montgomery reflects on the personalities and quirks of thirteen animals—Sy's friends—and the truths revealed by their grace. It also explores vast themes: the otherness and sameness of people and animals; the various ways we learn to love and become empathetic; how we find our passion; how we create our families; coping with loss and despair; gratitude; forgiveness; and most of all, how to be a good creature in the world.
---
Before we get started, don't forget to enter our giveaway for a custom book stamp for your personal library!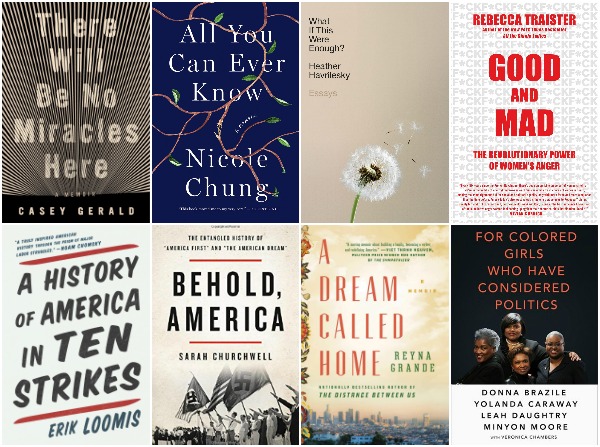 New Books!
All You Can Ever Know by Nicole Chung – A memoir by an adopted woman exploring her Korean heritage and her childhood growing up as the only non-white person in a small town, ahead of the birth of her first child.
What If This Were Enough? by Heather Havrilesky – A collection of essays on the "cultural forces that shape us" and our obsession with self-improvement.
There Will Be No Miracles Here by Casey Gerald – A memoir of "a boy and a generation who came of age as the world came apart."
A History of America in Ten Strikes by Erik Loomis – An account of 10 critical workers' strikes in American labor history.
Behold America by Sarah Churchwell – "The entangled history of 'America First' and 'the American Dream.'"
A Dream Called Home by Reyna Grande – The story of "one woman's quest to find her place in America as a first-generation Latina university student and aspiring writer."
Good and Mad by Rebecca Traister – A look at the history of female anger as a political tool. Yes, please.
For Colored Girls Who Have Considered Politics by Donna Brazile, Yolanda Caraway, Leah Daughtry, and Minyon Moore – "A sweeping view of American history from the vantage points of four women who have lived and worked behind the scenes in politics for over thirty years."
Nonfiction Awards!
In the last couple of weeks, two big groups have announced the longlists/finalists for their best books of the year awards. Kirkus, one of the big names in book reviewing, announced their finalists for the 2018 Kirkus Prize in Nonfiction. I haven't read a single title on the longlist but, they sound amazing. The winners will be announced on Oct. 25.
The other prominent longlist is for the Andrew Carnegie Medal for Excellence, given out by the American Library Association. I love the nonfiction list, it's got a ton of variety. A three-book shortlist will be announced on Oct. 24, with the winners named in January.
Links and Links and Links!
These are some of my favorite recent nonfiction posts over at Book Riot. There's a lot, our contributors do some amazing work!
And with that, I'm out! You can find me on Twitter @kimthedork, and co-hosting the For Real podcast here at Book Riot with questions and comments!