Sup, book nerds! Welcome to In The Club, a newsletter of resources to keep your book group well-met and well-read. Today I've got book club suggestions for parents and young readers, lots more Latinx writer amazingness and I've even managed to work strippers into the conversation. I tried to tell you that book club was poppin, yo!
Let's commence.
---
This newsletter is sponsored by The Motherhood Affidavits: A Memoir by Laura Jean Baker.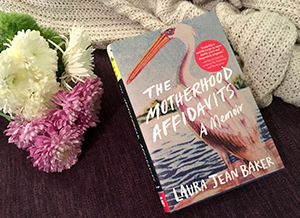 With the birth of her first child, professor Laura Jean Baker finds herself electrified by oxytocin, the first effective antidote to her lifelong depression. Soon her "oxy" cravings, and her family, grows—to the dismay of her husband, a freelance public defender. Baker is in an impossible bind: The drive that sustains her endangers her family. With a wrenching ending that compels us to ask whether Baker has fallen from maternal grace, her ruthless self-interrogation makes this memoir her personal affidavit.
---
In Prose of Parenthood – "I would look at him and feel a love so sharp, it seemed my flesh lay open. I made a list of all the things I would do for him. Scald off my skin. Tear out my eyes. Walk my feet to bones, if only he would be happy and well." Those are some of the most beautiful words from one of my favorite books this year (Madeline Miller's Circe), just a few of many other profound literary quotes about parenting compiled here.
Book Club Bonus:

Squeezing in time to read a book may be easier for some than others, but I think a book club for parents – new parents, adoptive parents, parents with teens, parents dealing with loss, etc – could be an awesome act of self care. Pick a work (nonfiction or fiction, your choice), set a realistic goal for completion (because hello… #parentlife), then get together to share your thoughts on the book and your parenting journey in general. Book group meets parenting support group.
Latinx LitFic – This Hispanic Heritage Month, consider reading the work of lesser-known Latinx authors. A whole new crop of talented writers is emerging all over Latin America! Start with these three recent Latin American novels for fans of literary fiction.
Book Club Bonus

: Kind of a no-brainer for you here: read lesser-known authors. You've probably (hopefully??) heard of Latinx heavyweights like Gabriel Garcia Marquez and Isabel Allende, as you should! But make space in your book club for the next wave of great authors and spread. the. word.
Girl Talk, Tech Talk – Over at Wired.com, Room to Read CEO Geetha Murali put together a list of books to get girls excited about tech. I'd argue these books are great for women of all ages, not just younger reader by any means.
Book Club Bonus

: I see book clubs for grown folks all the time but don't hear as much about book clubs for younger men and women. Whether structured as a parent/guardian + child book club or a meetup just for young minds, I'm into it; anything to get young readers excited about reading, learning, thinking critically, or even a potential career.
Love in this Club – I may well have already used this Usher song reference before. I am not sorry. More importantly, did you know our When In Romance podcast has a book club of its very own?? Their first pick is Butterfly Swords by Jeannie Lin and will be discussed during their October 8th episode. Nab the book and listen in; their last episode is titled "Look How We Accidentally Recommended All the Strippers" so… you're welcome.
Book Club Bonus

: Trisha and Jess did indeed talk about strippers; I mean have you

seen

that Zoey Castille cover for

Stripped? *cue Magic Mike soundtrack*. They also talked about romance writers taking the time to make consent sexy, which I am emphatically here for. The next time you incorporate a romance read into book club, pay close attention to the sexy times and discuss how consent is or is not made plain in the writing.
Related: A lovely piece on why women read romance novels, for those days when "Mind your business, assh*ole!" is perhaps too ragey a response to that question. #thingsivesaid
Lift Every (Own) Voice – You all know how I feel about own voices writing, right? Then you won't be surprised to read that I have lots of muppet arms for Tirzah's latest 3 on a YA Theme post: #OWNVOICES YA Novels Starring Latinx Teens.
Book Club Bonus

: Once again, y'all: young people's book club. We need diverse books! Give them to the youth.

Related: Are any teachers out there using a book club format for required reading? Whether inside of the classroom or after school, I'm curious if some students would feel more comfortable, compelled, invested, etc. in reading if they could discuss the books with a small group of their peers.
See the Spectrum – September 23rd was Bi Visibility Day and Danika Ellis has a great list of books for you featuring bisexual women. These reads are obvi great any ol' time of year, as is the importance of people all across the sexuality spectrum being seen year round.
Book Club Bonus

: Take the time to read books with bisexual characters and then discuss how they either nail or fail in their depiction. Break down how society differs in its handling of bisexuality in men vs women – this should give you

plenty

to discuss. Spoiler: heteronormativity is stupid.
---
Thanks for hanging with me today! If you want to be friendly on the innanets, you can find me on both el Twitter and the gram @buenosdiazsd. Shoot me an email at vanessa@riotnewmedia.com if you have any feedback or just to say hola.
Stay bad & bookish, my friends.
Vanessa
More Resources:
– Our Book Group In A Box guide
– List your group on the Book Group Resources page