Happy Tuesday, elves and elementals! Today I'm reviewing Severance by Ling Ma, and we've got a ton of adaptation news as well as a very exciting cover reveal. Buckle up!
---
Sponsored by The Hero's Brother by M. Scott Anderson from The Parchment Farm.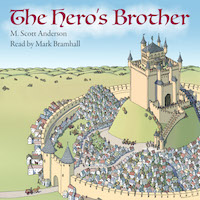 It's hard enough being barely above average, when your brothers include the deadliest swordsman of the realm, a saint, prodigies – and the greatest hero of the Middle Ages. But what if you haven't seen your Queen of Love in years, and she's imprisoned by lethal librarians and a one-armed religious zealot? Even worse, your only allies turn out to be vicious killers, with terrible table manners. Who all want to murder your heroic brother. The result – in a world of pedantic misrule, feckless magic, and courage both dauntless and daunted – is either High Adventure or an Identity Crisis. Or both.
---
Today in book news, adaptations, and new releases:
Did you already watch the new Doctor Who trailer? Just checking!
The Riftwar Saga is getting an adaptation, along with special "mobile content" (what does that mean?).
Boom! Studios, the comics publisher responsible for personal favorite Lumberjanes, has been snapping up properties right and left — they've got Firefly and recently acquired Buffy — and now they've got The Magicians too.
We have a cover reveal! I've been waiting and it's finally here: Jade War is the sequel to Jade City by Fonda Lee and its cover is fiery as all get out, including the blurbs from Ann Leckie and Ken Liu! Now if only we didn't all have to wait til September of 2019 to actually read it.
AMC is adapting NOS4A2 into a series, and Zachary Quinto will be playing Charlie Manx alongside Ashleigh Cummings playing Vic McQueen. I don't know Cummings' work, and I only got through a chapter and a half of NOS4A2 before I had to put in the freezer, but having lived through Quinto's turn on Heroes I feel sure that he can pull off all the necessary creepiness for this role.
It's early to get excited, but WHO CARES: Lauren Beukes has a new book coming out in April 2019 called Motherland! If you're an SFF Yeah listener, you'll hear me gush about her on this week's episode.
Benjamin Percy (of Red Moon, etc.) is writing a sci-fi trilogy, it will be published by Houghton Mifflin Harcourt, and it's already been optioned!
And in exciting new titles out this week, here are a couple from my radar:
The Sisters of the Winter Wood by Rena Rossner
Vengeful (Villains #2) by V.E. Schwab
And now for today's review, which isn't a straightforward sci-fi title but it does sort of have zombies and here we are.
Severance by Ling Ma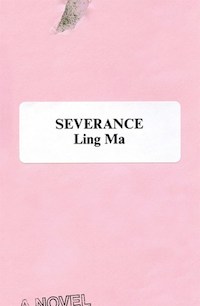 If Jami Attenberg's Instant Love and Colson Whitehead's Zone One had a baby, it would be something like Severance. Candace Chen is a disaffected twenty-something in New York who just wants a steady paycheck and a predictable life. She gets a job in publishing working on Bible production, she finds a boyfriend, and she starts a photo blog documenting different parts of NYC — all safe enough to let her go through the motions of her life with minimal effort.
Then an epidemic called Shen Fever starts sweeping around the world. It leaves its victims repeating familiar motions — unlocking their front door, watering their plants, trying on outfits — over and over again, to the exclusion of everything else, until they die. Candace escapes infection, but eventually the city becomes unsurvivable. She finds herself part of a group making their way to a promised safe-haven, but she's keeping her cards close to her vest; there's something off about Bob, the group's leader. And when push comes to shove, Candace has to figure out how to save herself.
This book is so dry, it took me a while to realize that I was reading a satire; Chen skewers both office life and the classic "survivors on the road" narrative. The narrative jumps around, from Candace's time on the road after the epidemic to her work-days in NYC to remembering her parents, both deceased at the opening of the story, and her immigrant childhood. Candace herself is a bit of a ghost on the page, drifting through the narrative at the will of outside forces. She acquires her job almost accidentally, she joins the traveling group accidentally, she turns out to be immune to Shen Fever without any great effort on her part. But she's not leading a charmed life — bad things have happened to her, and will continue to do so. And in the meantime, her slightly-removed observations about both herself and those around her contain amazing moments of social commentary. There are also some truly creepy, uncanny moments with the infected; thanks to one scene, I am very particularly glad that they have not yet invented smell add-ons to books.
Thoughtful, wry, and inconclusive, this book has no answers but a lot of observations as Candace grows into her own and starts to take control of her life. If thinky, off-beat, tongue-in-cheek books are your jam, add this to your list.
And that's a wrap! You can find all of the books recommended in this newsletter on a handy Goodreads shelf. If you're interested in more science fiction and fantasy talk, you can catch me and my co-host Sharifah on the SFF Yeah! podcast. For many many more book recommendations you can find me on the Get Booked podcast with the inimitable Amanda.
Your fellow booknerd,
Jenn